Doom Eternal no longer getting Invasion Mode, horde mode in development instead
You won't get to play as a demon, but you'll be able to slay a bunch of them instead.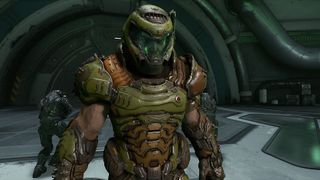 (Image credit: id Software)
What you need to know
id Software has scrapped a planned Invasion Mode for Doom Eternal due to prohibitive development issues. We're getting a horde mode instead.
Invasion Mode was originally announced in 2018. It would have allowed users to invade each other's games as demons and hunt down the slayers.
The replacement horde mode is a single-player mode in which players will be able to take on progressively more challenging demons.
id Software today announced an important update for the development of Doom Eternal. Thanks to the upset of the pandemic, the developers are scrapping the planned Invasion Mode in favor of a single-player horde mode. Essentially, we may not be allowed to take over demons in each other's games, but we will get to take on waves of challenging demons.
Doom Eternal recently received Update 6, which, among other things, upgraded the year-old game (one of the best for the Xbox) for next-gen consoles and adds ray-tracing support. According to id Software, the next update in the works was the planned Invasion Mode. However, the pandemic and remote working put a crimp in the development of this update, and id has apparently decided to change focus.
Invasion Mode was originally announced at QuakeCon 2018 -- essentially, it would have been a mode that allows users to take control of demons to hunt down another player. It was planned to be a post-launch update for the game. Now, instead, it's going to be replaced by a single-player horde mode.
The game's executive producer, Marty Stratton, detailed the shift in a news post: "With these factors in mind, we have decided to redirect our focus from Invasion Mode to creating a totally new single-player horde mode. We're confident this horde mode will offer you more of the diversity and challenge you're looking for in the game."
Stratton's announcement also reads: "In addition, the team continues to work on a refresh of BATTLEMODE that includes a more competitive, rank-based structure, a number of gameplay and balance updates and another new map. We expect to share more information at QuakeCon in August."
Get the Windows Central Newsletter
All the latest news, reviews, and guides for Windows and Xbox diehards.
Rachel Kaser is a Windows Central gaming contributor, who's been writing since 2013 and gaming since the age of five. She's covered everything from gaming news, reviews, and analysis -- if it exists in gaming, she knows about it. She also contributes to Future's other sites, iMore and Android Central. If you want to hear her opinions on games, pop culture, tech, and everything in between, follow her on Twitter @rachelkaser.