Download the latest App Social beta to discover new apps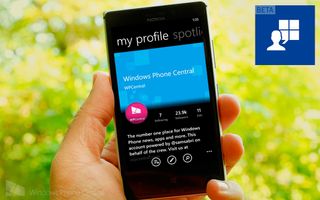 Nokia's App Social is a clever app for users. It's in the Nokia Collection, so exclusive to Lumia owners. However, it's still a pretty fun way to discover new apps in the Store. App Social is a place where a social network becomes a great place for app discovery. It started out in beta as App Highlights before graduating to App Social. Now there's a new a new beta version of App Social for you to try out, so let's check it out.
Head to the Windows Phone Store and you'll see "AppSocial betalabs", this is app gives you a first look at changes coming to App Social. If you like to live life on the edge and run beta software, give it a try. Here's what is different and new:
The team has been hard at work updating the App Social UI so it is more in line with the Lumia suite of apps
We've added a first time user tutorial, to familiarize users with the key functions of App Social (and its always available for reference in Menu -> About)
The pivots have been re-order. They now appear as Spotlight, App Feed, Leaderboard, Featured, Log-in/Profile
New collection layout on Spotlight and Featured pivot with rotating carousel of cool Apps, Collections, and Users
Redesigned App Feed page with user entries group by day, ability to follow right from entry in feed, and tools for merchandizers to promote popular global and local users in the feed
New Leaderboard categories and use of a trending algorithm to ensure leaderboard is updated and fresh
Now featuring Live Tile with backflip
The new tutorial greets you when you first launch the app and will be incredibly beneficial to new users. Overall, the app itself has been given a redesign. The focus is on now on promoting users, discovering apps, driving app downloads for developers, and more.
The new leaderboard section is really cool. It has categories like "most loved" and "most listed" that dynamically change to stay updated and fresh by using a new trending algorithm. This is a great place for users to potentially attract more followers and certain apps to get more downloads.
This beta of App Social shows you the general direction that Nokia is taking with the app, but you can help influence it by providing feedback and suggestions. Reach out to Nokia's Vincenzo Belpiede on Twitter (@vincebelpide) to provide feedback. He's the main guy behind App Social and values any community input.
Want to try out the latest beta for App Social? Of course you do, so go to the Windows Phone Store to get it, use the QR code below, or swipe to the right in our app.
Via: Windows Phone Central Forums
Thanks for the tip alv3st3r!
Wow, This one is actually available here in Norway :)

awesome thanks for the post and let us know if it's all working well! look forward to get your feedback!

Working well for me, good stuff

Why is it a different app and not an update?

because we are using a separate Betalabs release to test new features out before doing a massive update to millions of users that have appsocial installed...makes sense?

Ahhh, what are you going to do with the install.

It was always there alongwith Appsocial beta.

You should always pit a link to the app. Thanks

So wait, there's App Social, which in the description says it's a Beta, and App Social Beta, which is truly the Beta?... Also, both icons say Beta...

They have to test the beta with another beta. You know.... To make sure things go fine.

haha yeah we should call it alpha...maybe we should change the name Betalabs to Alphalabs ;)

Is it just me.. Or am I the only one getting the old App highlights app with this link?

that's weird...where are you located?

i also got app highlights beta not app social.im from cro but using us marketplace

if you change your settings you should be fine although I thought App Social Betalabs is available in all countries (we might have removed it from China only as we are going to go live there soon)

I'm also having the same problem. Lumia 710, Greece.

so you have a problem when you hit this link? http://www.windowsphone.com/s?appid=ec44a23d-ef56-4320-84c6-ce3dda6f3d73

Fixes it, new soft. Uppd. Thanks

when i hit this link its ok. but at the time i log in with my microsoft account i get the wrong app again, and now it tell me that the app (the old app) in not available :S

For me the link is fine, but I have never had AppSocial in my Nokia suite, only app highlights.

My paid Store region is Denmark.

we will go live in Denmark officially with AppSocial soon...for now you can enjoy the AppSocial from Betalabs ;)

When will you have an oovoo app?

Tried to use it, not that wow.

Not impressed...uninstalled

I'd love to hear why thanks!

I love the new app. Looks awesome, although I feel the AppSocial Migration looked as awesome as this one, so I don't understand the change except that it now looks more WP8. Thanks for the app! Greetings from Chile!

Nice app, finally available to other regions...

this is just the betalabs version...we are working on deploying the main "App Social" which we preload in our WP8 devices in as many markets as we can...I think we are up to 19 right now ;)

Its not working for me i m from India. Any one from India installed it n working fine please let me know. Thanks

where in India are you? can you send me a screenshot of the error that you are getting?
thanks
https://twitter.com/vincebelpiede

Hi i m staying in Bangalore in India , its saying network error

Froze on the first try, Network error onthe second try and Worked on the third try and works fine now. Love the new app and the new leaderboard (Since I'm on it) :P Uninstalling the Older beta. Also, Why do some apps show up with their names in Hindi? I don't necessarily have to know the regional language of the place I live in ( I actually don't know any of the regional or national languages) I've seen this happen on Ringtone Maker and Bing Weather.

which device do you have? where are you?

Installed, working fine. From India with love ;)

Looks to be working just fine in Madeira island, Portugal. Should i uninstal the "Appsocial migration" app wich is also a beta?

yes if you have already migrated your account you sure can delete the migration app https://twitter.com/vincebelpiede

working good here...hello from Guatemala

Awesome when a Nokia person gets involved in the forums! Very cool app! Uninstalled it just for the fact that I don't use it that much and I needed some extra room.

good to hear you like the involvement ;)
bad to hear you dont use it much...what would make it use it more?
which device do you have?
would love to hear more thanks! https://twitter.com/vincebelpiede

Its not working for me (showing network error and said cannot load data) i m from India. Any one from India (Bangalore) installed it n working fine please let me know. Thanks
Windows Central Newsletter
Get the best of Windows Central in in your inbox, every day!
Thank you for signing up to Windows Central. You will receive a verification email shortly.
There was a problem. Please refresh the page and try again.