Dragon Age Inquisition getting free Dragonslayer DLC next week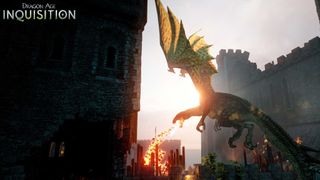 Lately I've been quite taken with Resident Evil Revelations 2's multiplayer Raid mode, which finally received online multiplayer on Xbox One last week. Before that, my cooperative multiplayer game of choice was Dragon Age Inquisition from Electronic Arts. Inquisition has a small but addictive co-op mode that sits completely separate from the game's massive campaign.
While Dragon Age Inquisition multiplayer is a lot of fun for loot hunters, the mode's scant three areas certainly limit staying power. That will improve next week with the launch of the 'Dragonslayer' multiplayer DLC. The free downloadable content adds a new area with a dragon boss and three new characters to the fray.
With the new 'Dragonslayer' content coming to Dragon Age Inquisition in just a few days, now is the time to get into multiplayer and learn the ropes. Read on for our quick multiplayer guide and more 'Dragonslayer' update details.
Getting into Multiplayer
Before you start Inquisition multiplayer, be sure to download the previous multiplayer DLC. The game won't notify you that you need it until you try to play with someone who has it. Nobody wants to be the guy who didn't prepare, so hurry up and grab it! And remember, when the 'Dragonslayer' DLC launches you'll have to download that too.
Initially, only three characters are available in multiplayer: the Archer, the magic-wielding Keeper, and the melee-focused Legionaire. Stick with multiplayer and you'll eventually unlock nine more classes. You can get these classes from chests (rarely) or by crafting the armor they wear.
Upon choosing your starter character, be sure to visit the multiplayer Store to pick up the free chests that all players receive. These chests offer a random assortment of equipment and consumable items. You'll want to equip your character with anything he or she can use that offers higher stats than the starting gear.
Next you can host a game (and invite friends if you like) or join an existing game. Up to four players can quest together. Some doors can only be opened by specific classes (melee, ranged, and magic wielding) so try to build a well-balanced team if possible.
Multiplayer offers three difficulty levels, each one recommended for a specific range of character levels. Start with Routine and don't move on to higher difficulties until your team can safely complete Routine levels.
Each of the existing three multiplayer levels consists of five distinct sections. Your goal is to move through each section, clearing it of enemies and searching for chests and other loot. At the end of the fifth area you'll face a challenging boss battle.
Don't be discouraged if your team can't survive the boss. The experience you earn will level up your character, allowing him or her to learn new abilities that will make the next run easier. And whenever you accumulate 1200 gold you'll want to buy a chest in hopes of gaining better equipment.
Dragon Age Inquisition multiplayer is much simpler than the single-player game. But teaming up with friends, building up a character, and searching for loot still proves to be an enjoyable and relaxing experience. Give the multiplayer mode a try and let us know how you like it!
Dragon Age: Inquisition – Xbox One – 42 GB – $59.99 – Amazon – Xbox Store
Dragon Age: Inquisition – Xbox 360 – $59.99 – Amazon
Dragonslayer update
This latest multiplayer update adds an all-new Fereldan castle, although we don't know the name of the actual area. It will be a specific selectable level though, much like the existing three levels. And the area will culminate in Inquisition multiplayer's most epic boss fight yet…
Yes, we'll be teaming up to fight a flying dragon. Given the fairly sizable role that dragons play in the single-player campaign, it's both fitting and exciting that we'll finally be able to team up with friends to battle one.
The 'Dragonslayer' update also adds three new agents to multiplayer. Presumably, these are playable heroes and not just NPCs. All of the existing playable multiplayer characters have names too, it turns out. You just don't see them outside of the character select screen.
The new heroes are:
Skywatcher, an Avvar warrior from the Fallow Mire. Skywatcher appears in the Fallow Mire area in the main Inquisition campaign.
Zither the Virtuoso (pictured below). Originally teased as an April Fool's joke, Zither is a bard who plays a lute and plays songs that act like spells.
Isabela the Raider Queen of the Eastern Seas (pictured above). She first appeared in Dragon Age: Origins as an NPC, and later became a playable companion in Dragon Age II. I believe Isabela is the first playable character from past Dragon Age games to appear in Inquisition multiplayer.
Finally, the 'Dragonslayer' also mentions that players will be able to "craft the Dragon's Call." The nature of this item remains to be seen.
Coming next week
The free Dragon Age Inquisition 'Dragonslayer' DLC launches Tuesday, May 5 – my birthday!
We'll be streaming it on my Twitch channel a couple of days later on Thursday, May 7 at pm Central (9pm Eastern, 6pm Pacific, 2am GMT). Be sure to follow me at Twitch.tv/Eastxtwitch. Everyone is invited to play along as we stream. I look forward to questing with you!
Get the Windows Central Newsletter
All the latest news, reviews, and guides for Windows and Xbox diehards.
Paul Acevedo is the Games Editor at Windows Central. A lifelong gamer, he has written about videogames for over 15 years and reviewed over 350 games for our site. Follow him on Twitter @PaulRAcevedo. Don't hate. Appreciate!