Fireballs fly fast as we play Dragon Ball Xenoverse on Twitch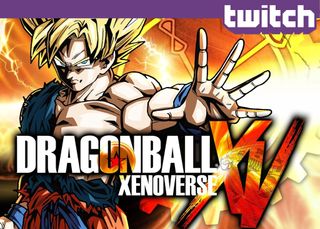 Windows Central streams a wide variety of Xbox One games every Wednesday and Saturday on Twitch. Watching us play a game on Twitch lets you see a lot more you could from a trailer or video review. You can even enjoy some highly entertaining narration while chatting with your fellow readers. It's like a live interactive podcast centered around videogames!
Tonight we'll be streaming Dragon Ball Xenoverse from Namco Bandai. Just released last week, Xenoverse is the first Dragon Ball console game to let players create their own unique character. With expansive story and mission modes, plus three-player online co-op and competitive battles, this is one game DragonBall fans won't want to miss!
Update: The stream has ended. Continue reading for quick impressions and the full replay!
Watch live video from EastXTwitch on Twitch
Dragon Ball Xenoverse
What sets Xenoverse apart from the thousands of previous Dragonball Z games? Players get to create their own male or female custom characters, choosing from human, Saiyan, Namek, and Majin. You play as that character in the all-new story mode, which centers around a hub area called Toki Toki City. Outside of story mode, players can use their custom characters or traditional Z warriors in mission and battle modes.
Xenoverse's other big feature is its expansion online multiplayer mode. Up to three players can team up cooperatively to complete missions together, battling against enemy opponents and earning rewards like new clothing and powers. Competitive multiplayer on the other hand lets three Z warriors duek it out against each other.
There are plenty of Dragonball games in the sea, but Xenoverse is the series' first appearance on Xbox One.
Dragon Ball Xenoverse – Xbox One – $59.99 – Xbox Store

(opens in new tab)

– Amazon Link

(opens in new tab)

Dragon Ball Xenoverse – Xbox 360 – $59.99 – Amazon Link

(opens in new tab)
The Stream
We'll be streaming Dragon Ball Xenoverse for 90 minutes tonight, starting at 8pm Central (9pm Eastern, 6pm Pacific, 2am GMT).
To join us, please follow me at Twitch.tv/Eastxtwitch and tune in during the stream. You can watch the stream right here in this post, but you'll need to watch from the Twitch website or a separate app to participate in our always delightful stream chat.
What's the best way to experience Twitch? The Twitch website on your PC or Mac web browser. If you don't have or prefer not to use a computer, you can get the Xbox One, Playstation 4, or Xbox 360 Twitch apps and watch from the comfort of your couch. Android and iOS both have official and unofficial Twitch apps to choose from as well.
On Windows Phone, you'll have to grab an unofficial app. There are several to choose from, each with different strengths and weaknesses. Only one app lets you search directly for our channel, though. If you use the others you'll have to find and follow us from a web browser first. Read the roundup to learn more.
Be sure to tune in at the same time on Thursday evening for Dragon Age Inquisition and Saturday for Order & Chaos Online with guest co-host Gameloft Ryan!
Windows Central Newsletter
Get the best of Windows Central in in your inbox, every day!
Paul Acevedo is the Games Editor at Windows Central. A lifelong gamer, he has written about videogames for over 15 years and reviewed over 350 games for our site. Follow him on Twitter @PaulRAcevedo. Don't hate. Appreciate!
Honestly always loved the DBZ games but I wish at least once maybe they'd do something different as far as the graphics and quality.

I will be there. Love this game.

I keep almost impulse buying this game. I'll stop by tonight to see if I'll pull the trigger.

I bought this game when it came out last week. Long time fan of the show. First impression was that I was going to hate it because I was forced to create a character and explore around to actually start playing. Also, I wanted to do a quick 2 player local match and I couldnt figure it out. It grew on me though, at least the single player aspect of the "parallel quests" and "fixing the timeline". The fighting controls are pretty good although the camera angles are sometimes messed up. Havent played online. If only they had placed more effort in the local 2 player, such as placing it on the main menu instead of walking to the hub. And allowing local 2 player to fight in other arenas, not just the martial arts tournament.

I have been eyeing this game and keep convincing myself not to get it. Maybe I can stop in tonight and really check it out.

I want this game. I'll definitely be watching.

Nice to see they finally dropped the z from the brand

Still has the Z sound though

Oh my this is going to be fun

Can I be Yajirobi? Or whatever he is. Maybe Hercule!

Yes in offline and online battles

I wish they bring Saint Seya also

Game looks good, surpised I'm digging it as much as I am.

Currently watching the stream, If you are not watching and see this comment, be there or be square.

Even though DBZ isn't really my thing the game looks deeper than I expected. And, of course, the Twitch stream is always fun no matter what's playing. Thanks Paul and moderators!

Great stream and the game looks pretty fun even though I'm not into DBZ at all. The voice acting though... debatable.

Agreed, the voice acting is "meh". But, Dragon Ball Z was my childhood!

This was a really great stream! Might have to pick up this game for myself.

Are you Nicholasm from Twitch? =P

Not a DBZ fan either but wanted to check it out. Thanks for another great stream.

Great stream, glad to see a bit of the multipalyer in-action. I was really hoping to get a good look at this game, so I'm glad you chose to stream it. Had a lot of fun talking and watching, and I'll definitely be watching for a good price to bite on this game for (probably $40).

Enjoyed the stream! Think I will be looking at getting this game. A lot more to it than I thought there would be.

Love the starting intro song, old movie song with a mix.

Great stream, just started watching regularly, this was stream #4 or 5. Wish I would of started watching sooner.

We're glad you jumped in eventually! :D

Been thinking on this game. But what I really want is a open world/universe dbz game. Where you grow your character. Kinda like skyrim but dbz style lol.

Open world would be fantastic, although it's not the strong point of Japanese developers. But Xenoverse is definitely a step towards greater depth (and does feature massive character development and customization) compared to past games.

https://m.youtube.com/watch?v=lcZoIRzJZcY

They are not fireballs! These are ENERGY balls you dumbass

I'm looking forward to Dragon Age tonight. Are people still into Order and Chaos? I'm thinking of starting something that the community is into. Anyone still playing Magic Realms or any other card battling game?

Thanks for the follow, Kovaelin! Did you like the Dragon Age stream? I know we didn't do any story stuff, but everyone seemed to be cool with that. I would think Order & Chaos Online has a lot more players now that it's free to play and Windows 8 players can join the same servers. We'll have to see! I gave up on Magic Realms as it's just too inherently imbalanced. Certain cards are ridiculously hard to defeat, which gives the AI and players who use them an unfair advantage. I thought Order & Chaos Duels might be better, but although it gives players more control, it's highly (and needlessly) imbalanced as well.

I think people are okay without story stuff if they're trying to avoid spoilers for themselves. I think I might actually start to play some Dragon Age, myself! I've had the first game for a while from a Steam sale, but didn't have a good computer back then. I'm excited now! I think I'll wait a little bit to join Order and Chaos for the time being. Hopefully, we'll see more card battle games on Windows Phone. I'm also hoping to see Terra Battle and Heavenstrike Rivals someday. My hopes aren't that high for those two, but I still hope for them. Haha!

Delayed response, but I think that after my two midterms next week I'll be buying this game. I happen to have just started re-watching the show, and coupled with the stream it's pushed me over the edge. I just need more dragon ball!
Windows Central Newsletter
Thank you for signing up to Windows Central. You will receive a verification email shortly.
There was a problem. Please refresh the page and try again.