Dredd vs. Zombies: Upholding the law on Windows Phone 8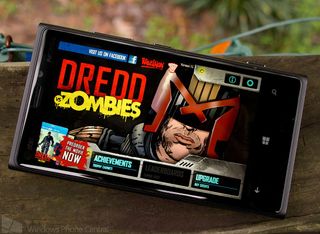 Rebellion Games has been rather busy these day cranking out Windows Phone 8 games. First we saw Guns 4 Hire and now you have Dredd vs. Zombies.
In Dredd vs. Zombies, as you might guess, you play the role of Judge Dredd (opens in new tab) who must protect Mega-City Once from an invasion of grumpy, flesh eating zombies. The game has three gaming modes, weapons upgrades, nice looking graphics and overall is a fun, challenging game for your Windows Phone 8 device.
The three game modes for Dredd vs. Zombies include:
Story Line: A multi-level game spread across three chapters where you have to navigate through the city, wiping out all the zombies. Once you clear the level of zombies a portal will become available where you can advance to the next level.
Arenas: The Arenas Mode is a free for all pitting Dredd against and endless supply of zombies. The more zombies you wipe out, the more credits you earn. The attacks come in waves as you travel through the various rooms of the Arena.
PSI: The PSI Division predicts future crimes that you can intercept for bonus rewards. Choose one of the events and at a specified time in the future you try to prevent the crimes. Not exactly the game mode to choose if you're looking for quick action.
At the start of each game, you're given the opportunity to choose your weapon, upgrade weapons, and select your secondary equipment (body armor, extra magazines, etc.). As you wipe out the zombies you earn points. The more points, the more credits earned that can be used to upgrade and purchase gear. Weapons upgrades are broken down into categories such as reload speed, magazine capacity, damage, and fire rate. If you need a few extra credits, in-game purchases can be made for credits and bonus items.
Game controls for Dredd vs. Zombies are simple. A joystick to control movement is in the lower left corner and a fire button in the bottom right. Target acquisition is automatic or you can select a target by tapping the screen and then tapping the fire button.
Above the fire button is your ammo supply and current magazine level. Dredd will reload his weapons automatically or you can reload things manually by tapping the green reload button. Having a limited number of shots per magazine adds a bit of tactical challenge to Dredd vs. Zombies. It takes a couple of seconds to reload and you will likely have to retreat while reloading to avoid getting struck by zombies.
Along with the movement and fire controls, you will also find your health meter, credit count, secondary equipment activations and Shield meter along the top of the screen.
Zombies rise from the ground in the most inopportune times and range in type from those that are taken out in a single shot to ones that are a little more stubborn requiring multiple shots to take out. You do have caustic barrels that will explode when shot to take out multiple targets.
At the end of each level or your demise, a scoring screen will appear detailing your points and credits earned. While there is a tutorial that walks you through the first level to give you a feel for things, a help section would be nice. Beyond that minor nit, Dredd vs. Zombies is an enjoyable game for your Windows Phone. Dredd vs. Zombies has a bit of an addictive quality to it, which is a good thing and a bad. Good in that it's a nice game bad in that it will suck the life out of your battery (graphics maybe?). Still haven't grasped the PSI game mode but the Arena and Story Line modes are great games for the action player in all of us.
Dredd vs. Zombies is a free game for your Windows Phone 8 device and you can find it here (opens in new tab) at the Windows Phone Store.
Thanks, Micha, for the tip!
George is the Reviews Editor at Windows Central, concentrating on Windows 10 PC and Mobile apps. He's been a supporter of the platform since the days of Windows CE and uses his current Windows 10 Mobile phone daily to keep up with life and enjoy a game during down time.
Yes!! I loved this game on IOS!

Its a great game! And free :D

Nice! I have this and Guns 4 Hire on my Surface RT and they are both good titles. Will get them both for my phone tonight.

Dredd vs Zombies was the first great shooter game for Windows 8 (with in-app purchasing). Quite surpising that they still haven't promoted it as the great/fun game that it is.

We defintely need more games like this!

Now we wait for Gameloft games...

Would this work with a 360 controller on a W8 device?

waiting on nova 3 and mc4 for the supposed holidays

Likewise. I will purchase both games without hesitation. I hope achievements are added. I was disappointed 'Where's My Water' lacked them- I hope most popular games from iOS make it over to WP8 with this feature included. Anyone know if Microsoft would allow a product like MOGA? I would love controller support.

also available on Windows 8/RT. really wish devs would get on the whole cross-device/cross-platform (windows) syncing.. even if i have to pay twice, would be great to have my progress synced across devices..

I for one wish it was the Windows App Store, not seperate. But at a MINIMUM, progress should be synced between the two for sure.

Rebellion devs, please make theses games available here in Brazil!

It's really difficult and cumbersome to publish games in Brazil because of regional laws and regulations. It's really sad but I don't see stuff like this changing as long as these regulations are in place...

The indicative classification request process is very simple! I made a guide to help developers publish their games here. I can help with the whole process. And, recently, the Government of my country has passed the ESRB and PEGI ratings accept too.

Oh, I didn't know that. I sincerely hope developers start taking that into consideration and countries like Brazil aren't left out!

bad in that it will suck the life out of your battery (graphics maybe?).

Game graphics (not limited to

Dredd vs. Zombies

) certainly drain the battery, and tend to generate heat from top of my Lumia 920 (right above the camera, which is where the NFC chip is supposed to be.) I wonder if it's an issue with the latest Adreno GPU in our devices, or if it can be fixed in software. I have sent my feedback to Nokia regarding this with their Feedback app. I hope others that experience it do the same.

Doesn't look very fun to me, but I'll try it out on my wife's phone. It's nice having access to both WP7 and WP8.

but we can not save everything we purchase or we can not save the progress of the game and load when we reinstall the game. It 's a big disadvantage
Windows Central Newsletter
Get the best of Windows Central in in your inbox, every day!
Thank you for signing up to Windows Central. You will receive a verification email shortly.
There was a problem. Please refresh the page and try again.