Dunky Dough Ball – a Windows Phone game with potential that could drive you batty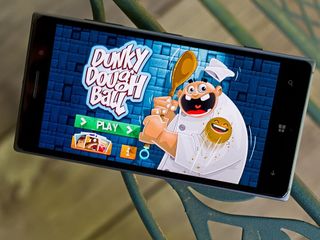 Dunky Dough Ball is a challenging arcade game that has you bouncing a dough ball around a maze of obstacles, collecting coins and eventually landing safely in a dipping bowl.
Dunky Dough Ball is available for low memory Windows Phones and as is, not a bad time waster of a game. However, it may drive you a little crazy while to get the hang of the gaming controls. The Windows Phone game has potential with decent graphics and challenging game play but the game just seems to be missing that one feature to get you hooked.
The main menu for Dunky Dough Ball cuts to the chase with options to jump into game play, a link to the developer's website and to the About screen. Game play with Dunky Dough Ball is level based with 80 levels to tackle that are spread out across four chapters.
Across the top of the gaming chapter's page you will find links to the gaming store, options to unlock additional bouncy dough balls and your dough ball/coin count. The gaming store offers options to buy more bouncy balls, unlock free bouncy balls (liking the game on Facebook, following on Twitter, etc.) and the option to unlock bouncy dough ball styles.
The back story for Dunky Dough Ball has you trying to escape the clutches of an Evil Chef and bounce Dunky (that would be the dough ball) across a world filled with hot lava, deadly buzz saws, dragons and other dangers to ultimately reach the safety of the dipping bowl.
You will begin your quest with a tutorial level that covers the very basics of game play.
Controlling Dunky is done by tapping the left or right side of the gaming screen. Tap left and Dunky bounces left, tap right and he bounces right. If you tap and hold, Dunky puts a little pep behind his bounce. It will take you a little time to master the controls and I often found Dunky bouncing around with too much zip. My only nit with the control design is that at times I would tap far enough on the left side of the screen to activate my Windows Phone Notification Center. It's not a deal breaker, but rather something to be careful with.
While there are no controls to bounce Dunky, there are blue springy bricks and moving platforms to help Dunky with his vertical reach. Just bounce Dunky a few times on a blue brick and he'll be knocking his head on the top of the gaming screen in no time.
With each level, the goal is to collect all the coins that are scattered about the gaming screen and safely land in a dipping bowl. Along with the dangers placed throughout the game, there are blue springy pads and elevators that will help Dunky get higher.
Some of the levels take on a slight puzzle feel with obstacles that have to be moved into place to allow Dunky to bounce across the hot lava and keys that have to be collected to unlock the dipping bowl.
Each game of Dunky will cost you a dough ball if you don't collect all the coins but the games starts you off with 60 dough balls and there's plenty of opportunities for free dough balls throughout the game. Should you fall short on your luck, you can always pick up a few dough balls through in-app purchase.
Overall Impression
Dunky Dough Ball is a casual arcade game that I cannot help but feel is an acquired taste. It's not a terrible game but it seems to lack that universal appeal or key feature that keeps you pulled into the game.
Gaming controls may drive you nuts for the first few levels and don't be shocked if you send Dunky bouncy all over the place like a superball until you get a feel for tapping the sides of the screen just right.
The game does a good job covering the basics with decent graphics and game challenges. It will grow on you ever so slightly but I just could not shake the feeling it needed a little more. Maybe more animation in the characters, bonus items or having more Dunky styles to choose from out of the gate would help give the game a little more draw. Overall, the game has potential but I believe some may find Dunky Dough Balls a little lacking.
At last check, the Windows Phone game is pulling down a 5 star rating, which may be one star, maybe one and a half stars, too high. If your try Dunky Dough Ball, let us know in the comments what you think of the game. Dunky Dough Ball is a free gaming title in the Windows Phone Store with in-app purchase opportunities.
Download Dunky Dough Ball for Windows Phone (Free)
Windows Central Newsletter
Get the best of Windows Central in in your inbox, every day!
George is the Reviews Editor at Windows Central, concentrating on Windows 10 PC and Mobile apps. He's been a supporter of the platform since the days of Windows CE and uses his current Windows 10 Mobile phone daily to keep up with life and enjoy a game during down time.
Look at the MINIMUM REQUIREMENTS in store.... Lumia 820 or latest HTC/Samsung :p

Thanks for the kind words Emporor_Skull, hope you enjoy the game too! We're going to also be posting the concept art for the game soon as loads of fans have been asking about it.

Although it does support 512 Mb ram devices in the store, a device with 1 GB ram is recommended for smooth gameplay.

Developers: please make your games available here in Brazil??? The process to bring games to here is the same to publish in the US or many European countries. I can help.

Hi GuilhermeManso. I'm part of the dev team who created Dunky Dough Ball. We published the game in all territories - I'm not sure why it's not showing up in Brazil but I'll contact the app store & ask. Thanks for your feedback!

When you select "All Territories" that option actually does not publish in all territories. Some countries needs specific age certifcaites to get published in there. I've made a quick guide in the Windows Central Foruns in how to make your game available in some countries. Is pretty simple:
http://forums.windowscentral.com/developers-corner/268726-how-easily-publish-your-games-brazilian-wp-windows-8-store.html Any doubt you can ask me there, on Twitter (same profile) or via email: guilhermemanso at outlook dot com.

Thanks for the guide. I've just resubmitted Dunky Dough Ball. Hopefully it is now really avaliable in "all territories" ;) Hope you enjoy it. Please rate & review the game!

Great!!! Hope your game will doing good here!! Of course I will. :)

Howcome I don't care about games that are not Live enabled?

Because you crave validation through achievement points.

I wonder which games that are releasing are ports from ios and android that have slipped under the radar that nobody is telling us about lol but I hope the apps and games keep coming...

When I started using wp there was no Temple Run., subway surfers..,or any other popular games except fruit ninja , jetpack joyride etc. Things have changed a lot from wp8 to wp8.1. And I think it's gonna be much much better for windows 10..!

Hi George Ponder - thanks for taking the time to review our game Dunky Dough Ball - much appreciated!
Windows Central Newsletter
Thank you for signing up to Windows Central. You will receive a verification email shortly.
There was a problem. Please refresh the page and try again.