E3 2015: Bethesda is geared up to kick off E3 with Fallout 4, DOOM and (probably) Dishonored 2
Bethesda is kicking off E3 2015 with its first ever conference, streaming live from LA later tonight.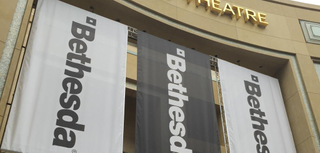 The purveyor of Fallout and The Elder Scrolls will reveal its plans for the future in detail, live streamed on both YouTube and Twitch.
Expect the recently announced Fallout 4 to be demonstrated in full, in addition to further information on the long-awaited DOOM reboot and perhaps even Dishonored 2.
The conference kicks off at 6.30 p.m. PDT / 9.30 p.m. EDT and 2.30 a.m. BST. For a full breakdown of E3 conferences for your time-zone please refer to this link. As for what we can expect to see, here's what we know so far.
Fallout 4
Bethesda announced Fallout 4 last week to a riotous fanfare. We know that the game is set in a post-apocalyptic Boston, MA, and Bethesda's Todd Howard describes it as their 'most ambitious game to date'. When Fallout 3 was announced, Bethesda demonstrated the game hands-on for roughly 20 minutes, showing off the game's systems and other features.
I expect V.A.T.S. to make a return in all their gory glory, perhaps with restrictions on how frequently they can be used. I also expect the engine to be improved when it comes to regular gun-play. Obsidian injected some of its own improvements for shooting in Fallout: New Vegas. As such, I wouldn't be surprised if the new game supports regular iron sights aiming as standard. Expect Fallout 4 to receive the most airtime this evening.
DOOM
Little is known about Bethesda's DOOM reboot, besides the fact that it was shelved as "DOOM 4" and sent back to the drawing board. Attendees of the latest Quakecon were treated to a preview of the newest DOOM instalment, citing expanded melee combat, finishing moves and increased freedom of movement. Those who pre-ordered Wolfenstein: The New Order were able to sign up for a DOOM beta that has yet to materialize. I think it's likely we'll get some information on DOOM later tonight.
Dishonored 2
Arkane Studios' sleeper hit Dishonored took the world by storm a few years ago. Its unique blend of steampunk, stealth and magic captured the imagination of millions, and you'd have to be crazy to think Bethesda isn't interested in funding a sequel. Bethesda leaked Dishonored 2 earlier today during a practice run of its E3 conference on Twitch, accidentally broadcasting the head of Arkane Studios mentioning the game. This follows rumours from last year that Arkane was working on a sequel, in addition to a listing for a remake of the original on the Brazilian video games rating board. We haven't heard much from Arkane Studios in a while, so here's hoping there's something for us later on.
The Elder Scrolls?
The Elder Scrolls series is Bethesda Softworks' flagship franchise without a doubt. The Elder Scrolls V: Skyrim is among the best selling RPGs of all time, selling well over 20 million copies. Bethesda's parent company Zenimax funded and published Elder Scrolls Online trying to capitalize on Skyrim's success - although what many fans really want is Elder Scrolls VI. I think it's unlikely that we'll see any hints of Elder Scrolls VI during Bethesda's press conference, as they'll probably want your attention focussed firmly on Fallout 4. The idea hasn't stopped fans speculating though, and stranger things have certainly happened.
Stay tuned to Windows Central as we'll be bringing all the latest and greatest from E3 right here on the site. Check out Paul's E3 post for more information on how you can stay up to date with the team.
What Bethesda announcements are you most looking forward to? Could we see a new Quake or Rage from id Software? or perhaps a sequel to Machine Game's Wolfenstein: The New Order? Hit the comments!
Jez Corden is the Managing Editor for Windows Central, focusing primarily on all things Xbox and gaming. Jez is known for breaking exclusive news and analysis as relates to the Microsoft ecosystem while being powered by caffeine. Follow on Twitter @JezCorden and listen to his Xbox Two podcast, all about, you guessed it, Xbox!
Different presser. You'll want to be watching Microsoft's for that.

Dishonored 2 F*CK YEAH! #darknessoftyvia

Yes! Dishonored 2 would have more more excited than any other!

The elder scrolls remembers me of an old man scrolling a mouse

I have a morbid curiosity about doom, but I'm afraid of exactly they have planned.

I'm hoping fallout 4 will not be as bug infested as fallout 3. The damn game refuses to run on multi-core pcs. Have had to mod a .ini file so the game runs on a single core.. Not to mention the bugs on the consoles lol.

I have no idea what you are talking about... I've run that game for countless hours on a multi-core PC.

I just recently replayed it without a single problem.

You two are playing it after the many bug fixes. Fallout games are notoriously buggy on release.

I really would love to see a rehash of Skyrim for XB1. It was one of the best in the series and Halo got the treatment, so should Skyrim, or a new campaign. ESO is okay but this being online multiplayer everything is just getting too much

ESO is not OK in my household. Sat waiting 45 minutes for the damn thing to connect tonight (first attempt at playing as well). I know this stuff is hard. But when an online only game can't handle the online part, it's a pretty big derp. At least Halo:MCC had some offline stuff to get on with.

I would prefer Morrowind Remastered or just elder scrolls 6

Although we may not see any Elder Scrolls VI news tonight, just by looking at the Fallout 4 presentation will give us an idea on where Bethesda is taking the series next, since it's the same team and same tools.

Wow I forgot about dishonored 2! Should be a great game, hoping they don't change too much gameplay wise. Give me a new plot, new city, and a few new toys and skills and I'll be happy. Doesn't even need multiplayer, so don't waste your time developers. I hope for a next gen remastered dishonored 1 as well.

How is this starring a half hour later on the east coast?

Doom, and castle wolfenstein. I feel like I'm back in college in the early 90s.

Was debating getting ESO. Pulled it up on twitch and it looked like The first Everquest had better graphics. So witcher 3 gets my money.

No everquest looks better than eso. I don't like the game but im not blind either.

Still trying to get all those damn bobbleheads!

Fallout 4 is really REALLY awesome, and will definitely get that for my Xbox One... but it very much SUCKS that there won't be that Fallout Pitboy app for my Windows Phone. They said ios and android. These are 1 of those things why Windows Phone will never get traction. Shame.
Windows Central Newsletter
Thank you for signing up to Windows Central. You will receive a verification email shortly.
There was a problem. Please refresh the page and try again.