Exclusive: Electronic Arts confirms Tetris Blitz for Xbox on Windows Phone 8 [Updated]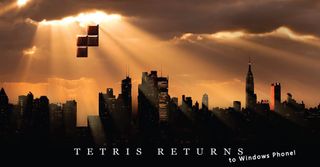 The days of Xbox Windows Phone games being announced in advance are pretty much behind us. Most weeks we get no game at all, and the games that do pop up were either announced long ago (such as this week's Six-Guns) or just pop up out of the blue. Blame changes within Microsoft for the dwindling quantity of titles and lack of PR for mobile Xbox games.
But but but! Nokia has actually put a fair amount of time and money into bringing new Xbox games to Windows Phone in the last year or two. Two recently announced games: Angry Birds Star Wars II and Tetris Blitz both come from Nokia's strong relationship with Rovio and Electronic Arts. But Nokia's Facebook page announced Tetris Blitz for the end of August and it never showed up. Could the game have been announced in error?
Windows Phone Central has finally received official confirmation from EA: Tetris Blitz is definitely coming to Windows Phone 8 soon. Head past the break for exclusive details!
What is a Tetris Blitz?
First, let's explain why we care about Tetris Blitz. Unlike traditional Tetris titles, games last for exactly two minutes in this one. The goal is to score as much and earn as many coins as you can within those two minutes. Clear lines quickly to enter Frenzy mode. In Frenzy, you'll score double for each line cleared.
The coins earned in-game can be spent on 15 different power-ups. These provide beneficial effects like an extra burst of time, removing random lines, lowering the stack of blocks, and more. As you might expect, power-ups are key to achieving really high scores on the global leaderboard.
It's been said that touch screens don't offer the precision controls required for a relatively fast-paced game like Tetris. Well, in designing Tetris Blitz specifically for mobile play, EA really created a smart new control method…
When a tetromino (Tetris piece) enters the field, several possible landing positions appear asoutlines down below. Just tap an outline to drop the piece in that location! If none of the suggestions look good to you, hit the Cycle button on the side of the screen for a new batch of placement locations.
Windows Phone specifics
Now for the good stuff! As our introduction clearly hinted, Tetris Blitz will be Xbox-enabled when it arrives on Windows Phone. It will NOT be a Nokia exclusive either, despite Nokia's involvement in announcing the title. Good news for the HTC and Samsung users in the house.
Tetris Blitz will require Windows Phone 8 though, most likely because the game is designed around In-App Purchases (IAP). Players can earn the coins needed for power-ups through gameplay, or they can opt to buy them with real money. Speaking of IAPs, Tetris Blitz will be free to play when it arrives on Windows Phone.
Tetris Blitz is targeted for a late September release. Angry Birds Star Wars II is already due on September 19, so September 25 looks like a good bet for Blitz. Keep in mind the September release is not set in stone, so it could slip to October. But if everything goes well and Tetris Blitz makes it out in time, September will be the best month Xbox Windows Phone has had in ages.
Update: EA has confirmed that Tetris Blitz WILL be free to play.
Paul Acevedo is the Games Editor at Windows Central. A lifelong gamer, he has written about videogames for over 15 years and reviewed over 350 games for our site. Follow him on Twitter @PaulRAcevedo. Don't hate. Appreciate!
I can't believe I'm still playing ye olde Tetris in 2013. What a game!

This is good but they should release their games on Windows 8 store.

"Nokia has actually put a fair amount of time and money into bringing new Xbox games to Windows Phone in the last year or two". God help the platform and Xbox Live games now that Microsoft has purchased Nokia.

they all believe everything will change now.. where ms and nokia is doing this together all along

Can't wait, please be free. Now where's bejeweled blitz?

It's an EA game, so it'll be $4-5 with sales going down to $3 :P

But we've already confirmed it will be free.

Oops, I guess I never learned to read :P

Look MS you better keep the name Nokia. Although i dont play games on phone, i will definately try this one.

Lol the picture anti religious?

Only if you consider the piece as shooting up into the sky in order to strike down the heavens. Which it's not. :P

Hmm good news wpcentral should not become like the verge talk about atheist groupie's O_O

Oh and any new big titles coming our way other than gameloft that we know of ?? :|

Naw, like the intro says, we don't know of any others really.

This is old news, i already told here that it was tested in my country...back in july...

Someone didn't read the story...

Maaaan that's old news... I read the story over 5 minutes ago! :P

need for speed the run ?? , need for speed most wanted ??? , real racing 3 ?????

Phantasy Star! Golgo 13! Bomberman 64!

Super Mario Brothers! 1! 2! And 3!

I wonder if, now that MS purchased Nokia, those exclusive EA games will come to Samsung and HTC phones any sooner.

Great, I have a friend who is addicted to this game and I'm eager to try it.

Lol!! Loved the picture introduction! Hahaha

EA, Xbox, Windows Phone, game Free, cuz it is on another platform? WOW... What's in the water over there... I'll believe that, when I see it.

We already have several free Xbox WP games like Six Guns. If you're suggesting it's unusual for EA to do a free Xbox WP game, that's true, but this one won't be published by Nokia like Flight Control Rocket was.

Yes, I think free & EA are two/three words you don't see together, often...

Ah, but most of their new mobile games are free to play: Real Racing 3, Plants vs. Zombies 2, etc.

Just saying... ALL Windows Phone OS, hardware, eco-system (Xbox Music, Videos, Games, marketing etc) work to the Nokia Division, and let that division operate independently! Just throw boat loads of money at them.

WTF. And now this is super game? WTF.
MS support WP with perfect games

Electronic Arts makes this game, not Microsoft.

"Luckily we do know when to expect the game."
"Keep in mind the September release is not set in stone, so it could slip to October."

Son of a contradiction, but I (we, hopefully) appreciate the work to get verifcation of the release. Continue the good work, Paul.

ETAs are better than no date at all. ~ ~

You'll have to ask King about that. Sadly they don't seem very interested in Windows Phone.

Not even on windows 8 rt? Damn, Nokia/Microsoft shld make it themselves, I though msft was paying developers to bring their apps+games to the platform?

They pay some devs to bring games and apps over, but either they haven't approached King, King wants too much, or King simply said no.

Do you think maybe there's a key component that's missing in the WP OS that prevents them from making it? I have approached tequilaplanet makers or battlesFriends at sea for a WP and they replied saying and I quote "due to lack of game engine...still there is much less developer tools for WP than Android or iOS". Maybe this is same issue with candy crush?

Windows Phone has all of the important multiplatform game engines besides Unreal Engine. And Candy Crush is a really simple game; they could port it from scratch with no established game engine without too much work. It's really just a matter of King deciding the platform is worthy of their notice.

I play a surprising amount of Tetris, so this is cool. But even cooler? That pic of a piece floating down from the heavens. Brilliant!

Hey Paul did you ask EA about dead space?

Yes I did! I'm waiting on their reply.

Bad news. Sounds like Dead Space and Madden were cancelled.

It's going to be free! We can show our support by making an In-App Purchase though. :)

Still we need some Zeptolab and Halfbrick and EA/Chillingo (especialy Simpsons Tapped Out) LOVE!!!

Cmon EA.....give us some sports games, i want Madden, Tiger Woods, NBA, MLB, FIFA, and dont forget Need For Speed......send us some love to us windows folk

Tiger Woods and FIFA actually came out this year, as Nokia exclusives. NBA Jam scratches the NBA itch too, to an extent.

Very prescient, Paul! "Tetris Blitz is targeted for a late September release. Angry Birds Star Wars II is already due on September 19, so September 25 looks like a good bet for Blitz". And September 25th it was. You win the free office pool.

Feels good being a winner! Whoo!!!!
Windows Central Newsletter
Get the best of Windows Central in in your inbox, every day!
Thank you for signing up to Windows Central. You will receive a verification email shortly.
There was a problem. Please refresh the page and try again.