EA outlines incoming updates to Star Wars Battlefront, season pass to include the Death Star
Since Star Wars Battlefront launched back in November, there hasn't been a great deal of information about what EA planned to do regarding future content – besides its pricey season pass.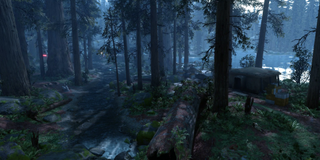 That all changed today, as DICE provided an update on the official Star Wars Battlefront site about what fans can expect in an imminent update and the months ahead.
Battlefront owners will receive free content, such as new maps for both multiplayer and mission modes, new costumes and other additions like new game types. The first batch of free content will go live tomorrow, updating an existing map to include various additional game modes, iconic Hoth outfits for Luke Skywalker and Han Solo, and much more:
The Tatooine Survival map will now support the Blast, Droid Run, Drop Zone, Hero Hunt, and Heroes vs Villains multiplayer modes, and is called Raider Camp.
New Hoth-themed outfits for Luke Skywalker and Han Solo, both of which will be available to all fans when they play as these two iconic characters on the Hoth – these were unlocked by our players for completing our Heroes' Holiday community mission last month.
We are giving players the ability to create Private Matches, which makes playing with friends even easier.
The introduction of Daily Challenges and Community Events. These are designed to rally the Community around certain goals and objectives, giving players the chance to earn credits and unlocks even faster. We'll have more news regarding Community Events and Daily Challenges in the days ahead.
And of course, we are also including some overall balancing tweaks to both weapons and multiplayer modes.
Future updates will include brand new maps based on Hoth and Endor, suitable for new survival missions and all of Battlefront's 20 vs. 20 game modes. Turning Point – Battlefront's attack/defend game mode will also be expanded to support other maps beyond Jakku.
That's no moon...
DICE also announced their roadmap for Star Wars Battlefront's season pass, which includes Lando Calrissian's Cloud City and none other than the Death Star, which should compensate for Battlefront's lack of space battles to some degree.
Star Wars™ Battlefront™ Outer Rim (March 2016) - Fight among the factories of Sullust and battle within Jabba the Hutt's palace on Tatooine
Star Wars™ Battlefront™ Bespin (Summer 2016) - It's hunt or be hunted in this action-packed experience set in the Cloud City of Bespin
Star Wars™ Battlefront™ Death Star (Fall 2016) – That's no moon! One of the most iconic locations in the Star Wars universe makes its debut in Star Wars Battlefront.
Star Wars™ Battlefront™ Expansion Pack 4 – Title TBA (Early 2017) – We will have more details to share about this exciting new expansion pack in the coming months.
While DICE's Battlefront reboot failed to impress everyone, I praised the game in my review for its accessible nature, polished visuals and explosive gameplay.
EA has a 10-year lease from Disney to develop video games based on the Star Wars universe. Beyond on-going updates to Battlefront and The Old Republic, it's widely believed EA Visceral (Dead Space, Battlefield Hardline) are working with the creator of Assassin's Creed, Jade Raymond, to create a Star Wars action-adventure game.
What do you think of DICE's Battlefront plans? Let us know in the comments.
Source: StarWars.EA.com
Windows Central Newsletter
Get the best of Windows Central in in your inbox, every day!
Jez Corden a Managing Editor at Windows Central, focusing primarily on all things Xbox and gaming. Jez is known for breaking exclusive news and analysis as relates to the Microsoft ecosystem while being powered by caffeine. Follow on Twitter @JezCorden and listen to his Xbox Two podcast, all about, you guessed it, Xbox!
Cant wait! Got the season pass as a gift so free stuff for me :)

Death Star sold me, and 2 other people I know. If you guys ever wanna play, add me on Xbox Live: MSFTY Jez

Yep, it sounds good to me. I do wish they could release the maps faster... seems like they are coming very slowly... but then I don't usually play multiplayer games, so I don't know if that's typical. I really like Battlefront... it's easy enough to grasp what's going on that I can get into it. Most of these shooters involve systems that have evolved for a decade plus... and it seems too complicated to jump into if you don't have a lot of time to invest. This one is very playable and looks great!

I'm play. I am: Human Traffiking

Already know people are gonna complain.

This is why I didnt buy battlefront or buy most games from EA. When they have day 1 DLCs (granted generally free) and you can buy season passes along with your game I have a problem with that. And as a consumer I think its ok to voice opposition to something. It helps that other great games are out that dont require me to buy DLC season passes to enjoy it a few months down the road. Between HoTS, Ark, etc, etc, I dont have time for that anyways :)

Clearly the free dlc for this one was a tie in to the movie, and timed as such. And given it was free, it hardly seems like a negative.

Gotta wait until the Fall for the Deathstar? crap

I rather get the Battlefront 2 from steam. This looks nice but EA really f'd it up.... Much less content than Ps2 game.

Yep, well graphics are old but I can get use to them :D its problem nowdays, they make sweet looking games but usually content lacks :/.

This will be a small consolation for me, if they keep adding good content like this, I may spring for a season pass as well, starting to feel a little less enraged over their original release ;)

The game is fun, and I am glad to finally know what the season pass will bring. I may still wait to see if it goes on sale, and see how many people are still playing by the time the first dlc packs start coming out. They really need to work on their communication though. Even just outlining the first dlc earlier may have helped stem some of the complaints early on. But them again, people will always complain.

Well, I guess that might be the nail in the coffin for me. 15 months or so to get us the $50 DLC? I might as well just wait for a complete edition that will probably cost as much as the Season Pass, or wait for it to hit EA Access. The length of content development is too long.

It's how I felt playing the 10 hrs on Access, I was pretty much out of content come the end of it. Figured I would wait for this announcement them a nice price drop before even considering it.

699 skr and i have to pay another 299skr to get more content? It's like destiny.

The good news is that they may not turn Battlefront into an annual release (like COD and Battlefield) as many had predicted. DLC contect for the next year+ means that major game releases are probably on a two+ year cycle.
Windows Central Newsletter
Thank you for signing up to Windows Central. You will receive a verification email shortly.
There was a problem. Please refresh the page and try again.