Mass Effect Legendary Edition can run up to 120FPS on Xbox Series X
You get two modes, one favoring framerate and the other quality.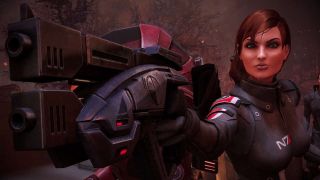 (Image credit: EA)
What you need to know
Mass Effect Legendary Edition is a remaster of the original Mass Effect trilogy for current-gen consoles and PCs.
EA has released details on the Legendary Edition's performance on each of the consoles.
The Legendary Edition will come with two gameplay modes: One favoring quality, and the other favoring framerate.
Electronic Arts released performance details of the upcoming Mass Effect Legendary Edition, including what kind of framerate and output resolution to expect from each console version of the game. There are two kinds of gameplay modes you can switch between at any time: Favor Quality and Favor Framerate.
These two modes appear to correspond roughly to the "Performance" and "Quality" modes we've seen in other games. Favor Quality gives you "the highest visual fidelity possible," while Favor Framerate, as the name suggests, "prioritizes the highest framerate possible." EA gives a table that shows how each of those plays on each of the consoles.
On PS4 Pro, for example, Favor Quality mode offers "up to 30FPS @ 4K UHD," while Favor Framerate mode offers "up to 60FPS @ 1440p."
The Xbox One X and the Xbox Series S will have a comparable level of performance. The most powerful version of the game on offer, going by this table, appears to be the Xbox Series X version, but only by a slim margin: Its numbers are almost the same as those for the PS5, but the Favor Framerate mode on Series X offers "up to 120FPS @ 1440p," where the PS5 version of the mode only goes up to 60fps.
The list also mentions PC almost as an afterthought. PC gamers can play at up to 240fps and on monitors supporting refresh rates up to 240 Hz. EA adds, "Additionally, players can tweak several graphics options at any time to finetune the preferred balance of graphics and performance."
EA has shown multiple screenshots and trailers that demonstrate how much more intricate and detailed the graphics in the updated games are compared with the original. So we know the games are going to be pretty regardless of what console you play them on. We can also already glean that the remastered trilogy is going to be a powerhouse on console. Leaked news about the game's Day One patch shows that it's allegedly bigger than any of the original games at 11.8 GB.
Galaxy at War
Mass Effect Legendary Edition
Face the Reapers and save the galaxy all over again.

This remastering of the original Mass Effect trilogy brings all the heroism and tragedy of this iconic series forward to current-gen consoles and a new generation of gamers.
Get the Windows Central Newsletter
All the latest news, reviews, and guides for Windows and Xbox diehards.
Rachel Kaser is a Windows Central gaming contributor, who's been writing since 2013 and gaming since the age of five. She's covered everything from gaming news, reviews, and analysis -- if it exists in gaming, she knows about it. She also contributes to Future's other sites, iMore and Android Central. If you want to hear her opinions on games, pop culture, tech, and everything in between, follow her on Twitter @rachelkaser.