Earth 3D, an educational global perspective for Windows 8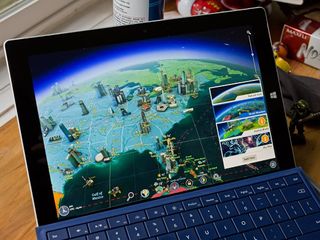 Earth 3D is an interactive, educational app in the Windows Store that delivers an interactive model of the earth. The map view highlights key landmarks, charts the weather, displays major water currents and can pull up a vast number of factoids on the world around us.
The Windows 8 title has been available for some time and it caught our eye being a featured app in the Store. After tinkering with Earth 3D over the past few days, it comes across as an entertaining way to learn a little about geography and global attractions.
Before we jump into things, there is one house-cleaning note with regards to Earth 3D. It is a huge file weighing in at 1.19GB in size. While it takes up a lot of space, you only need an internet connection to update the weather information or access a web link embedded in the factoids that pop-up. Everything else is stored in-house, making the app useable just about anywhere. It is a nice touch but will cost you a bit of memory space.
Once things are loaded, the main view for Earth 3D has your global map taking center screen. Along the bottom of the map view are several navigational buttons and your zoom controls are nestled in the upper right corner of the display.
The bottom buttons include (from left to right):
Time Zone indicator that toggles an overlay showing the time differences, as well as displaying the UTC time for any area on the map
Keyword Search button
Map Selection button that allows you to toggle between a physical, political or vegetative map (add-on view) overlay
Hide Information button for the times you just want to enjoy the map view without all the labels
Compass button to rotate the globe where North is at the top of the display
Lock button to prevent the Earth's axis from being rotated
Day/Night theme toggle button
You also have a settings button to pull up Earth 3D's display options that include turning on/off geographic names, grids, airplanes, ships, currents, clouds and weather information. I have to admit having boats and planes zipping around the globe is a nice touch with Earth 3D, but some may find it distracting.
There is also a hamburger menu in the bottom, right corner of the display that pulls up your map styles. Earth 3D comes fitted with the Natural and World Wonders maps with the Animal World and Sky Map being available through in-app purchase. You can also pull up random earth facts from this menu such as the coldest place on earth is Vostok Station, Antarctica with an average temperature of -89.2 C or -128.6 F).
The model of the earth can be rotated or zoomed (up to 15x) by touch or the on-screen control. Tapping an area of the map will pull up short factoids about that area. The information is from Wikipedia and most entries are linked up nicely. You do need an internet connection to go to these links, but the factoid windows themselves contain a decent amount of information on their own.
The World Wonders map will add 3D structures to the map that represent the various landmarks that populate our planet. There are over 500 attractions ranging from the pyramids of Egypt to oil platforms in the Gulf of Mexico. If you prefer, you can check out the topography of the world by choosing the Natural Map style and Physical Map overlay. While this map focuses more on the natural features of the earth, unfortunately, you cannot zoom into ground level to get a better feel for the contours of the globe.
Overall Impression
If you are in search of an interactive, global map to help you get a handle on geography or just for a neat app to learn a little about the world around Earth 3D is worth trying.
I like the ease of controls, the amount of information that can be pulled up and the map animations help the map from becoming too boring. The weather information is also a nice touch that can teach you about the various climates our world possesses. I'm not sure how difficult it would be but having a weather radar overlay would be a nice touch.
Overall, Earth 3D may not be everyone's cup of tea but it is a very appealing educational title in the Windows Store. The app does have a trial version that is good for 24 hours. The full version will cost you $2.99 and the add-on map packages range from $2.99 to $4.99.
Download Earth 3D for Window 8 (Trial / $2.99) (opens in new tab)
George is the Reviews Editor at Windows Central, concentrating on Windows 10 PC and Mobile apps. He's been a supporter of the platform since the days of Windows CE and uses his current Windows 10 Mobile phone daily to keep up with life and enjoy a game during down time.
Why not on WindowsPhone......? When that damn universal apps are signature of WindowsPhone

On a 1.19GB app, I'm sure you'll need lots of memory. As you focus on a region/country, all the mapping information has to be loaded onto memory, so there would be too much coding work to be done just for it to work on a couple phones. Plus the UI is not realy designed for a small screen.. the pop-up banner on the left with information of the place you're looking at would probably take the whole screen just to be readable. BUT I do agree we need more universal apps, we need to get devs to start thinking about them, if we want Windows Mobile 10 to be usefull :)

What you said is true... But all phones with 1GB RAM can handle 1GB graphic intensive games well , why not app like this And Pop up banners...!!!! Well you know the difference between Outlook app in Phone and also Desktop... Windowsphone users are prepared to use any apps which is bit complicated to use .. All we need is App Count and also more and more apps which is not there in Android and iOS

Looks like someone is playing Civilisation

Yes, i thought this was civ 6 :p

will buy when i upgrade to 10

Added to the shopping list.

Awesome. Reminds me of reading the science pages of the Encyclopedia back in the day. Very nice images.

Thanks for the review George. hoping for many more windows desktop apps to be reviewed.

This looks great. They should market this towards the education market.

Wow! This app is so cool! Very... Something I like to see and use it lol. I don't know hoe to describe it. Very well done! Kudos!!
Windows Central Newsletter
Thank you for signing up to Windows Central. You will receive a verification email shortly.
There was a problem. Please refresh the page and try again.