Easydom Nexthome is a full home automation system for Windows 8.1 and Windows phone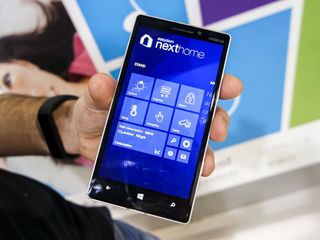 Home automation is pretty amazing technology and with the ever expanding Internet of Things we're going to see the space continue to grow. At CES 2015, we caught up with a company called Easydom, whose Nexthome system will automate your entire home with ease. And the best part? With Microsoft on board as a partner the whole system is built on Windows 8.1 and Windows Phone.
It even has a neat party trick using the Microsoft Band.
The hardware from Easydom is a modular, Wifi connected block that you use to connect your existing home systems to. Rollaway blinds, interior lighting, security systems and so on. Using the apps as an interface you can then turn on the lights, roll up the blinds, check on the security system and look at any CCTV cameras you have around. You get the idea.
Easydom also works with the Nest thermostat, allowing you to tie this in to the rest of your home automation system and use the Nexthome app to interact with the Nest.
Both the Windows 8.1 and Windows Phone apps offer the same, full, functionality as each other, but Easydom hasn't stopped there. The company also has the Easydom Glass, a full Windows tablet PC that you can mount to the wall and use as a central command hub using the Nexthome app. But you can also use it to check Twitter, surf the web, absolutely anything you would normally do on a Windows computer. The Glass isn't at all necessary, you can just as easily use any other Windows 8.1 device like the Surface Pro 3 or any laptop or desktop that can download the app.
Besides complete control over each individual item in the system the applications allow you to set up different scenarios based on certain parts of the system, times and situations. For example, you can set a timer to turn on the lights in your bedroom at 7am every weekday to get you up for work, but leave them alone at the weekend so you can sleep in. Or set it up to turn on your sound system and play your Spotify music when you want to party. Endless possibilities.
Oh, and the party piece I mentioned using the Microsoft Band? Cortana support is built into the Windows Phone app and as such you can use it on the Microsoft Band to execute commands through the Nexthome app. I saw it demoed and with the phrase "Cortana scenario disco" the booth erupted with music. Obviously it works just the same using Cortana on the phone, but I won't lie, seeing it done with the Microsoft Band is extremely cool.
All in all it looks like a really well put together, extremely slick home automation system for Windows and Windows Phone users. It's incredibly easy to use yet still powerful enough to allow for some really deep, precise customizations. We've only barely scratched the surface at CES, but it's definitely one to watch. If you want to find out more check out their website here.
Windows Central Newsletter
Get the best of Windows Central in in your inbox, every day!
Managing Editor - Tech, Reviews
Richard Devine is a Managing Editor at Windows Central with over a decade of experience. A former Project Manager and long-term tech addict, he joined Mobile Nations in 2011 and has been found on Android Central and iMore as well as Windows Central. Currently, you'll find him steering the site's coverage of all manner of PC hardware and reviews. Find him on Mastodon at mstdn.social/@richdevine
Awesome...can't wait...I have z wave alarm system now, but the monthly payments are killing me

Font have home automation but love the UI!!!

Is it somehow better than Insteon that has also partnered with Microsoft?

The real question is how it stacks up against SmartThings. "If this then that" is a must to be true automation.

go ahead and look for "happy" long time users on ST forums - good luck with that. I was really exited to jump from my DIY rPI setup to ST but after reading some comments I'm quite cured right now ;-)

Insteon provide also their hardware components, not these company who provide only software...for now of course :)

This doesn't need hardware. Not beyond the modules mentioned in the post. You can wire your existing lights etc into this.

Dear Mr. Francesco I need help to establish a home automation system and i'm new in this field, could you help me , as I read about Insteon from the Web but I don't know if it's the best or not Best regards Raif

Cool. Insteon can already do that but great to have more Home automation kits to select from.

I just went the Insteon route in November, and it works great with Cortana. It's great to see additional full-featured options arriving on Windows and Windows Phone *with* Cortana support.

Wow, that logo is a ripoff of the Office logo lol

Rip off or tribute? lol All in how you view it!

I see what you did there. Even if no one else does, Daniel I see.

This looks amazing!!! Kick ass support for windows I will wholeheartedly endorse this when it is available!

Man, can't way to buy a house this spring and install one of these systems. Love that there are some serious solutions on the Windows platform.

Really good looking system. The UI looks nice with some really rich features. The ability to use on desktop or Window Phone, Iphone is a big plus. Tight integration with Azure and Microsoft account for online access. The fact that it's so Microsoft centric is really interesting. Unfortunately, theres no information about their hardware. For a system like easydom, hardware is more important than UI. The company doesn't say what technology (zwave, insteon, z-10m, zigbee, etc.) they use to communicate with devices. They mention Google Nest support, but no Apple HomeKit? The company lists integrated products are on their website, but the products seem to be using propietary protocols when communication with devices? European centric?

So $30 mean nothing for this app? My experience the more you paid the app won't live long. I will wait awhile...

Insteon is duel band for reliability. Is this?

I didn't see Insteon on the compatible list :(. I hope that changes as this seems to have all the features I am missing that I miss with Insteon (altho Cortana with denim to control Insteon rocks).

Their logo looks almost identical to that of Microsoft Office, except for the upper part. I really don't think that can be a coincidence.

Hmm, yet another player in the Home Automation market. It's already crowded: http://www.automatedhome.co.uk/home-automation-technology-choices Still too much of a stew of competing products and standards (de facto, de jure and proprietary) for me. I reckon that the shakeout is about to begin.

DONT BUY WINDOWS PHONE. THERE IS A LOTS OF BUGS. APPS KEEPS ON CRASHES> I HATE THIS PHONE. REALLY I HATE IT.

Windows phone are getting better and smarter day by day. I love these new features CORTANA , LIVE TILES , OFFICE HUB , SKYPE , HOME AUTOMATION SUPPORT , ONE DRIVE and many more. I love windows phone so I decided to write a blog on the same. http://windowsphonewiki.wordpress.com
Windows Central Newsletter
Thank you for signing up to Windows Central. You will receive a verification email shortly.
There was a problem. Please refresh the page and try again.