Editor's Choice: Fotor v2 Photo editing app for Windows Phone 8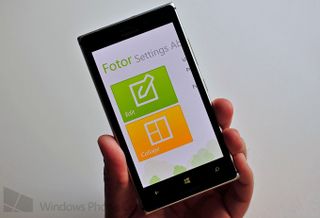 While there's no shortage of solid photo editing apps for Windows Phone 8, for those who are about ot plunge in with the Lumia 1020 (or if you picked up a Lumia 925 this week), you'll want to know what is the best. Certainly Nokia's own Creative Studio is a must have but it's also not as fully comprehensive as some may want.
Fotor, an app we've covered in the past, has gone to version 2.0 today and it has received quite a nice overhaul. So nice in fact that we're calling it the top photo editing app you can get right now. Best of all? It doesn't cost a dime. Completely free and as far as we can tell, no ads either.
The standout feature of Fotor is its design. It's gorgeous. If you're a fan of the Modern UI as much as we are, then you'll be delighted with the Live Tile and when you launch the app. Upon starting her up, you'll be greeted with two big buttons: Edit or Collage (check out these other collage apps) Edit takes you to your photo library and Collage lets you select various templates from two-photo collages up to a whopping nine.
One of the biggest fixes we've seen with v2.0, besides the updated look, is the addition of "processing quality". As you may have noticed, a lot of photo editing apps simply re-save the photo at a lower-quality than the original. Sure, it's good for quick sharing and uploads, but if you're into taking photos (especially with the Lumia 1020) making sure you get high quality is important. Now, with Fotor v2, you get high, medium and low file size for photo saving options for photos and collages.
Here is the full changelog for version 2.0:
Collage
Template selection
Template ratio
Basic adjustments
Drag and pull photos by holding finger over photo for 2 seconds to swap the photos position within the collage.
Resize the image display with 2 finger drag
Adjust the photo within the frame using 1 finger drag
Adjust the borders by using 1 finger to drag the template's borders
One finger tap will bring an option menu to remove, rotate or add a photo
Template border background
Template border adjustment
Save quality selection
Provides high, medium and low file size for photo saving options
Other (changes, fixes)
live tile looks a bit different and no longer uses phone's theme color. It's white.
various bug fixes, improvements
UI changes
As you can see in our video tour of the app, it provides a lot more options for those of you who like to tinker. In fact, it has just about everything we want in a photo editing app and most importantly, those features are easy to find and simple to use.
But don't take our word for it, watch the above video or just head to the Store to download it now (or swipe to the right in our app). It's free with no ads and gets our coveted "Editor's Choice".
Let us know in comments what you think!
Windows Central Newsletter
Get the best of Windows Central in in your inbox, every day!
Daniel Rubino is the Editor-in-chief of Windows Central, head reviewer, podcast co-host, and analyst. He has been covering Microsoft since 2007 when this site was called WMExperts (and later Windows Phone Central). His interests include Windows, laptops, next-gen computing, and for some reason, watches. Before all this tech stuff, he worked on a Ph.D. in linguistics, watched people sleep (for medical purposes!), and ran the projectors at movie theaters because it was fun.
For me, Fotor is the best photo editor for WP. I tried almost all, including Camera360, but this one is simply the best. And this new version is so damn good... Its nice to see that they are still working on it.

I'll buy that for a dollar! (or not)

You should. It's totally worth it!

I used to use Thumba Photo Editor and Thumba Cam in the Windows Phone 7, but it looks like the devs abandoned their apps. Since a brought a Windows Phone 8 (Lumia 920) I'm using Fotor (together with Creative Studio, Camera 360 and Phototastic) and love this app! Is the best!! Camera360 also has potential to become even better. Love the manual focus control! And also has manual EV controls.

Hmmm. Thumbs us so good, and so comprehensive U had assumed it really didn't need much updating. Nothing I've tried in the past was even close, including Fotor. If this update eclipses Thumbs it'll be fantastic!

The cloning ability in Fantasia painter definitely needs a mention here! It's my favorite.

I'll also add that I discovered this morning on my surface rt that the W8 version of Fotor now allows processing of RAW files too. Though it lacks a histogram, proper white balance controls, or exposure controls that are really necessary for RAW processing its nice to see this feature appear. Its all a bit moot without a colour balanced work flow but the devs behind it should be applauded. I haven't looked yet to see whether the new version on WP8 will open RAW files or not. It caught me by surprise on my Surface RT....

For quite a time now, I've been cosidering Fotor the best photo editor, both in Windows 8 and WP8. Nice to know it's been updated.

No, but you can use a Nokia editing program for that. Works like a charm :)

Photo Shader is still the best for me.
It has a lot of high quality effects and it saves the photos at full resolution. It also supports background processing, as some effects can take more than 5 minutes to be fully applied to 8MP images. But the quality is the best in the whole WP store imho :)

Pretty good app, though it annoys me that the app doesn't work in landscape to be able to actually see the changes you're making better.

Doesn't matter though. I realized on installing this app that I have like 10 different photo editors installed, and I've never used any of them other than Microsoft's built-in cropping feature, and so I'm uninstalling all of them. Fotor on Windows 8 / RT is great though. :D

I couldn't find red eye removal tool which is in most other apps. Am I missing it or is it not an included feature here?

Looking for the red eye removal tool in Fotor as well...

Love Fotor. Both W8 and WP versions.

"Best" is a bold statement. I have just about every photo editing app and the ones I keep going back to are Fhotoroom and Fantasia. I probably use Fhotoroom more, but the power of Fantasia on mobile has no rival. Fotor is also good, but I'd be hard pressed to call any of them the undisputed "best" and if I had to rank them Fotor would likely be #3.

Fhotoroom is probably the Best real photo editor. It has the most real editing tools, and I use it the most no doubt, but I still have to pull pics into another app to get the final look if I am gonna post it as a social pic. Its not as quick as the down and dirty apps. Fotor looks to be very fluid and functional.

100% agree. I usually have to go out to Fantasia. I like "painting" the effect I want onto specific parts of the image...especially blur or "tilt". I don't think ANY of them have advanced to being the "best" as of this point. Fotor is the prettiest and it will likely be one of the easier options for a ton of people and I **really** like the collage feature in there that both Fhotoroom and Fantasia lack. I actually think the Fotor collage is better than the dedicated collage apps out there.

Fantasia is the one I meant about having the most editing options. WP has so many editors its hard to keep them straight :S. Anyway, agree with a previous post and in my book Fantasia Painter and Fhotoroom are tops and this maybe come up 3rd but its quick and looks to be more metro-functional than them.

To bad it looks like crap.

That's subjective. I love it for how well it works

Y No Have Vignettes????
A quick use shows me it may be the Best photo editing app on WinPhone except big fail if you can't add vignettes, at least I can't find it.......
Just my ¢2

Great, great APP. In some minutes so a creative pic, so funny to do...only with a big smile.
Thanks from Germany



Fantasia painter is my #1 photo app. The UI on this looks pretty nice though.

this is really fast...these guys are giving a schooling on how WP app design should be done.

I haven't used it for Windows Phone (YET) but I used the heck out of Fotor on Windows 8 (8,1). I have to see what this does on my phone.

Can't believed that it is free. I would still buy it if not. Kudos

I did not install this app on my L920 before because I though "Oh I got so many photography apps so I don't need another one". But with that update I gave it a try and Fotor easily became a must have. It is very fast, fluid, has a lot of options to make your photos better and the effects look great. Thanks for sharing!

Hmmm, it can't rotate in degrees, only in 90-degree sets. So far, only Nokia's Creative Studio can do that...

I did not know that Creative Studio did less than 90. Thanks for that info.

Meh. Kind of basic.
I like Thumba Pro the best. I think it has the most complete array of adjustments not just a dozen instagram-style low-res templates.
I wish, though, that I could find a photo editor that would let me do roation one-degree at a time like Light Room.

I'll say Fotor is one of the best quick photo editors for sure... Not full featured tho. To me Fotor does not offer the level of tweaking encompassed by Thumba Photo Editor or something to that nature. That said tho... I use both and enjoy them both for what they are.

I'll use several of the apps mentioned above...but for the final framing, lomogram gets my vote!

Just went to Istanbul. Took all my picture with L920. Editted all of them using Fotor. I must say this apps is very good. Recommended. Here is some of the outcome - http://sdrv.ms/15WFBzd

This app is cheesy, no different than any other app. There are tons of better photo editing apps than this. This isn't bad but not the best. If you have Nokia creative studio is great. I'm not a filter guy anyway

The best photo apps on Windows Phone 8: Fotor
Nokia's Creative Studio
Photo Editor by Aviary
Fhotoroom
Lomogram

Its good, but would be even better if they added free rotation instead of fixed values. Straightening horizons is something few mobile photo app devs think about.

Very nice info About this phone..........:) wonderfull sir excellent job done....

Its awesome phone I REALLY like it

Simple and easy to use app providing free angle rotation: http://www.windowsphone.com/en-us/store/app/8-rotate/52a5f582-3e38-4290-b23b-93614854ad4a
Not really an alternative to Fotor, which is great but providing additional functionality.

I love these threads because it is useful I speak also in my own site for this This thread is superb http://photoeditingnow.blogspot.com/2014/08/edit-images-online.html http://photoeditingnow.blogspot.com/ Thank you

when will the next update come? it crashes when youre in the middle of working with collage
Windows Central Newsletter
Thank you for signing up to Windows Central. You will receive a verification email shortly.
There was a problem. Please refresh the page and try again.