Editors Choice: Richard's Xbox One game of the year for 2014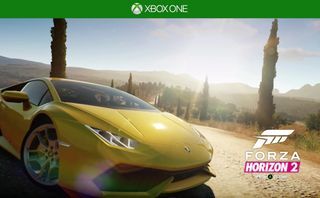 2014 saw a huge number of top drawer Xbox One games to choose from, and choosing the ones to actually sit down and play became ever tougher as the year went by. There's no doubt with the likes of Halo: Master Chief Collection, Dragon Age: Inquisition, GTA V, Shadow of Mordor and Sunset Overdrive gracing our consoles, we've been spoiled for choice.
But, none of those are my own, personal pick for my game of the year. For that we need to strap in and head to Southern Europe. That's right, Forza Horizon 2.
Perhaps more incredible is that the first time I played Forza Horizon 2, I didn't like it. Not at all. At the Eurogamer Expo in London, I got a pre-release play and I didn't gel with it at all. Traditionally I enjoy the racing games like Forza Motorsport, I go for the realism. Forza Horizon 2 felt too 'arcady' for my tastes.
But all that changed upon actually sitting down and playing it. Thankfully it's one of the titles that offers a free demo from the Xbox One store, so if like me you're not sure, it's a good opportunity to try it out without opening your wallet.
It isn't a game without fault, but there aren't many of them. Perhaps my only real criticism is that the Drivatars you're playing against are too aggressive in the wrong places. Trading paint in a race situation is fine, but when you're just driving around and getting shunted at high speed from nowhere, it's beyond annoying. If the players they're based on drive like this, then the game should really be smart enough to rein it in a little instead of spoiling the experience for others.
But when you get past that, what a game it is. In the same way that GTA V boasts a big open world to explore, Forza Horizon 2 has the same. The game world stretches across parts of southern France and Italy, with real world locations such as Nice to put your skills to the test.
Graphically, Forza Horizon 2 is one of the best looking games you'll find. With dynamic lighting effects that change from day to night – making the cars glisten all the while – as well as a weather engine that goes from glorious sunshine to torrential rain, the world of the Horizon festival is more immersive than any Forza game that came before it.
The single player, story driven challenges give you a real target beyond just buying cars and winning championships, and the side missions like the bucket list break things up nicely and keep you busy wherever on the game map you are. And with Horizon 2 not reliant on a race track, the different races really do test your skills and take you across the whole spectrum of terrain on offer. And who doesn't want to beat a train or a place or, well, a hot air balloon, in a race?
Racing games are a tough nut to crack, because it's too easy for them to become repetitive and ultimately boring. I found that with Forza Motorsport 5, it's a superb game but in the end you spend most of your time doing the same things. With Horizon 2 there's none of that. If you're bored of racing, just go out and explore for a while and take on some of the side missions. The online mode will keep you entertained indefinitely, since it's all of the good bits about the game, played against real people.
I can't wait to see what comes next...
If you're a regular Forza Horizon 2 player, be sure to seek out and join the Windows Central (WPCe) car club!
Windows Central Newsletter
Get the best of Windows Central in in your inbox, every day!
Managing Editor - Tech, Reviews
Richard Devine is a Managing Editor at Windows Central with over a decade of experience. A former Project Manager and long-term tech addict, he joined Mobile Nations in 2011 and has been found on Android Central and iMore as well as Windows Central. Currently, you'll find him steering the site's coverage of all manner of PC hardware and reviews. Find him on Mastodon at mstdn.social/@richdevine
I got Forza 5. What's the difference between the two?

Forza 5 is a simulation game. Realistic racing around real track. Forza Horizon 2 is am arcade game with a vast open-world, loads of cars and beautiful graphics, you're free to drive and explore anywhere you want with loads of collectibles to find

Thank you. Got the picture.

Horizon 2's city and offroad settings offer a great contrast to Forza 5's tracks. Be sure to check out our review for more details.

I got bored of forza quick. Haven't tried the drag race part of it yet but hoping its more like the nfs underground drag race portion that was awesome

I don't think Forza will ever be more like a NFS game. They are two different sub genres and styles...

Lol..Now Daniel's GOTY will be Titanfall..!! WC Editors are gonna cover all major titles like this..!!

Titanfall is awesome. Even with all the new games, it's still my default go to.

We're publishing my GOTY list tomorrow. I don't think anyone else is doing one. Dan would probably pick Pinball FX2 though.

Pinball FX2..?? Seriously..??

He really likes pinball. :)

I thought Titanfall was pretty boring tbh. After Forza I'd probably pick FIFA 15. After all, we're talking personally about our favorites.

Graphics in horizon is not as good as forza 5. And can't compete with drive club visually Microsoft step up the pace ps4 is killing is. Smh what the hell

DriveClub is the worst game of the year. Forza beats it graphically, has more cars, Forza is open-world, Forza has collectibles and real-life collections, Forza never gets boring.

Lol Drive Club is shit and is nowhere near as pretty as Horizon 2.. Also Horizon 2 is much better graphically then Forza 5, it's the same engine but optimised and improved in many ways. Sony haven't done shit since launch..

Have you actually played Forza Horizon 2? Because most players would disagree with everything you said.

IGN nominated FH2 for Best Graphics. Not on that list? DriveClub.

Totally agree with Richard...This and Sunset Overdrive were the actual system sellers this year for the Xbox...wish MS had run promotion bundles for this instead of the crappy Assassins creed game...

The storm island DLC is also worth the money. My game if the year also

Waiting for it to drop a little in price and I will grab it, I know it will hit $9.99 soon, and I will scarf it up...

Right on, I'd also call this my favorite game of the year. So much fun just ripping around through random fields in my McLaren P1, and of course the championships leading up to the finale are awesome as well. So much variation in landscape and race type (rally, hatchback, supercar, etc). I highly recommend to anyone!

As of now, the main reason I want an XB1.

Dark Souls 2 was my favorite game this year.

Yea, Forza Horizon 2 is a EPIC game....Loved it....One of my favorite games for the Xbox one... but, part 1 was one of my favs for the 360 too. The first one was a shocker for me, kind of skipped over it thinking "another racer game" but, MS store had it on sale for $14.99, so I grabbed it. Blown away going from Track style racing (like Forza is) to a open world almost RPG racing game. It was a blast, no limits on tracks as ever road could of been a track, and a nice (not very big) story of you moving throught the levels. Lot's of little challanges and achivements to get, even finding that perfect car to beat all your friends on top speed on all the points on the map. Very fun series esp for anyone who wants a racing game with a twist...No question a worthy pickup if you like racing games just a little... My biggest problem with it, I cant find that LAST piece of the map for the achivement.....spent hours looking sitting at 99%....ugh

Forza Horizon 2 is my game I the year. Its sooo much better than Forza Horizon for the 360. More cars, an amazing expansion pack and lots more. Including the drivatars although they do annoy ne from time to time. I will keep a look out for the Windows Central car club.

I have joined the Windows Central car club. My gamer tag is XxSkyBomberxX

Controller atm. Mainly because I don't think my wife would be too happy with the sort of set up I'd be dragging in to the front room to use a wheel!

http://microsoft-news.com/microsoft-announces-xbox-360-wireless-speed-wheel/ when this for XBone?

I'm guessing you mean Xbox-exclusive, as that's the only way I can fathom anyone not picking Destiny. ( :
Windows Central Newsletter
Thank you for signing up to Windows Central. You will receive a verification email shortly.
There was a problem. Please refresh the page and try again.