Forza Horizon 2 review – Race and explore a vast open world on Xbox One and 360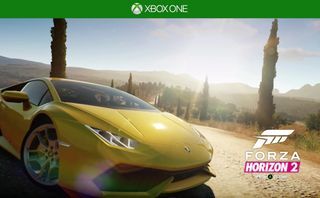 Last year, the Xbox One launched with a graphical tour-de-force racing game known as Forza Motorsport 5. This year, Microsoft and developer and developer Playground Games (plus Sumo Digital, who handled the Xbox 360 version) have returned with the more approachable, open world spin-off Forza Horizon 2.
The new Horizon improves upon Forza 5's gorgeous graphics engine and photorealistic cars, creating the best looking racer yet. Players drive across southern Europe solo or online, exploring the countryside and participating in hundreds of events at their leisure. You won't find another racing game with Forza Horizon 2's sense of exploration and adventure. Learn about the game's wealth of races and social features in our comprehensive review with video, and be sure to join the Windows Central club!!
Welcome to the festival
As anyone who has played the demo knows, Forza Horizon 2 centers around a fictional event called the Horizon Festival. The game starts with an introduction that is unfortunately unskippable, and unlikely to interest anyone whose main hobby is not cars. Slightly offputting, but the tedium is only temporary.
A fairly well-rendered CG host named Richie will walk you through the basics of the festival and some of the races you'll be doing. He totally seems like someone who would own several sports cars and that I would have no interest in meeting. But he does give you one of three starting cars (BMW Z4, Chevy Camaro SS Coupe, or Toyota Supra RZ) for free, so he can't be all bad.
Still, the festival itself lends the game a memorable atmosphere and structure. The cities you visit all have a hub where people are gathered to celebrate the event, complete with signage, balloons, and fireworks. The Garages found within these hubs are where you'll go to upgrade your cars, give them new paint jobs, and design livery and decals.
The Horizon Festival spans a condensed map of southern Europe. Progress in the Festival involves participating in the many, many Championships on offer. You pick a Championship and the appropriate type of car for it, and then that set of races will appear on your map. Drive around and tackle them in any order at your leisure; Forza Horizon 2 gives you lots of freedom.
Much of that freedom involves exploring the faux European countryside. You can drive across over 300 unique roads, through cities, past castles, docks, an airport, and more. Scattered throughout the map are several types of collectibles to find, including signs to break for XP or "fast travel" discounts, and barns. Each time you find a new barn, you'll discover and unlock a new free car inside it. Searching for these collectibles doesn't feel like a chore, either, since exploration is a big part of the game's appeal.
Race types
Forza Horizon 2's Championships consist of a fair variety of racing events, and other types of optional maps are scattered across the map as well. You'll race through city streets, country roads (Take me home!), grass, bushes, and more. Races often require players to complete laps around a circuit, or simply make it through a series of checkpoints to the finish line before the competition. Here are some of the game's more unique races, all of which have one or more Achievements tied to their completion:
Speed traps : Either pass through a checkpoint at a target speed or maintain a target speed throughout a race.
Bucket Lists : Complete a race within a specific loaner car. These are my least favorite as they're extremely unforgiving. I spent 45 minutes retrying one with an "Easy" rating yesterday but couldn't beat it. People who crave a finely tuned challenge will like them... But I'd like to see the developers add a little more breathing room to these races.
Showcases : The most exciting race type pits your car against challengers like jets or a train!
Progressing through the Festival
To actually compete in the Festival finale, you just need to complete 15 Championships out of the 168 total Championships.
On top of the Festival events, the game has two progression systems: levels and perks. You'll gain experience every time you complete a race, which contributes to leveling up. Reaching a new level gets you a spin at the prize wheel. There you can win credits and even cars, though I haven't been lucky enough to land on a car yet. Player levels don't mean much, but they do show at a glance how much time the players you meet online have spent with the game.
As for perks, they're tied to a very Project Gotham Racing-like style system. Performing various maneuvers like clean starts, drifts, and near misses will add to your style multiplier. If you cash in these points without colliding into anything, they'll accumulate and help unlock perks like fast travel discounts, increased credit payouts, and many more. You can choose the order in which you unlock perks, not unlike an RPG skill tree. The choice of perks adds to the game's overall sense of freedom.
Meet your rivals: the Drivatars
Some racing games aren't much fun to play by yourself thanks to the unrealistic AI drivers you have to race against. Luckily, Forza Horizon 2 (like Forza 5) uses the power of the cloud to create Drivatars – AI driver profiles – based on the racing styles of actual players. As you cruise the roads and terrain of Horizon 2, you'll encounter AI versions of your actual Xbox Live friends and other players. Just yesterday, I raced against WPCentral's newest staff member, Jonathan.
Populating single-player with lifelike drivers (whose difficulty you can adjust in the Settings) is great, but the rivals system less so. When you complete a race, the game asks if you'd like to run the same race again against a single rival Drivatar. Repeating the same race feels redundant, especially when the XP and Credit rewards for rival races pale compared to normal events. You can also challenge any drivatar you encounter while free roaming, but again, it's largely pointless thanks to the skimpy rewards.
Driving in the rain, listening to the radio
Forza Horizon 2 uses the same outstanding graphics engine as Forza 5, pumping out 1080p graphics and ridiculously detailed cars. The frame rate has been halved though, in order to accommodate the open world setting. It scarcely makes a difference though. This is the single most beautiful Xbox One game I have played so far. The only graphical complaint I could make is the occasional pop-in of roadside foliage when driving at high speeds.
Two more visual flourishes you won't find in Forza 5: a day-to-night cycle and rain! Already a beautiful game, the sunsets and sunrises just bathe the countryside in jaw-dropping colors and light. Rain looks terrific and affects handling, adding a dynamic challenge whenever the sky opens up. In real life, driving in the rain and I don't get along so well. But here it's safe and fun.
The Xbox One lacks an important feature of its predecessor console: custom soundtracks. Thankfully, Forza Horizon 2 has several radio stations to keep your ears entertained. Just tap left and right on the d-pad to switch between them. You start with access to only three stations, but more will unlock as you complete Championships.
Introducing Cortana, I mean Anna
Finding new events is as simple as pausing, heading to the map, and selecting one of the races listed there. The course will then be plotted on your mini-map.
Kinect users have another navigation option: Anna, the voice-controlled GPS. Speak her name and she'll ask what you'd like to do. You can then answer that you'd like to find the closest race, the next event in the Championship, go on a road trip, and more.
It's a fun way to plot your course, when the voice recognition works properly. As with many games, you might have to repeat yourself now and then. On the plus side, Anna will announce upcoming turns even if you don't own a Kinect.
Online Multiplayer and Car Meets
Forza Horizon 2's social experience goes a lot farther than just racing against other player's Drivatars. At any time, you can pause and switch to two different online modes: Road Trip and Free Roam. Both modes support up to 12 players (8 on Xbox 360). After choosing one, you can continue to drive around in single-player until it finds a multiplayer session for you to join.
Online Road Trip has players traveling from location to location, participating in races and multiplayer-specific events such as Infection. The stuff you do on the road between events counts towards your score for the entire Road Trip game, so it's not just about winning the races. I have mixed feelings on that, but maybe it will grow on me.
As for Online Free Roam, players can drive around and do their own thing. If someone initiates a race, you don't have to join. This mode introduces Co-op Bucket List events, a nice break from competitive race types.
Outside of the two multiplayer modes, you can still meet other live players through Car Meets. Drive to one of these locations during the solo game and you'll encounter the cars of your friends and other players who are also visiting a car meet. If you see a car or livery design you like, you can buy it on the spot. You can voice chat with your fellow attendees and even challenge the group to a Showdown race.
Forza Horizon 2 has no split-screen, so multiplayer is online only.
Join the Windows Central Club!
Clubs are Forza Horizon 2's version of clans. There are several benefits to membership, such as weekly clan leaderboards and prizes for moving through the clan tiers.
Annoyingly, clubs don't unlock until you begin your fourth Championship – a few hours into the game. After that, you're free to join Windows Central's official club! Search for us by name: Windows Central or club tag: WPCe . Clubs can hold up to 1,000 members, so no need to worry about the club running out of room (unlike Asphalt Overdrive).
Achievements
As you might expect, Forza Horizon 2's 50 Achievements mostly involve completing all the Championships, driving on every road, finding all the collectibles, etc. Beating all of the Bucket Lists will be extremely tough. There are also several Achievements for the online modes, such as competing in 200 multiplayer events and completing 25 co-op Bucket Lists.
The racing game to beat
Forza Horizon 2 is less simulation focused than Forza 5, but it still has plenty of realism and tuning options for detailed-oriented racing fans. Casual racers like me can just race and have a great time thanks to the ability to toggle an assortment of driving assists like racing guidelines and even a rewind function. And artistic-minded racers can delve into the same great livery and decal editor as seen in Forza 5, sharing their creations online.
However serious you are about cars, you're bound to love driving through cities, fields, and other terrain, meeting and competing with other players and their Drivatars. To my mind, Forza Horizon 2 is the pinnacle of open world racers and the Xbox exclusive game to beat this fall.
If you liked this review, don't miss our Forza Horizon 2 VIP membership review!
Forza Horizon 2 – Xbox One – 35.84 GB – $59.99 – Amazon Link

(opens in new tab)

– Xbox.com Link

(opens in new tab)

Forza Horizon 2 – Xbox 360 – 7.18 GB – $49.99 – Amazon Link

(opens in new tab)
Paul Acevedo is the Games Editor at Windows Central. A lifelong gamer, he has written about videogames for over 15 years and reviewed over 350 games for our site. Follow him on Twitter @PaulRAcevedo. Don't hate. Appreciate!
Boy that game seems to be so fun! It'll be my first X1 game once I upgrade. Nice review, thanks.

Xbox > gaystation 4
Who own both consoles... Know!

I played the demo, it was OK. However, The Crew seems to have more potential (like the highly-varied environments across the country), so I'm holding out to see what it's like. If it ends up being buggy or just generally crappy (lcking content, bad physics), I'll probably pick this up later.

I received my copy today from ShopTo.net. Been playing around 6hours so far, completed intro, nice and sisteron.

I'm not a big gamer, but I loved the original Forza Horizon. This sequel looks to be very similar with new landscapes. Can't wait.

To bad I cant play it till they fix the issues with xb1p os builds that crept back up from 2 builds ago

"Forza Horizon 2 has no split-screen, so multiplayer is online only." I don't quite get the slow death of local co-op in AAA games that we've been witnessing. Can anyone explain that to me? Why do they even sell extra controllers anymore...

Split-screen is a lot harder to do in open-world games. Imagine driving at 15 fps instead of 30 - it'd be like playing a 3D Windows Phone title from Gameloft.

The SSX games pulled this of the best in the original Xbox days. They had a system where if one player got too far behind they would be transported closer to the lead player. It wasn't perfect, but it worked. I don't think local coop would work very well on this game, but I wish more developers would include it as an option in more titles.

I understand that extra controlers are useful when your main one runs out of bathery!!! :)

Holy crap, my ghost is in the initial race! Go CitrusMocha Go!

Your right the bucket list is very unforgiving you really gotta drive

I have owned many, many racing games and all versions of Forza starting with the original Xbox. I think this is the most fun I have ever had in a racing game. I love it!

I'll be joining the club whenever I finally get the option! I love the game so far. The music in it is so much better than Forza 5's.

Waiting till midnight when it unlocks in the UK

I'm in the XB1 Club What What!!! See you on the Asphalt Peeps!!!! XeroJC07 (Gamertag)

I never had as much fun with a racing game like I did with forza horizon so I'm soo looking forward to this when I get a Xbox one

I'll probably pick it up but I'm looking forward to ProjectCARS.

My quick review.... Ya know, the first one I never thought I would like, a racing RPG type game?? nah....Then Microsoft put on sale around the holiday's 3-4 months after release for $14.99 with free shipping, so I was like, let me give it a shot. It was a epic game, after I started playing it, I could not put it down, it's one of the few games that I have 98% of the achievements on. Even after completing it, I still poppped in time to time to do some races. The standard racing game gets old after a while, like Forza 5 for example, you do a race, then in a menu, select a new race, then start a new one, rinse and repeat for as many hours as you want or dont get board with (As Forza 5 only had like 8 tracks, it took me about 7-8 hours before it was old for me). Forza Horizon 2 (or 1 for that matter), ads a new concept to racing, to do a Racing party, where now you go on a road trip ot go to new areas to compete for points (XP) to get new cars or upgrade your current cars. Where the dynamic is good, it's free roam, not locked on to tracks, There are things to find (barn finds) and signs to run over (for bonis and other perks) and also other fun and different types of races to play (bucket list or something) with random objects to complete more than just a race. Sick of the same old tracks ? The open world is the track, so there is enless types of tracks that could be used for races, every race is new in a new area, a road you traveled down the other day to get to a new location, could be the track your racing on the next day...Pretty cool for a concept. I am playing it on the Xbox one, as it's one of the better looking games I have seen on the Xbox one, I have seen some flaws with it. If you have subtiles on (I leave them on in case the wife has a problem with the volume of my Home theater), there is sometimes a lag in video playback, where the text shows on the screen long after it has been said, and just video choppyness time to time. There is also a type of bug that happens, after you finish a race, sometimes it will hang right after showing your XP (A button or any other button does nothing to advance it) and I have let it sit 3-4 min, then it finally get started. Besides these minor issues, it does not effect the actual game play or racing, so it's solid in that aspect. Over all, Story is alright, if your into the "Forza Horizon" thing but, time to time gets a little cheazy. If you like racing games but, what something a little different, This is the game for you, Pick it up. This no question is a enjoyable and fun game worthy to play even for the part time racing game player. I am really enjoying it, in a scale for the type of game, I would give it a 4.5 out of 5... Hope this helped someone who was looking at this game :)
Windows Central Newsletter
Get the best of Windows Central in in your inbox, every day!
Thank you for signing up to Windows Central. You will receive a verification email shortly.
There was a problem. Please refresh the page and try again.