Asphalt Overdrive for Windows Phone – Our first impressions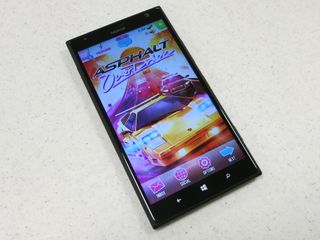 Last week, we broke the news that Gameloft's Asphalt Overdrive would soon be launching, which it did just a few days larer. Asphalt Overdrive is a new take on the Asphalt series, with simplified controls and endless races. It's still just as fast and beautiful as you'd expect from an Asphalt game though, with plenty of familiar series touches.
Overdrive is free to play like Asphalt 8, and a much smaller download (though it downloads more data after you launch it). It works on all Windows Phone 8 devices, but it does require a constant internet connection. Read on for some quick impressions and our hands-on video, and then be sure to try it for yourself and join the WPCentral gang!
Three-lane driving
Whereas the mainline Asphalt games are serious arcade racers with big tracks and online multiplayer, Overdrive is a deliberately simplified spin-off. Your car races forward constantly, making this an "endless racer." Swiping left or right switches between the three lanes of the road. It's a fast and easy way to get around, making the game perfect for one-handed play.
You'll want to avoid ramming cars from behind as that will slow you down and make it easier for the cops to bust you. But smashing into cars from the side will knock them off road, filling up your Nitro meter. Just don't try to take down a bus; you won't win that fight. Double-tap the screen to activate your Nitro and zoom away from your lawful pursuers.
Naturally Overdrive also has a stunt system. Whenever you drive over a ramp, you can swipe up, left, or right to do flips and spectacular stunts. These will boost your score like crazy. Oftentimes you'll see floating power-ups that can only be grabbed by performing a mid-air lane change, which is pretty fun to do.
Career
Even though Asphalt Overdrive is patterned after endless runners, it features an extensive event-based career mode (not unlike Spider-Man Unlimited's story mode). Players will select from numerous types of events, such as cop getaways (reach the finish without getting caught), destruction (knock down a target number of cars), stunt runs, and more. The more stars you get, the more events you'll unlock.
Some events require the purchase of specific cars and trucks, probably necessitating some grinding for funds. You can even unlock boss races. With five maps full of events, the Career will take a long time to race through.
Join the WPCentral gang (when room opens up)
Social functions can make or break a free to play game. Asphalt Overdrive's is one you'll definitely want to try. Players can join racing gangs in order to work together towards special rewards. Most importantly, energy refills faster for gang members. We had to name our gang WPCentralCom because some overzealous individual squatted on our name. WPCentralCom is the real one, folks. The gang is currently full, but you can keep up with openings and gang discussion in our Asphalt Overdrive gang forum thread.
Asphalt Overdrive has an energy system. You can store up to ten units of energy at a time, twice as much as in Spider-Man Unlimited. But the energy refills a little slower here, balancing things out. Energy refills cost gold (premium currency). We'll have to play more to see what else you might need gold for.
Ready to race
Like other versions of the game, the Windows Phone version needs to download some extra data when you first launch the game. Curiously, our version also has to download the cars you choose from at the start of the game – not something I experienced on my Android tablet. But that's the last time you'll have to download the cars. It's a very minor inconvenience.
Asphalt Overdrive is a lot of fun so far. I get the feeling that races will get really tough until you upgrade your car and buy better cars. Hopefully free players can have just as much fun as paying players. We'll continue racing and report back with more coverage soon.
Asphalt Overdrive – Windows Phone 8 – ~500 MB – Free – Store Link
Asphalt Overdrive – Windows 8 and RT – ~500 MB – Free – Store Link
Get the Windows Central Newsletter
All the latest news, reviews, and guides for Windows and Xbox diehards.
Paul Acevedo is the Games Editor at Windows Central. A lifelong gamer, he has written about videogames for over 15 years and reviewed over 350 games for our site. Follow him on Twitter @PaulRAcevedo. Don't hate. Appreciate!