Asphalt Overdrive for Windows Phone – Our first impressions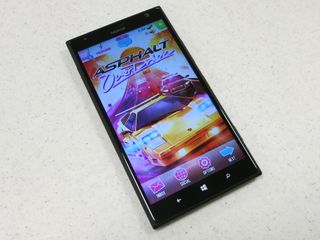 Last week, we broke the news that Gameloft's Asphalt Overdrive would soon be launching, which it did just a few days larer. Asphalt Overdrive is a new take on the Asphalt series, with simplified controls and endless races. It's still just as fast and beautiful as you'd expect from an Asphalt game though, with plenty of familiar series touches.
Overdrive is free to play like Asphalt 8, and a much smaller download (though it downloads more data after you launch it). It works on all Windows Phone 8 devices, but it does require a constant internet connection. Read on for some quick impressions and our hands-on video, and then be sure to try it for yourself and join the WPCentral gang!
Three-lane driving
Whereas the mainline Asphalt games are serious arcade racers with big tracks and online multiplayer, Overdrive is a deliberately simplified spin-off. Your car races forward constantly, making this an "endless racer." Swiping left or right switches between the three lanes of the road. It's a fast and easy way to get around, making the game perfect for one-handed play.
You'll want to avoid ramming cars from behind as that will slow you down and make it easier for the cops to bust you. But smashing into cars from the side will knock them off road, filling up your Nitro meter. Just don't try to take down a bus; you won't win that fight. Double-tap the screen to activate your Nitro and zoom away from your lawful pursuers.
Naturally Overdrive also has a stunt system. Whenever you drive over a ramp, you can swipe up, left, or right to do flips and spectacular stunts. These will boost your score like crazy. Oftentimes you'll see floating power-ups that can only be grabbed by performing a mid-air lane change, which is pretty fun to do.
Career
Even though Asphalt Overdrive is patterned after endless runners, it features an extensive event-based career mode (not unlike Spider-Man Unlimited's story mode). Players will select from numerous types of events, such as cop getaways (reach the finish without getting caught), destruction (knock down a target number of cars), stunt runs, and more. The more stars you get, the more events you'll unlock.
Some events require the purchase of specific cars and trucks, probably necessitating some grinding for funds. You can even unlock boss races. With five maps full of events, the Career will take a long time to race through.
Join the WPCentral gang (when room opens up)
Social functions can make or break a free to play game. Asphalt Overdrive's is one you'll definitely want to try. Players can join racing gangs in order to work together towards special rewards. Most importantly, energy refills faster for gang members. We had to name our gang WPCentralCom because some overzealous individual squatted on our name. WPCentralCom is the real one, folks. The gang is currently full, but you can keep up with openings and gang discussion in our Asphalt Overdrive gang forum thread.
Asphalt Overdrive has an energy system. You can store up to ten units of energy at a time, twice as much as in Spider-Man Unlimited. But the energy refills a little slower here, balancing things out. Energy refills cost gold (premium currency). We'll have to play more to see what else you might need gold for.
Ready to race
Like other versions of the game, the Windows Phone version needs to download some extra data when you first launch the game. Curiously, our version also has to download the cars you choose from at the start of the game – not something I experienced on my Android tablet. But that's the last time you'll have to download the cars. It's a very minor inconvenience.
Asphalt Overdrive is a lot of fun so far. I get the feeling that races will get really tough until you upgrade your car and buy better cars. Hopefully free players can have just as much fun as paying players. We'll continue racing and report back with more coverage soon.
Asphalt Overdrive – Windows Phone 8 – ~500 MB – Free – Store Link
Asphalt Overdrive – Windows 8 and RT – ~500 MB – Free – Store Link

(opens in new tab)
Windows Central Newsletter
Get the best of Windows Central in in your inbox, every day!
Paul Acevedo is the Games Editor at Windows Central. A lifelong gamer, he has written about videogames for over 15 years and reviewed over 350 games for our site. Follow him on Twitter @PaulRAcevedo. Don't hate. Appreciate!
Requires a lot of Internet. Not good for limited data users.

Yep dat point made me uninstall it ..!! Cant play without internet :/

Agreed. No idea why such a game like this requires constant Internet connection.

Maybe it doesn't store data on the phone

very irritating game , downloads on each step :(

Too much data...1.01gb
so far

I don't care much about data. When I downloaded it I thought I could play it. I don't play online so I can't so that's what gets them 1 glorious star

Yeah this one downloads quite large amounts of data. I don't understand why, my other online games don't download that much

No Gang found by searching WPCentralCom

We're full right now, but we've created a forum thread to discuss the gang and get on the waitlist.

I can't even play the darn game, as I'm constantly getting connection timeout errors. :/

Same here. Needs update asap.

Has a GTA Vice City vibe, I like it

I don't know why Gameloft did this utter thing..!! The worst game ever..!! Requires internet and no offline game..!!

Lots of games require online connections these days.

Yes, the future of gaming beholds internet

I've decided not to download the game because of comments about the online connection. Other people will aswell. Complaints (or being childish as you put it) hit gameloft revenues, which hopefully will make them consider making their games offline. I understand it is neccesary for playing multiplayer, or cloud syncing but I cannot think of a valid reason for a compulsory data connection.

Complaining isn't childish in and of itself. If something annoys you about a game, you should complain. That doesn't mean you have to resort to hyperbole and non-constructive criticism.

I cant connect through Facebook, it connects and then disconnects it happens on my Lumia 920, on my transformer t100 it stays connected

Same as me, only connected to my windows 8 device☹

The menus lag on my Lumia 1320.

Isn't as good as asphalt 8, so uninstalled it.....

I think this game is a mini version of Asphalt ,the real asphalt series (Asphalt 9) must be in progress ;)

I don't find it funny, it just plays itself automatically, there is no feel of speed at all, its a downgrade from airborne, dumber and simpler

If it played automatically, it wouldn't be so hard to win. But avoiding obstacles, ramming other cars, performing tricks off of ramps, etc. matters quite a lot.

Shows 97 MB in the Store... I guess that's why requires internet. Gameloft should update the app which will download the entire ~500 MB game and will be playable offline.

It will happen in 15 mins with 102 MB

Uninstalled it already...boring game.

Yup even I uninstalled ... Cant even use if we don't hav an internet connection... What's the use.. Of such game.. Never ending data downloading game.. N even lags a lot on Lumia 520.. Based on concept like .. Temple run n rail rush... Its like.. Up .down. Left..right

Its nice but everytime it needs access to internet for game data. Uninstalled. Why cant game developers make a simple game like subway surfers. Download once n once a week or month give us stages n upgrade's

This game is good but sometimes irritating. I have a slow internet connection and whenever I'm in the mood to race it starts downloading.

Looks nice, lags a bit and way too many connection timeout errors.. Needs a lot of work..Besides I don't get why this game needs online connection..

Its a cool game, but had to uninstall it ... Having to "Download" everytime I change something is annoying as hell.

It only downloads extra data about 3 times and then you've got the whole game installed. It's not a continuous ordeal.

Uninstalled after it started send notifications every 20 minutes after I had already turned them off.

The game lag as hell on my 1020. It feels like 10-15 fps. max

+1020 I'll keep the game for another update or so to see if this gets addressed.

Not complaining about the internet connection required, complaining about the constant timeout error I get every time I open it. It played fine the first day and it's been doing this since. I uninstalled and reinstalled and it's still doing it. Oh well. I expect nothing less from a Lameloft game

Can't find WPCentralCom gang

You have to search the name exactly, it doesn't seem to do partial word searches.

We're full right now, but we've created a forum thread to discuss the gang and get on the waitlist.

Graphics degradation is to much on 512mb ram devices.

This Game was just fucked together like shit, because I have some delicious graphics on my 1020, but only about 5-10fps
Gameloft is not able to make a round game...they've finally lost me for - like - forever...

I'd rather have the graphics of 512mb Ram devices, which is fluent...

Please don't use foul language in your comments. Thanks.

For some reason endless runners aren't fun for me. I love the Asphalt series but I just can't seem to be enthused enough to download this.

The game uses a lot of data.. I didn't feel like the game was worth it, compared to Airborne. Uninstalled.

The game is great but always on data connection is keeping me from playing it :( also the levels are too short, game ends even before I start enjoying it...

Bad game, already uninstalled it after 30 min play

all i get from this game request timeout please try again :\

Make it offline please, so that we can play

It taking too much data. I already deleted it

Its a downgrade from asphalt 8

The game hangs after the tutorial

Eat 200mb in couple hours. I've already deleted.

Uninstalled it bcos i cant play it offline!

Love the setting, but loading time is terrible long at some points. And I play only if I have wifi. Btw, I would like to see this as a full 3+ laps race game.

I enjoyed the game but uninstalled it because it was sending me constant notifications that were filling up my Action Center that my energy was restored and ready to use. I turned these notifcations off in the game settings and they still showed up, although with less insane frequency. I can live with a bug or a design flaw in a game, but you don't get to be so totally annoying and stay on my phone. I'll just be content with Asphalt 8.

You can turn off notifications of particular games from notification and action centre in settings menu! It was so annoying so I turned out off! :)

Read below there is a comment about it.

I have rarely seen so many people agree in the comments. This game does not seem to be well liked here. I have to add myself to that list. I just don't this game to be that good.

The game looks awful on 512 MB devices!! Tried on Lumia 620 and 720.. #TooMuchHate

Get a better phone and stop complaining!

at first i thought it was good, until the first evening after i played it. when i woke in the morning a fully charged battery had gone to critical in 8 hours and i had at least 20 notifications from this game. i havent yet found a way to turn them off. other than that, i like it.

Go to battery saver, turn off run in background. First day this game worked great, since then can't play, jeep getting timeout error, spent $9.99 on some money... Kinda pissed.. Can't play, don't want to lose my in app purchase... Don't want to uninstall incase I lose my purchase.... Horrible..

Can't play without internet. I don't like it. And the energy meter concept is horrible

I thought endless runner are cool but this one is bad

A crap.. Totally disappointing.. I was expecting a higher upgrade of asphalt 5.. Bad bad bad

The game itself is nice, but I don't want a fricking reminder every 0.5h. Uninstalled.

The Game is superb obvious it took me half and hour for more downloading but after that it doesn't need any download
Btw WPCentral I cant find your gang Did you deleted it

We're full right now, but we've created a forum thread to discuss the gang and get on the waitlist.

Buggy ..lagging.. No offline support.. Never believed Gameloft did such a game.. Even recent Spiderman was spoiled in the same way.... Disappointed uninstalled it...!

I still play asphalt 7 as my time killer. i love asphalt 7. and im a pc gamer

Didn't liked it at all, requires too much internet for even previewing a car for buying. And it has a energy system...... Yuck!

Can't believe this. So many great Xbox WP games get almost none attention but asphalt overdrive, what a joke.
There are like 3-5 articles every day about every little indie game but AC pirates is out for weeks. Same goes for Tentacles and hungry shark.
I already asked this before and the answer was disappointing.
This is just not right and those games should get a proper treatment.

We'll definitely post something on AC Pirates soon. I actually did write an impressions story on the Windows 8 version back when that came out - I'm pretty sure we've covered both games equally so far. Both games are part of popular series, but technically Asphalt Overdrive is a bigger game. It runs on 512 MB devices and is free, which as you can see, has gotten it a lot of attention from the crowd here. Also, review-wise, Overdrive is a lot easier to review because it has no story and is a simpler game.

Guys check my video to compare graphics between Lumia 630 a Lumia 930: http://www.youtube.com/watch?v=9OqxVrxIaao&list=UU00nFGMUpPzoB_rCBxeW71Q

Paul, game is about 97MB. It's listed as 500MB in the link.

It has i app downloads. So totally it gets up to 500mb

I put about 500 because of the extra in-game downloads, like Umango said. Good catch though.

is the gang available only for Windows phone! not Windows 8.1?? can't find it :(

On WP also. Same problem.

The graphics in this article's screenshots look way better than on my phone.... Is this related to having better specs on phone???

Yeah, these are screen captures from the Lumia 1520.

CarX Drift Racing has better graphics on 512mb phones.

This game ... I like it but it eats my data of this month ... But like this game

Lots of ratings but no review/comments so far on the apps page. Would love to see comments from people who actually played and experienced.

I made a comment on the review screen.. Rated the game and asked the publisher to contact me about my in app purchase that o cannot use because the game wont load... It never appeared on the list.. Still says no one has reviwed this yet... I think there is alot of this going on....

This game is fully online am deleting it

Appreciate gameloft but internet is a such in ass

Going back to asphalt 8, till 9 comes out...

Why are people expecting asphalt? WpCentral said it's more like a runner game. Read the whole article people ;)

Can't run the game all time getting Request timeout error...

Don,t know why but on my 1020 reminds me of the nervous days when a game lagged allot. This one not pnly that it lags on my phone but also sometimes does not recognize my actions...:(

I've had enough of these lame WP games. Half the time they dont load and they never seem to have all the same options you get on other phones. Gameloft is the worst. Microsoft needs to put it's money to work and start a pure WP gaming/app division.

No xbox and requires a lot of internet
I no need this game until they update

Reinstalled 10x just to get an OK-doesnt-lag-as-worse-as-before but still lags anyway. Sounds go waaay ahead before the visuals. And I got 2GB extra space left after installation. And it heats up so fast, had to quit after 1-2 rounds.

Guys, I am #1 in the rookie league. If anyone is interested do join my gang. WeAreOne

I can't get your gang from the search, I found wpcentralcom but it was full, I tried typing yours every which way I could think

Works just fine on my 920. No lag issues. Still waiting for WPCentralCom to accept my request :(

We're full right now, but we've created a forum thread to discuss the gang and get on the waitlist.

It sucks coz it's an online game. :P

...join me to your gang.. :D

Does not store data on phone (see help). Crash often ATIV AE 3+GB free. IAP expensive considering what you get. Feels beta, considering missing areas, and swipe issues (see forum)

It sucks gameloft rouined the title
Windows Central Newsletter
Thank you for signing up to Windows Central. You will receive a verification email shortly.
There was a problem. Please refresh the page and try again.