EE and Three to invest £1 billion in 4G UK network infrastructure and share upgrade costs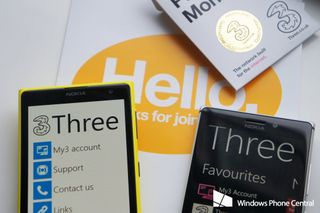 UK mobile operators Three and EE (Everything Everywhere) are to invest £1 billion in a shared 4G network agreement. According to the Financial Times, the two companies will work together by sharing mast and backhaul transmission costs as part of the joint investment in UK infrastructure. The goal is to provide greater flexibility for the two networks to control speeds and coverage, as well as improving efficiency of provided services as a whole.
Three is the last major mobile operator in the UK to launch its 4G network, while in contrast EE plans to maintain its lead on competition. While both companies will share costs for the upgrades to 4G, "the antennas, spectrum and the core network will also be different for the two groups." This means the 4G network itself isn't being shared between the two. Three aims to have 98 percent 4G coverage in the UK by the end of 2015, whereas EE has its sights on the end of this year.
A similar deal is already in place between O2 and Vodafone. Consumers who are waiting for 4G to roll out in their area on either network will be pleased to hear that parties involved are looking at more efficient ways of extending nationwide coverage.
Source: Financial Times, via: Android Central
Rich Edmonds is Senior Editor of PC hardware at Windows Central, covering everything related to PC components and NAS. He's been involved in technology for more than a decade and knows a thing or two about the magic inside a PC chassis. You can follow him over on Twitter at @RichEdmonds.
Good for the UK now only if t-mobile can get 4g in cape coral

T-mobile and Orange are owned by EE..

T-mobile owns ee 50% stake EE is a subsidiary to them

EE is 50/50 joint venture in the UK between Orange and Deutsche Telekom merging their UK infrastructure and selling under the brands EE, Orange and T-Mobile. EE being the 4g network and the old brands still being 3g.

No interesting news no black update getting bored with my lumia 620 . To many problems with other storage

No interesting news? That's just mean. You mean person. :-(

I am not talking about this particular news my friend

Hard reset my 620 the other day, just for Other Storage..

Three and EE already share costs with 3G, only backhaul isn't shared. So it makes sense for the 2 companies to do this

Well - Does it mean I can leave the crappy EE Network and join Three and have the same coverage? EE is just customer unfriendly and not very helpful and the extra costs for 4G are just ridiculous

Nah, they're not sharing coverage. Three is behind, but plans to have 98 percent coverage by the end of 2015. It's up to you who you'd like to have a contract with.

well - clearly not EE again:) And I have always been a great defender of Tmobile and the additional costs for the better service. Have to reduce it to Germany only obviously.

if only we could get even edge rather than just gprs that we currently get from EE in our village!

I'm with you there, 5 miles from a city centre & no 3g. It's ridiculous to hear about them investing so much in new technology when so many still can't even get the old technology...

EE is the ONLY network we have and its 2g

Same here, I live in a medium-sized town and have never once been able to pick up 3g anywhere in my hometown. I find espically with three that if you don't live in the middle of London you don't exist. I don't know where they get this '98% of the population' rubbish from.

Strange. I travel a lot and not only big cities and always had at least 3G coverage from three. And I can get H, H+ in most of the cities.

You must have missed previous news, they announced a few weeks back that they were spending a lot of money improving their 3G because this was one of OFCOMs requirements that all networks improve their 3G coverage as part of the auctioning of the 4G spectrum deal

Let the battery die and try recharging the phone then I had this with my l625 after a hard reset you can't remove the battery so you have to let it drain

Can't agree with the Three comment and living in London, I use to live in a village and used to get such great speeds I got rid of my crappy Sky broadband. Tethered everything.

EE the first one to launch 4G services but the worst one of all networks.

Agree. They may have been the 'first' with 4g but what they fail to publisise is that they did it by tearing down 3g masts.

You get more G in a afghan cave than a village in England.

By the time it gets rolled out, a few countries will be ready to move on to higher speed networks.

I'm with Three and have no issues with them! Always great speeds and good signal! Except now I'm moving back into a village, no network coverage on ANY network! Why boast about 4G when half the country doesn't have any signal, let alone 3G...... This needs to be sorted!

I live on the side of a hill in the middle of nowhere, but get good h+ speeds (far faster than our pitiful 1mb broadband) with Three. The village 5mins walk down the road rarely even get 2g. There are places in the nearest city 15mins drive away that have very little signal. Three can be patchy.

Guys you cant have your cake and eat it all too. You live in out of city villages and get I am sure clean streets, better air quality and cheaper houses. You can't also have equal technological investment now can you?! ROI says these companies will invest in an urban city as naturally they will make the largest profit because that is where the largest demand is.
Windows Central Newsletter
Get the best of Windows Central in in your inbox, every day!
Thank you for signing up to Windows Central. You will receive a verification email shortly.
There was a problem. Please refresh the page and try again.