EE introduces new international calling packs and add-ons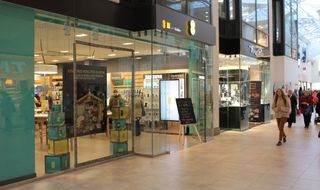 Mobile network operator EE has announced new international calling packs and add-ons for customers who need to contact those who do not reside in the UK. The operator now offers EE contract and SIM-only plan customers added convenience when making international calls with these new extras.
The new packs and add-ons – International and International Extra – will allow you to bring international calling charges down to as little as 1p per minute.
International - 1,000 minutes to up to five numbers in 50 countries for £10 /month
International Extra - 500 minutes to up to five numbers in 100 countries for £20 /month
The packs are ideal for those who have a select few contacts (be it family members or friends) to get in touch with. The packs will be available to new and upgrading customers within the first three months of their EE plan. There's also a minimum length of time you'll be required to have these extras, which will depend on whether you're locked into a contract with a handset.
To make the deal appear that much sweeter to customers, those who take out the new packs before December 9 will benefit from an additional 50% allowance per month. This will bump the allowances up to 1,500 for International and 750 for International Extra. If you'd like to add the international calling add-ons to your plan mid-contract, you'll have to put up with lower allowances:
International - 500 minutes to up to five numbers in 50 countries for £10 /month
International Extra - 250 minutes to up to five numbers in 100 countries for £20 /month
It would be better to look into these packs at the start of your plan to make the most of the investment you'll need to put in each month. Should you require more details, be sure to contact EE or check the official website (opens in new tab). It'll also not be long before the EU forces the end of roaming charges on the continent.
Rich Edmonds is Senior Editor of PC hardware at Windows Central, covering everything related to PC components and NAS. He's been involved in technology for more than a decade and knows a thing or two about the magic inside a PC chassis. You can follow him over on Twitter at @RichEdmonds.
They're doing this to make money because next year, the E.U., will be making it law that what ever your plan is with your network, will be valid all over Europe. Ok, it doesn't cover world wide, but better than nothing and certainly better than the rip-off extras they will all try to get their customers on. By the way, it will be from April (as far as I remember) next year (or June-July (ish)).

The regulation in the EU is for Roaming only isnt it? This one is for outgoing calls while you are in the UK to for example France

Wouldn't roaming cover that? Making calls both way, I mean.

Well there you have the point.. this is for outgoing calls from UK to France if you have a contract in UK! The Roaming covers Calls from France to the UK if you have a contract in the UK - and those roaming costs will be gone by 2017 regulated by the EU

Unless things are very different in Europe than in North America, there's a big difference between long distance calling and roaming. I am Canadian but have a roaming plan for the U.S., but that's only for when I'm in the U.S. If I call the U.S. from Canada that's long distance and that's an extra charge.

Roaming is when you leave your home network. So it's entirely possible/probable that long distance calls to other European destinations when on your home network will not be covered by roaming regulations.

I don't think that is too bad an option to be fair. Not that I'll be needing this service but plenty will.

I think its a pretty bad option. Get the Tesco calling app and call who the hell you like from 1p a min to certain destinations and only pay for what you use.

Should have just scrapped charges. Greed Posted via the Windows Central on Blackberry passport SE

Can't imagine living like this. Predicting your life ahead. Thank goodness we have superb prepaid plans in India :D

Sounds good to me!!!! Which is a First for me talking about EE, they claim they are the biggest network and data providers in the UK, however this is the only because they merged T-Mobile and Orange!!!! We all know that it's not quantity, it's quality!!!! I'm with O2 UK and they give you loads of extras as standard like cheaper international calls, 4G tariffs, gifts like xboxs and playstations and tablets when you take out a contract with them, although this might be the deal I got with O2 via Carphonewarehouse, and the best thing is Priority O2 where they give you loads of Freebies every week, Competitions, 50% off food in restaurants and lunch every Monday for £1 at various outlets, they also give you a good deal if you have been loyal to them and let you upgrade a month or two early....
And the best thing is they fully support windows phones and because of them I am writing this comment with the O2 exclusive 64GB 1020!!!! I was very happy with that!!!!

I used to be a long time O2 customer, but I started experiencing problems dropped calls, poor call quality, sms not being sent, received sms being delayed. This is on a 4g contract, when they removed my loyalty discount mid contract... That was the last straw. So left and joined three, got unlimited 4g data, since i barely make calls and have unlimited texts. It was a no brainer at £15 pcm.

Yeah that makes sense, if you don't receive a good service then there is no point in being with them!!! I used to have the same problem with Orange, I've only ever had one problem when O2 data went down, but once in 20 years, not too bad and they more than make up for it with the free stuff!!!! I understand with the unlimited data but I hardly get through 1GB, my brother on the other hand needed unlimited data as well so he went with GiffGaff, which is still O2, you should have complained to someone as soon as it happened, but hey as well as your happy with your contract it's all good!!!!

Yeah I'm with EE and their prices are terrible and customer service is a nightmare. Last month my bill was due on the 28th and yet they cut my service off for "not paying my bill on time" on the 22nd... Had to go to the store and all they did was put me on the phone to wait on hold and took around 3 hours to solve and was only solved because I paid the bill.

Agreed. It is awful and the stores are rubbish. Ask a serious question and the staff scurry off to the back... Probably to make a phone call. Useless. And when they tie up with bt... That company needs to be banished to the nether realms lol

Lol agreed, everyone I know on EE just constantly complains. Now I get to hear complaints about BT too, yay! /s.

Money money money obey the law. Every year same shit about roaming.

Isn't this long distance calling, not roaming? Or is that distinction not drawn in the UK?

Haven't BT just been given the green light to take over EE?

An image of 2014.... EE, t-mobile store.
Windows Central Newsletter
Thank you for signing up to Windows Central. You will receive a verification email shortly.
There was a problem. Please refresh the page and try again.