EE customers rejoice; operator plans to roll out GDR2 and Amber mid-September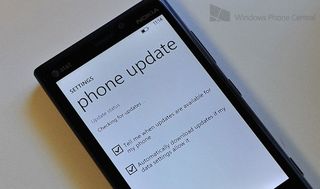 Those of you who are still eagerly awaiting the Amber / GDR2 rollout, we have some positive news for EE customers. The UK mobile operator took to Twitter today to reveal mid-September as to when Lumia Windows Phone owners can expect to see the updates shipped out on the network. Not long to go now, folks. EE is the last UK mobile operator to approve the software updates for the Lumia 920 and Lumia 820.
The GDR2 update from Microsoft brings along with it FM radio support, fixes for Xbox Music, Other storage fix and other minor improvements. Amber is the name for Nokia's accompanying firmware and it allows new camera features, Glance and flip to silence, to name a few new additions (depending on hardware).
Keep an eye on Nokia's update page (opens in new tab) for when the updates are released, as well as our feed and EE's Twitter account.
Source: EE (Twitter); thanks, Ian, for the tip!
Rich Edmonds is Senior Editor of PC hardware at Windows Central, covering everything related to PC components and NAS. He's been involved in technology for more than a decade and knows a thing or two about the magic inside a PC chassis. You can follow him over on Twitter at @RichEdmonds.
Word from the inside says the 10th.

It's unlikely to be the 10th. It hasn't even graduated to 'Coming Soon' status yet on the Nokia schedule. There's likely to be a few days to a week between approval and getting on the servers.

Just passing on what a Nokia employee has said.

Coming soon to availible doesnt have to take a few days btw.

I hope so much that you are right. I think EE have been a bit 'meh' towards Nokia right from the 920 exclusive. They bagged the 920, then put all their efforts into the latest slightly different iPhone instead. EE's exclusive on the 920 must have harmed sales pretty badly here in the UK

I think the reason why the table doesn't always show 'coming soon' before 'available' is becasue they don't update it all that often. They updated it today.

Hey EEDS, looks like your source was wrong after all. The update arrived late at night on the 19th. I think in another thread somewhere else I anticipated arrival on the 20th, based on bits of info gleaned here and there. Looks like I was right. :airpunch:

Won't even mention AT&T...

EE are tosswank. They've been responding to requests for an update on when they'll get their act together on the Amber update by telling customers to 'keep an eye on Zune'!

What a complete bunch of idiots. And now you tell us Tesco will be using them as their MVNO partner, oh lordy!

Indians Lumia update for 620 is out as per the nokia support site but not in real world

3 uk update just come through. Not sure if it is this. Installing now.

Great! It's taking a while, but fingers crossed the update goes through smoothly

To confirm. Carrier 3UK, I'm using a Nokia 920
Update details are:
Microsoft Update:8.0.10328.78
Microsoft Update: 8.0.10322.71
NOKIA Update for Windows Phone
Microsoft Update:8.0.10327.77

Just to update. Install is OK - but Pro Cam is not available for some reason. Is it carrier restricted> ? It just says This App is Not available for your device. Might be because your phone software needs to be updated (well, I've just done that!), the app is exclusive to another mobile provider or the app is not available in your country/region"
Damn

Didn't work after restart..hmm. Might try changing region to usa

Changing region doesn't work either. BALLS! Anyone know why Procam app has been blocked? Is it due to 3 UK?

Hmmm, thats quite true, I have it installed but can't find it in the store. Give it some time, if not, do the dreaded hard reset (won't advise that actually)

it's because pro cam has not been released to market place yet? it was a trial to check for bugs on the 920!


If only at&t would tweet something like this......

Do they tweet anything about phone updates? What Twitter handle? If we all knew, we could tweet bomb them and reference this article as an example of what we'd lime to see from them.

Saw that handle...but figured it was like calling and asking a customer service rep. They usually don't know these kinds of details. Tweeted anyway. Others should too...maybe someone will take heed.

Basically it is like customer 611.

F you at&t. Someone had to do it.

My insider is telling me that the reason ATT is holding off, is that they are trying to figure out a way to attach friggin lasers on the top of the phone.

Yesterday I tweeted AT&T support asking for GDR release news and they said they didn't know (not surprising). Then some nutter who has been trolling AT&T accounts claim delay is because they're trying to remove data sense.

Remove data sense not surprising as the fucker wants to make money all the tym why allow customers to actually check their data usage

AT&T customers have been able to check their data usage for quite some time.
Type *3282# [send] and you'll get a text message back in mere moments with your usage.
Newsflash: Businesses are supposed to make money. It's how they survive.

Not sure why they would need to remove Data Sense. AT&T even has an app to let you check voice, text and data usage for all lines on your account. Check it out, its a thing.

Some nutter has told me not till after the 925 comes out... which is a little more believable. If the 1020 didn't come with data sense, I don't think the 920s will get it with GDR2.

Yay finally *happy dance*

Whew! About time GDR2/Amber are now available on all carriers...wait, what's that? No AT&T still?

see i would have felt alot better if EE said this - a week ago, instead of feeling like they forgot about us, still better late than never i guess.

agree, they could have done this a lot longer ago than this.

Does this slow rollout make anyone concerned that you won't receive GDR3 until January or February? I assume the release will be similar to GDR2, first on Nokia 1520 versions, then slowly rolled out to the rest over the next 3 months.

HTC 8X customers on EE (AKA Orange) have had it (GDR2) for two weeks!!!!! I told you at the time.
So at last there is one thing good to say about HTC 8X

Unbranded 820 in the UK: Just got my GDR2 this morning and totally loving it!!

When are Vodafone bothering?

vodaphone UK already is available.. not in germany though

well according to the status page 920 and 820 got it shipped

Ahh right.. I have the 620

Forget Syria, THIS IS NEWS.

I think Bin Laden is hiding there or something? This Russian guy Stalin is getting well annoyed with Bush about it. Proper maddnes yo.


Sorry but that's just not funny man, to joke about millions of people displaced.
You think Americans wont mind if someone were to say 9/11 was the best thing to happen since WW2?

I don't know what disappoints me more, the fact that my comment was perceived to sincerely bring the Syrian Crisis onto a comments board on a mobile tech site, or that there are still people on the internet in 2013 with absolutely no sense of humour at all.

The "no sense of humor" is a lousy excuse to say anything at all and claim it was in fun.
One must show sensitivity from time to time.

Thanks for the tip. smdh.

Vodafone, t-mobile, o2, orange all started rolling it out already ('available' on Nokia status page). EE are still testing. First network with 4G, they're the last for Amber.
Happy its on its way though.

tmobile and orange is not listed.. it is EE anyways so it is listed under that .. and yes. they are the last to roll it out

EE are the last in UK to roll it out. But don't forget they have not done so. And they only said they were hoping to get it out mid September. EE are rubbish, i will believe it when I see it.

Damn everyone but AT&T getting the update

Correction, everyone but 920 owners on AT&T. I think every other make\model has gotten theirs (although 1020 came with it so doesn't count).

Nope. I have an 820. Nothing for ATT yet.

Just flash the rom as you get datasense too and the 4G speeds on EE

do you get 4G also on Tmobile/orange price plans? wonder if data sense is the problem for EE to get it working. hope it is included in the OTA. dont want to flash the phone and loose software

For the UK's 'Biggest and fastest mobile network' they are sure taking the pi55 rolling out this update out and to rub it in more data sense on EE is not enabled, so what exactly is the hold up? In theory it should be quicker, less the test/configure!

do you have proof on data sense not being included?

...source on the no Data Sense thing please?

http://www.presentationsunplugged.com/blog/wp-content/uploads/2011/08/ca... Edit: TIL why I never see embedded pics on this site.

WTF, no DS. You better be joking or EE will suffer a Tarantino style verbal assault because as good as the update was for myEE app, its still a steaming pile of ****

Read it on here somewhere

Its not gospel, but there was a debate on the forums about data sense on orange/ee. From what I read you'll still have datasense as per update but orange/ee have no immediate plans on enabling the service.

AMEN brother and personally cant wait to ditch this crappy network. First to get 920 last to update for uks largest network its laughable

Mid Sept? That's later than everyone else! Slo-mo...

Wow its taken some time. Hope they have the same delay on the other OS.... Was ready to drop kick EE...

Fuck you At&t. Die a slow death

I have the 620 on Vodafone and haven't had the update yet.. So quite slow here as well

Rejoice!?! Rejoice at being the last people to get it!?!?! Damn i hate ee

A little too late! I am switching to O2 or something... EE suck and are SO SLOW! Everything Everywhere... More like Nothing Nowhere.

Nothing Nowhere... Love it.

'Nothing Everywhere'. That way it's actually bad.

Went to EE because of them getting the Lumia 920 first and the 4G was a bonus but they appear to be one of the last to be getting updates. Will not be renewing my contract with them unless they sort that out.
About time basically.

Rumor: At&t to rollout gdr2 on January 3 gdr3 August 2014, blue January 2015. Coming soon

Jan 3! Man I hope its before then! Oh wait I just pre ordered the Note 3 so guess it doesn't matter now.

You mean the Samsung galaxy 4s with pen support. Just like last year sgs3s now with pen support.

Yeah, that's believable, NOT!

Hey Central where's my "thanks for the tip"?! As soon as EE tweeted I emailed you!

Even that little village way in the corner of Ethiopia where there is only 1 phone and no phone lines or power got the update. This is just sad. At&t really dropped the ball on this one. Feel like crashing my car (not my Z) through the damn building!!

EE can suck D I C K ()==o

I updated mine 3 weeks ago threw Nokia's Software updater...rejoice !!

Actually it was due to customers enquiring and putting in complaints due to them being the leading competition on the market yet they behind on windows phone. Its like if you report a fault on the 4G network they act to get it fixed. Also there updated app is pretty darn good now.

Anyone got a HTC 8X on Three UK with the update yet?

Well done EE. Bit faster next time please. I am paying you 46 quid a month after all!

Errmmmm...something strange going on here. My wife is on EE, as am I. We both have a Nokia Lumia 920. Mines black, hers yellow. My wife had the Amber + GDR2 update about an hour ago. My phone.. Nothing, nada? If EE are sending out the update mid Sep, how come my wife has it?