EE in the UK announce a new 4G roaming deal with AT&T - more carriers to follow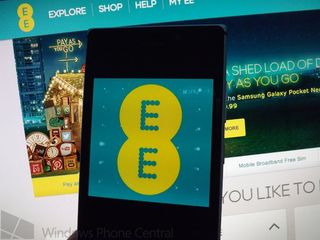 UK network EE has today announced it has teamed up with AT&T to offer visitors to the UK 4G LTE services, with more carriers to follow suit in the New Year. What this means (initially) for AT&T Windows Phone customers who pop over the pond is that they will automatically pick up the EE 4G network as long as you have a 4G enabled device.
LTE is still relatively new to us here in the UK, however, EE are leading the way with the biggest coverage and growing monthly. So at least you good folk of America will be able to visit Great Britain and still be able to access the fast data speeds you have been used to. There is no mention of any updated prices regarding roaming so be prepared for a large bill from your network provider but at least this is a step in the right direction.
Nice job EE.
Press Release
16th December, 2013 – EE, the UK's most advanced digital communications company, today announced the first 4G LTE roaming agreement in the UK, with AT&T. EE is set to launch additional partnerships early next year.
EE is the UK's biggest and fastest 4G network, and will cover more than 160 towns and cities by Christmas. This makes EE the partner of choice for international operators looking to offer their customers the best voice quality and the fastest and most reliable internet experience when using their mobile devices in the UK.
With average speeds of 24-30Mbps in major cities across the UK, customers on partner networks will be able to fully unlock the potential of their smartphones abroad – allowing them to instantly load maps, search the best activities and restaurants and post updates on their travels to friends and family back home.
Olaf Swantee, CEO, EE said: "Technology is not just shaping how people book and research holidays; but what they look for when they are choosing a country to visit. From finding their way to local landmarks, to avoiding the Oxford street crowds by shopping on their tablet, tourists are increasingly looking for fast and reliable mobile experiences when they travel abroad.
With the biggest and fastest 4G network in the UK, we can provide our partners' customers with the best mobile experience to stay connected when they visit the UK."
The adoption of 4G LTE around the world is happening much faster than 3G as people rely on fast mobile internet to stay connected on the go.[1] In order to unlock the full potential of 4G roaming, EE is working with our Rest of World partners on innovative new wholesale models to ensure customers have access to the data they need to stay connected abroad.
For more information, please visit ee.co.uk (opens in new tab). (opens in new tab)
Windows Central Newsletter
Get the best of Windows Central in in your inbox, every day!
So, the obvious question: do EE customers in the UK (like me) get access to AT&T's network in America?

Just for additional 20 Pounds on the monthly contract

That's bloody cool mate. :P

AT&T are thieves. Went Jamaica last month for a week, came back and got a data roaming bill for over $400. Plus the data service was off most of the time while was there... I called them suckers and cursed their a** out, they cut the bill down to $150.

Why did you use your mobile while on holiday? Jamaica man, sun sea herb and goat curry

So he could tell everybody he was on holiday in Jamaica of course ;-)

;-) I'm Jamaican. I visit every year for holiday. All my families still lives there.

Don't smoke but everything else I did...

Instead of cursing and screaming you should've just feigned ignorance that you hadn't been in Jamaica and don't know where the charges came from.

One thing I realized is that if u don't shout and scream at some of these customer care people, u don't get results...

Get T-Mobile, no roaming in europe (almost 100 countries) you pick them up where you go free. That is the carrier right there bar none.

Yay windows phone hit 200,000 apps :D

Aren't these the two worst carriers for updates and general WP support?

Not sure about updates, but general WP support? The Lumia 920, first flagship for Windows Phone 8, was exclusive to EE in the UK and AT&T in the US. Plus these are the two largest networks in each of the respective countries.

Sorry US guys, but you will also end up on the worst network in the UK, many parts are still 2G only, and dropped calls galore on 4G area's...

The two devils joined hands to rip off the customers. Govts are taking tax from them so there is no effort to reduce these ridiculously high roaming charges. On EE's coverage, I use 3G all the time to avoid from call drops due to 4G.

Sorry guys, but US and UK do not use same band for LTE/4G, with att device, you won't be able to catch uk 4g network, or did I miss something? (uk band are 3/7/20 ; att band are 2/4/5/17)

This is pointless. Until international roaming has reasonable fees, all this means is they can bill you all the faster.
Windows Central Newsletter
Thank you for signing up to Windows Central. You will receive a verification email shortly.
There was a problem. Please refresh the page and try again.