EE in the UK announce a new 4G roaming deal with AT&T - more carriers to follow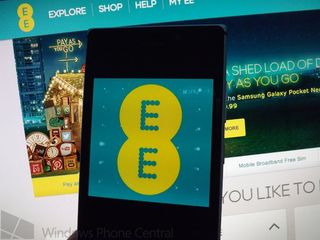 UK network EE has today announced it has teamed up with AT&T to offer visitors to the UK 4G LTE services, with more carriers to follow suit in the New Year. What this means (initially) for AT&T Windows Phone customers who pop over the pond is that they will automatically pick up the EE 4G network as long as you have a 4G enabled device.
LTE is still relatively new to us here in the UK, however, EE are leading the way with the biggest coverage and growing monthly. So at least you good folk of America will be able to visit Great Britain and still be able to access the fast data speeds you have been used to. There is no mention of any updated prices regarding roaming so be prepared for a large bill from your network provider but at least this is a step in the right direction.
Nice job EE.
Press Release
16th December, 2013 – EE, the UK's most advanced digital communications company, today announced the first 4G LTE roaming agreement in the UK, with AT&T. EE is set to launch additional partnerships early next year.
EE is the UK's biggest and fastest 4G network, and will cover more than 160 towns and cities by Christmas. This makes EE the partner of choice for international operators looking to offer their customers the best voice quality and the fastest and most reliable internet experience when using their mobile devices in the UK.
With average speeds of 24-30Mbps in major cities across the UK, customers on partner networks will be able to fully unlock the potential of their smartphones abroad – allowing them to instantly load maps, search the best activities and restaurants and post updates on their travels to friends and family back home.
Olaf Swantee, CEO, EE said: "Technology is not just shaping how people book and research holidays; but what they look for when they are choosing a country to visit. From finding their way to local landmarks, to avoiding the Oxford street crowds by shopping on their tablet, tourists are increasingly looking for fast and reliable mobile experiences when they travel abroad.
With the biggest and fastest 4G network in the UK, we can provide our partners' customers with the best mobile experience to stay connected when they visit the UK."
The adoption of 4G LTE around the world is happening much faster than 3G as people rely on fast mobile internet to stay connected on the go.[1] In order to unlock the full potential of 4G roaming, EE is working with our Rest of World partners on innovative new wholesale models to ensure customers have access to the data they need to stay connected abroad.
Get the Windows Central Newsletter
All the latest news, reviews, and guides for Windows and Xbox diehards.