Eero 6 vs Eero Pro 6: What's the difference?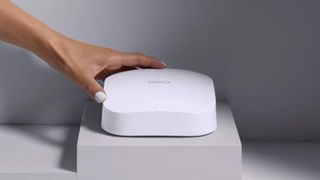 (Image credit: Amazon)
Reliable

The Eero 6 offers reliable performance with its Wi-Fi 6 and dual-band capability, but it lacks throughput for faster internet speeds and larger buildings. That said, it's a solid option to start into mesh networking with its easy-to-use setup and expansion capabilities.
For
Wi-Fi 6 for better performance
AX1800 for fast speeds to several people
Interchangeable with other Eeros
Against
Dual-band Wi-Fi limits speeds
Single LAN port only on the router
1500 sq ft coverage can be small for some people
Above and beyond

The Eero 6 Pro offers high-end Wi-Fi 6 performance for people with fast internet connections and bigger homes or buildings. Unfortunately, that power comes with a high price. It's a strong choice for a base router that can be upgraded in the future.
For
Wi-Fi 6 tri-band for increase mesh performance
AX4200 for very fast speeds to several people
2000 sq ft coverage for bigger homes and buildings
Against
Expensive base router
One open LAN port on base router
The Eero 6 and the Eero Pro 6 mesh networking systems are very similar products. We've already seen what Wi-Fi 6 can do for your network in other routers, like the TP-Link Archer AX6000, so it's an excellent upgrade. While both utilize the latest Wi-Fi 6 standard (802.11ax), the $100 difference will largely determine the size of your Wi-Fi coverage, the speed of that coverage, and how you'll want to extend your mesh network going forward.
For most people, the Eero 6's dual-band Wi-Fi performance will be enough. However, those with internet speeds of 1Gbps or more and who need to cover a larger space might want to consider the benefits of the tri-band Eero Pro 6.
Eero 6 vs. Eero Pro 6: Wi-Fi Coverage
The Eero 6 and the Eero Pro 6 don't differ much when it comes to Wi-Fi coverage. The Eero Pro 6 is rated for 2,000 sq. ft, while the Eero 6 is rated for 1,500 sq. ft. It's always worth recognizing how numbers like these are loose when considering all of the things that can interfere with a signal in a building. Here's a breakdown of which device offers.
Swipe to scroll horizontally
| Header Cell - Column 0 | Eero 6 | Eero Pro 6 |
| --- | --- | --- |
| Wi-Fi | Wi-Fi 6 dual-band | Wi-Fi 6 tri-band |
| Channel width | 20, 40, 80 MHz | 20, 40, 80 MHz |
| Ethernet ports | 2 | 2 |
| Coverage | 1,500 sq. ft. | 2,000 sq. ft. |
| Dimensions | 3.91-by-3.82-by-2.42 inch | 5.3-by-5.3-by-2.1 inch |
As with any wirelessly connected mesh network, you need to buy and place nodes close enough to each other to overlap. So realistically, the difference between them is fuzzy. For most users in smaller homes or apartments, both systems will be effectively the same. If you're looking for specific amounts of coverage for large spaces, you might need to lean on the Eero Pro 6's larger area of coverage.
Eero 6 vs. Eero Pro 6: Dual-band or Tri-band?
The Eero 6 offers dual-band Wi-Fi that lets it output both a 2.4GHz signal and one 5GHz signal. For a mesh network, where each device links to cover a wider total area, having more bands is better for maintaining a fast connection speed. The Eero 6's single 5GHz band will be split among nearby Eero nodes and your devices. The result is a slower overall speed as low as half of the 900Mbps rating.
The Eero Pro 6, however, has the same 2.4GHz band and not one but two 5GHz bands. One 5GHz band is dedicated to your other nodes, and the remaining 5Ghz and 2.4GHz bands are used for your devices to increase the throughput you'd otherwise get.
If you need to keep a high-speed connection in your home or building that also requires two or more Eeros, the Eero Pro 6 can easily keep up. The Eero 6 does a solid job if there's no reason you need speeds higher than 400Mbps.
Eero 6 vs Eero Pro 6: Expansion Capability
Here is where things get pricey if you need the true benefits of the Eero Pro 6. If you need expansion capability, it may cost you a pretty penny. Thankfully, the Eero line of products all work with each other, so upgrading in the future is also an option.
Both units offer two-gigabit ethernet ports on the base routers, but the Eero 6 extenders don't have that capability. You'll be stuck buying only base Eero 6 routers or the more expensive Eero Pro 6 routers for a second ethernet port. LAN ports matter because it's a great way to extend your mesh network or connect a device to a node with a stronger, wired connection. Ethernet can increase the speeds you'd otherwise get by connecting to your nodes wirelessly, but it'll cost you.
If this is something that could be a problem later on, you can buy an Eero Pro 6 as your base router and connect slightly slower Eero 6 extenders to it, at approximately $89 for each, and swap them out for more Eero Pro 6s whenever you'd like.
Eero 6 vs. Eero Pro 6: Price Difference
Buying into a mesh network is like buying into an ecosystem of products. That's why getting into either the Eero 6 or the Eero Pro 6 is pricey, especially if you need the standard two to three nodes that most people require.
The Eero Pro 6 starts more expensive, but if you're willing to give up some performance, it can be a solid way to go if you're worried about future-proofing expansions later on. A router and two slower Eero 6 extenders actually work out cheaper than the same three pack with the Eero 6, but since you lose the initial speed benefits, it might not be as enticing. Here's a breakdown of the prices.
Swipe to scroll horizontally
| Header Cell - Column 0 | Eero 6 | Eero Pro 6 |
| --- | --- | --- |
| Router Only | $129 | $229 |
| 3-pack (router + nodes) | $279 | $178 (with 2x Eero 6 extenders) |
| 3-pack (routers) | $349 | $599 |
The Eero 6 and the Eero Pro 6 both make it easy to get into a mesh networking system. For power users, the way the Eero Pro 6 covers a bigger area and maintains fast speeds could be the deciding factor over the slower, cheaper Eero 6. But the Eero 6 could be enough for people looking only for a base router and one or two nodes on top of that.
Eero 6 vs. Eero Pro 6: Which Should You Buy
For most people, the Eero 6 mesh router will be enough. It offers stable, fast performance to meet anyone's basic needs. It also covers a wide area that should be overkill for most people. And if you need to cover more space, you can easily increase it with official extenders down the line.
The Eero 6 is also affordable. Investing in a mesh networking system can be pricey, and the Eero 6 makes that transition easy and fool-proof for future expansion. It's simple, and that's what makes it the best choice for your mesh networking needs.
Top pick
Reliable speed and affordable

The Eero 6 offers fast Wi-Fi speeds for a solid price. It's simple to set up and should be enough for most people as long as they're not hoping for near gigabit speeds across a large home or building.
Power user pick
High-speed but expensive

The Eero 6 Pro is a powerful mesh networking router, offering superfast speeds for people with fast internet connections. If you need a fast connection spread throughout a large home or building, this is the choice for you.
Get the Windows Central Newsletter
All the latest news, reviews, and guides for Windows and Xbox diehards.
Tyler Colp is a freelance writer for Windows Central. He's written about tech, games, and the culture around them across the internet. Ask him anything about Dark Souls or just follow him on Twitter.