Wi-Fi 6, also known as the 802.11ax standard, is set to take over from Wi-Fi 5 (802.11ac). It's already found in many modern devices, and it brings better wireless speeds and a better ability to handle a large number of devices at high speeds. Wi-Fi 6 doesn't just work without some upgrades; you need a Wi-Fi 6 router and a device with a Wi-Fi 6 module.
TP-Link's Archer AX6000 router fulfills the former need. It's a high-end Wi-Fi 6 router with a high-end price tag, but for those who have a large space to cover and many devices to connect, it's no doubt going to look quite appealing. I've been using it with all my Wi-Fi 6 devices for the last few weeks to see what it's all about and, ultimately, whether or not it's the right router for your home or office.
Bottom line: The TP-Link Archer AX6000 is a potent Wi-Fi 6 router that should meet the needs of most people, especially if there are a lot of wired devices to connect. It's expensive, but it has the features and performance to back up the price.
For
Strong QoS and parental control
Simple, quick setup
USB ports for external media sharing
Superb performance and range
Eight Gigabit LAN ports
Against
About the size of a dinner plate
Expensive
Might be overkill for your needs
TP-Link Archer AX6000 tech specs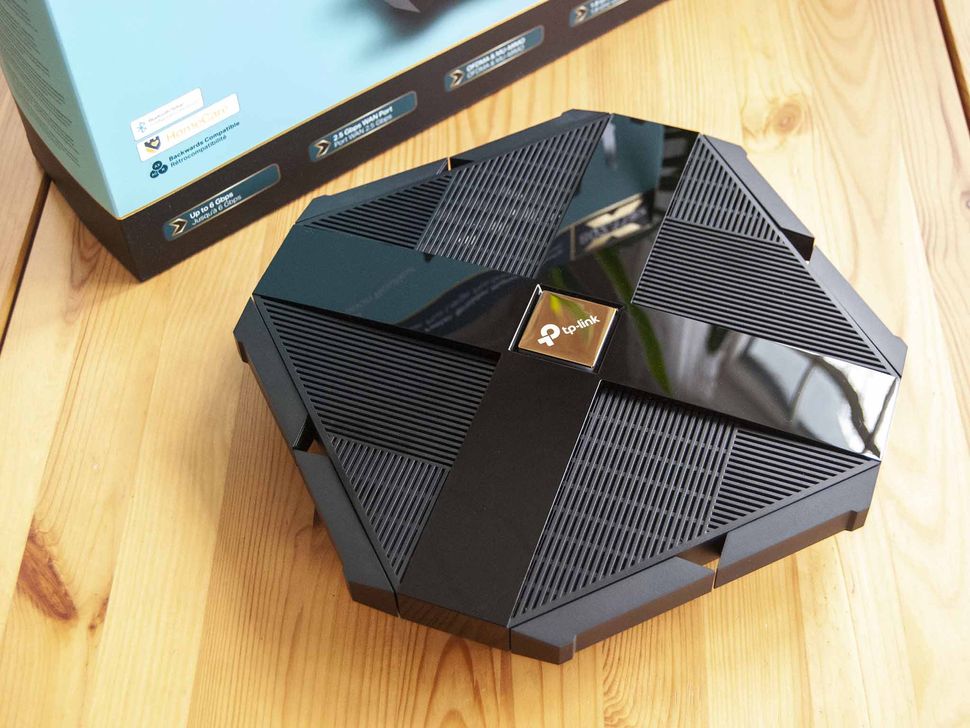 Swipe to scroll horizontally
Category
Spec
Performance
AX6000
4,804 Mbps (5GHz)
1,148 Mbps (2.4GHz)
Frequency
2.4GHz, 5GHz
Processor
Quad-core 1.8GHz
Memory
128MB Flash
1GB RAM
Wireless standard
802.11a/b/g/n/ac/ax
Antennas
Eight external
Ports
USB-A 3.0
USB-C 3.0
Ethernet
Eight Gigabit LAN
One 2.5Gbps WAN
TP-Link Archer AX6000 design and features
The Archer AX6000 is a beefy square router with eight external antennas that fold up and down. Altogether it's about the size of a dinner plate, so you're going to need some room wherever you want to set it up. On the bottom, there are some mounts if you want to attach it sideways to a wall or upside-down under a table, which would no doubt help with the size issue.
The side of the router has a USB-A 3.0 and USB-C 3.0 port for connecting an external drive or two. If you have network-attached storage ambitions, this will do on a small scale. I streamed video and shared files between PCs with ease thanks to this feature. The other side of the router has three slim buttons, one for WPS, one to toggle Wi-Fi, and one to toggle the top LED.
The router has a 2.5 Gbps WAN port and a total of eight Gigabit LAN ports on the back, making it ideal for anyone with a lot of wired devices they'd like to connect. There's no multi-Gigabit LAN port, though link aggregation is possible between the second and third LAN ports. If you need it, this would offer theoretical wired speeds up to 2 Gbps.
Everything is powered by a quad-core 1.8GHz processor with 1GB of RAM and 128MB of Flash memory, which is very respectable inside a router. It handles Quality of Service (QoS), parental control, built-in antivirus, media streaming, band steering, and more without seeming to struggle at all.
Wi-Fi 6 still uses the 2.4GHz and 5GHz radios, here each with four separate streams. Along with MU-MIMO capabilities, 1024QAM (Quadrature Amplitude Modulation), OFDMA (Orthogonal Frequency-Division Multiple Access), beamforming, and 160MHz maximum signal bandwidth, you can expect an overall impressive wireless network that can keep up with the needs of a large number of people all vying for a large amount of data.
TP-Link Archer AX6000 setup and management
Setting up a new router can be daunting, especially for the less tech-savvy folks out there, but TP-Link aims to make it as easy as possible with the Archer AX6000. From opening the box, the first time to connecting your devices takes only about five minutes, and it can be done using the TP-Link Tether app or through a web browser with a connected PC. It's simple. It's easy.
TP-Link's Tether app has plenty of settings you can adjust, but accessing the router through a browser will land you the most control with advanced settings. You can tweak LAN, IPTV, DHCP, DNS, IPv6, VPN, NAT, and more advanced options if you're up to it, though the router will work fine without having to delve too deeply. No doubt, most attractive to a lot of people are strong parental control, QoS, and security.
Image 1 of 2
Parental control is handled per device. Find one in the connected devices list, give it a name, choose an age group, then add any categories you'd like to filter. Time limits per session and sleep times can be set to ensure the kids aren't staying up late when they should be resting. Once you've set up a control profile, you can look in on time spent online and what sites were visited for how long.
QoS control can also be configured per device, though it also has the option for configuring per activity. This means you can set high-demand devices at the top of the list to be served required bandwidth first, but you can also set, say, video streaming as the top priority. Live in a house where you can't run an Ethernet cable to console or PC? You can prioritize gaming. There's also a set of custom sliders that you can tweak to get exactly the priority balance you prefer.
A built-in antivirus from Trend Micro can be toggled on to block malicious content, external attacks, and quarantined devices. The router also has an SPI firewall enabled by default, as well as a configurable blacklist for devices. Those looking to securely access their home network while away can configure a VPN through OpenVPN or PPTP.
Finally, guest networks on either radio are quick and easy to set up, allowing visitors some internet without giving them full access to your network. If you're working on improving your IFTTT or Alexa game, know that the AX6000 is compatible with both.
TP-Link Archer AX6000 performance
The biggest appeal for a lot of people is no doubt the boost to performance they'll see by switching to a Wi-Fi 6 router and devices. Rest assured, the Archer AX6000 has no issues working with older devices as well. Wi-Fi 6 is meant to be backward compatible, and I saw no problems connecting all my devices, old or new. This is a dual-band router with 2.4GHz and 5GHz radios, meaning you can choose between signal quality at range or sheer speed in proximity. Radios can be set to work exclusively on one standard. For example, you can set the 5GHz band to only handle 802.11ax devices.
This router does not have mesh capabilities like some other modern routers, but it does offer a Smart Connect feature that is common with mesh systems. When enabled, the router shows just one SSID to which you can connect. Once connected, the router will move devices back and forth between the 2.4GHz and 5GHz radio based on best performance. It actually works quite seamlessly — move out of range of where 5GHz is effective, and you'll be switched over to 2.4GHz, and vice versa.
I ran some tests using Ookla's Speedtest and a Lenovo ThinkPad X1 Extreme with Intel Wireless AX200 (2x2) card. Note that my internet plan is rated at 350Mbps down and 15 Mbps up, which is really not enough to take advantage of the Archer AX6000's full potential. Something like the Archer AX50 would no doubt be a more suitable Wi-Fi 6 router for my situation. In any case, here are the results I saw with the AX6000.
TP-Link Archer AX6000 (2.4GHz)
Swipe to scroll horizontally
| Location | Ping | Down speed | Up speed |
| --- | --- | --- | --- |
| Living room (10 feet) | 10ms | 104.45 Mbps | 16.23 Mbps |
| Office (30 feet) | 10ms | 88.48 Mbps | 16.07 Mbps |
| Basement (40 feet) | 11ms | 89.69 Mbps | 16.08 Mbps |
| Outdoors (50 feet) | 11ms | 24.99 Mbps | 15.91 Mbps |
TP-Link Archer AX6000 (5GHz)
Swipe to scroll horizontally
| Location | Ping | Down speed | Up speed |
| --- | --- | --- | --- |
| Living room (10 feet) | 11ms | 320.86 Mbps | 16.23 Mbps |
| Office (30 feet) | 10ms | 314.57 Mbps | 16.09 Mbps |
| Basement (40 feet) | 11ms | 173.41Mbps | 16.14 Mbps |
| Outdoors (50 feet) | — | — | — |
Speeds on the 5GHz radio remained impressive throughout my home, though venturing outdoors to the backyard saw a severe drop in signal strength. I couldn't keep a steady signal long enough to get a proper reading. There are a lot of walls and some thick insulation for the signal to pass through, so it's not too surprising.
For reference, I also tested to see how well the ISP-supplied Wi-Fi 5 router works in the same locations around my house.
Hitron Wi-Fi 5 (2.4GHz)
Swipe to scroll horizontally
| Location | Ping | Down speed | Up speed |
| --- | --- | --- | --- |
| Living room (10 feet) | 10ms | 79.25 Mbps | 16.22 Mbps |
| Office (30 feet) | 11ms | 22.17 Mbps | 15.9 Mbps |
| Basement (40 feet) | 11ms | 14.82 Mbps | 12.22 Mbps |
| Outdoors (50 feet) | — | — | — |
Hitron Wi-Fi 5 (5GHz)
Swipe to scroll horizontally
| Location | Ping | Down speed | Up speed |
| --- | --- | --- | --- |
| Living room (10 feet) | 10ms | 132.50 Mbps | 16.23 Mbps |
| Office (30 feet) | 9ms | 81.79 Mbps | 16.20 Mbps |
| Basement (40 feet) | 10ms | 56.16 Mbps | 16.18 Mbps |
| Outdoors (50 feet) | — | — | — |
The jump in throughput is clear from these results, with the TP-Link Archer AX6000 tripling speeds at range in some cases. Not only were the speeds much higher, but the signal was also much stronger and steadier. The AX6000 still isn't going to be effective with 5GHz at long ranges through a lot of walls, but the 2.4GHz signal did see a solid boost to range compared to my older Wi-Fi 5 router. Whereas before I couldn't sit in the back yard with any sort of reliable signal, the AX6000 now makes it possible.
I also tested transfer speeds of a hard-disk drive I connected with USB-A. Using the 5GHz radio, I got back a 68.57 MB/s read speed and 39 MB/s write speed, both respectable results. Streaming video, transferring images, and opening documents from the external drive posed no problems. For reference, connecting the drive straight to my PC got back speeds of 139.2 MB/s read, and 54.10 MB/s write.
Should you buy the TP-Link Archer AX6000?
TP-Link's Archer AX6000 is a Wi-Fi 6 router meant to handle a lot of traffic at high speeds. If you're in a large home with a lot of people who want to stream, game, and browse, it's no doubt going to be a good fit. Keep in mind that its theoretical speeds of 4,804 Mbps (5GHz) and 1,148 Mbps (2.4GHz) are likely overkill if you don't have an ISP plan that can take advantage. My rather measly 350 Mbps down and 15 Mbps doesn't even come close to helping the AX6000 realize its full potential, but I'm still enjoying the massively improved speed at range compared to the old Wi-Fi 5 router to which I'm accustomed.
The eight total LAN ports are ideal for anyone with plenty of wired devices, and link aggregation can help with the lack of a multi-Gigabit port. The bevy of advanced settings are sure to satisfy most people, though if you're not comfortable with those types of tweaks, you can always just plug it in and let it do its thing without much effort. Parental control and QoS get top marks here as well; if you're looking for a new router for the whole family, the AX6000 should have just about everything you need.
With all this is mind, the Archer AX6000 might just be what you're looking for. However, at about $300 it's not exactly a splurge buy, and it might be overkill for your needs. If you have a more modest ISP plan and still want Wi-Fi 6, something like TP-Link's Archer AX10 or Archer AX50 are much more affordable options. And if you're interested in more of the best options out there, be sure to check out our collection of best Wi-Fi 6 routers for a range of needs.
Premium Wi-Fi 6 Router
Upgrade to Wi-Fi 6

If you require an 802.11ax router for the demands of many people who stream, game, and browse, the Archer AX6000 should be a good fit. Just make sure it's not too much router for your needs.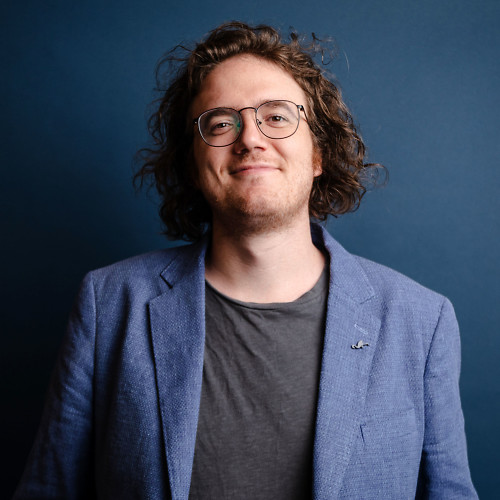 Senior Editor, Laptop Reviews
Cale Hunt is formerly a Senior Editor at Windows Central. He focuses mainly on laptop reviews, news, and accessory coverage. He's been reviewing laptops and accessories full-time since 2016, with hundreds of reviews published for Windows Central. He is an avid PC gamer and multi-platform user, and spends most of his time either tinkering with or writing about tech.