Best Wi-Fi 6 Router in 2022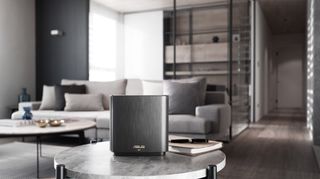 (Image credit: ASUS)
If you care about speed and reliability on your home network, Ethernet has long been the answer. And if you're stuck working from home, the upgrade to Wi-Fi 6 can bring the capabilities we're used to seeing in wired networks to your entire home. Also known as 802.11ax Wi-Fi, Wi-fi 6 brings not only speed improvements but increased bandwidth and traffic management features to improve wireless connections compared to Wi-Fi 5 or 802.11ac. If you are ready to make this jump to new tech, the Netgear Nighthawk RAX50 provides the best overall experience. This router has plenty of speed, excellent coverage, and a price that's quite competitive.
Best Overall: Netgear Nighthawk RAX50
Why you can trust Windows Central Our expert reviewers spend hours testing and comparing products and services so you can choose the best for you. Find out more about how we test.
Netgear Nighthawk RAX50
Plenty of speed for streaming and gaming
Reasons to buy
+
Fast AX5400 speeds
+
Wide 160MHz 5GHz band
+
4 Ethernet ports and USB 3.0
+
Easy management with Netgear app
The Netgear Nighthawk RAX50 is an extremely practical high-speed Wi-Fi 6 router with a dual-band setup capable of AX5400 speeds. 600Mbps is provided by the 2.4GHz band while the majority of the speed is delivered thanks to a wide 160MHz 5GHz capable of pushing out 4800Mbps. The majority of users won't be able to make good use of a more expensive tri-and router making the Nighthawk RAX50 a great value.
Four Ethernet ports are available so you can hook up all of your wired devices without needing an extra switch. You also get a USB 3.0 port around the back flanked by two of the four total external antennas. WPA 3 security helps keep your local connections secure, and the optional Netgear Armor service adds in even more security features, including anti-virus protection from Bitdefender.
As with any Wi-Fi 6 router, you can still get your 802.11ac and older Wi-Fi devices connected with great speeds with room for improved connectivity as you upgrade your equipment.
Best Value: TP-Link Archer AX1500
TP-Link Archer AX1500
Wi-Fi 6 for everyday use
Reasons to buy
+
Wi-Fi 6 capacity
+
AX1500 speeds are enough for many people
+
4 Ethernet ports
Reasons to avoid
-
Large size
-
Not much speed improvement over Wi-Fi 5
TP-Link's Archer AX1500 delivers Wi-Fi connectivity and reliable speeds for a great price. While AX1500 isn't going to hold up for a fiber gigabit connection, for many people, it's plenty. There's more to Wi-Fi 6 than the pure speed with the Archer AX1500 bringing improvements like OFDMA and MU-MIMO. Speeds max out at 1201Mbps at 5GHz and 300Mbps at 2.4GHz.
Four gigabit Ethernet ports on the back are flanked by four external antennas. The router's housing is 10.2 inches across and 5.3 inches deep, so this router isn't precisely compact when compared to some other routers of the same speed. If you're looking to add Wi-Fi 6 as cheaply as possible, the AX1500 is an excellent option.
Best starter mesh: Netgear Nighthawk MK62
Netgear Nighthawk MK62
Build your mesh with Wi-Fi 6
Reasons to buy
+
Compact size
+
Expandable coverage
+
3,000 square feet of coverage
Reasons to avoid
-
Only AX1800 speed
-
Only 1 Ethernet per unit
Quite a lot of people don't have gigabit Ethernet connections and won't be setting up an SSD-based storage server. These people can still benefit from the increased capacity and consistency that is available with Wi-Fi 6 with great coverage thanks to a mesh system. The Netgear Nighthawk MK62 comes in a small housing and can deliver speeds up to AX1800.
You only get a single Ethernet port on either node making this system better for people that have gone mostly wireless with their home network. If you are looking for the convenience of a mesh with the added features of Wi-Fi 6, the MK62 can be a great option with enough speed for most people that doesn't break the bank.
Best fast mesh: Asus ZenWiFi XT8
Asus ZenWiFi XT8
Mesh functionality with a speed boost
Reasons to buy
+
Fast AX6600 speeds
+
5,500 square feet of coverage
+
2.5Gbps WAN
+
Expand with AiMesh
Reasons to avoid
-
Only 3 Ethernet ports per unit
Asus was one of the first companies to make a mesh capable Wi-Fi 6 system. It continues that legacy with the purpose-designed ZenWiFi XT8. It comes in a compact housing around six inches wide and tall and just shy of three inches deep and is available in white or charcoal color. It also works with other Asus routers that support its AiMesh software, which is most of them but will be best with other Wi-Fi 6 capable routers.
The ZenWiFi XT8 also doesn't give up much in speed with a fast AX6600 tri-band connection and 3 Ethernet ports per unit. It can also accept a 2.5Gbps input making it a great way to add Wi-Fi to a fast wired connection. With two nodes, you can cover up to 5,500 square feet with the ability to easily expand it later.
Best Gaming: Asus ROG Rapture GT-AX11000
Asus ROG Rapture GT-AX11000
Great software keeps ping times low
Reasons to buy
+
Fast AX11000 speeds
+
4 Ethernet ports
+
2.5Gbps WAN
+
ROG QoS software
For the most part, computer accessories wearing a gaming badge are just cheaper accessories with a few lights glued on. With the Asus ROG Rapture GT-AX11000, you get a bit more than that. While RGB lighting is a bit cliché, the lighting on this router works with Asus' Aura RGB, which means it can synchronize with your Aura RGB gear to build Twitch-ready shrine to gaming.
Beyond the aesthetics, you get a fast 2.5Gbps WAN port, which can come in handy with a storage server or even just to be ready for faster network cards in the future. Built-in software can keep your gaming connection optimized to prioritize low ping times, even when there are multiple other active connections.
The ROG Rapture GT-AX11000 has an expressive design with eight large antennas that will stand out. If you like the gaming aesthetic, this router can be an excellent fit for your home.
Bottom line
Wi-Fi 5 speeds really are enough for what most people need to accomplish on their internet connection. The Wi-Fi 6 upgrade is mostly for future products and uses that haven't fully been realized yet. As 4K streaming and remote connections become more common, the need for a faster and more reliable connection will follow. Wi-Fi 6 will also be able to deal with the dozens of devices we need to get online in our smart homes.
With the Netgear Nighthawk RAX50, you get more than enough speed for standard usage, including multiple 4K streams and gaming. With the wealth of new options available, if you're ready to upgrade your wireless router, it's time to go with Wi-Fi 6.
Get the Windows Central Newsletter
All the latest news, reviews, and guides for Windows and Xbox diehards.