The Elder Scrolls IV: Oblivion among latest games added to Xbox backwards compatibility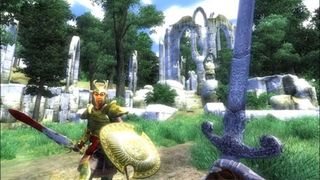 Though the revamped Skyrim Special Edition may be the new hotness in the world of Elder Scrolls right now, fans of the series on Xbox One can now take on another classic in the series: Oblivion. While it's certainly not as visually exciting as a remaster (Skyrim took dibs there), The Elder Scrolls IV: Oblivion is now available to play via Xbox One backwards compatibility.
If you're unfamiliar with the title, Oblivion was released to great acclaim for Xbox 360 over 10 years ago in March of 2006. As the direct predecessor to Skyrim, Oblivion revolves around the same sort of open-ended RPG gameplay that made other entries in the series successful. You'll be able to openly explore the vast world, building your character however you see fit as you unravel the story.
See at the Xbox Marketplace (opens in new tab)
As announced by Xbox's Larry "Major Nelson" Hryb on Twitter, Oblivion is just one of four titles hitting backwards compatibility today. Also included are Medal of Honor: Airborne, Trine 2, and Astropop.
Are you planning to take on the world of The Elder Scrolls IV: Oblivion once more? Let us know in the comments!
Dan Thorp-Lancaster is the former Editor-in-Chief of Windows Central. He began working with Windows Central, Android Central, and iMore as a news writer in 2014 and is obsessed with tech of all sorts. You can follow Dan on Twitter @DthorpL and Instagram @heyitsdtl.
I think backwards compatibility is the coolest thing. The fact that I no longer need to rely on my old 360 (which won't last forever) to play these games is great, and the technology is just amazing. And only one box in the living room, one set of controllers, one input on the TV... there benefits go on and on.

The 3rd game in the series, Morrowind, was released on the original Xbox but made available on the Xbox 360. Not sure if they can bring that as well to Xbox One.

I think it's possible because Halo 2 came out for both older consoles and is playable in X1

Loved morrowind. Great game. Oblivion was alright, didn't have the same feeling as the previous though.

They've released quite a few older games onto the Xbox One -- take the original DOOM 1 and 2 games, which are much older than Morrowind is (they are from the same time as Arena and Daggerfall -- which I would love to see put up on Xbox One, as well as Morrowind). With DOOM 1 and 2, these games were upgraded onto 360, first, then later on the disc was made compatible with the Xbox One. Personally, though, I'd be happy enough even if all they ended up doing was giving us digital copies of all the older Elder Scrolls games. It's killing me to not be able to play them all on my Xbox One.~

YES! I can finally finish this epic... xD

How do I play it on my Xbox one with the disc?if so then it's not working or do I go on marketplace? Bc I don't see it could some one plz tell me

Hi there, You should put the Oblivion disc in the tray and then when you try and run it, the marketplace will open up and allow for the download to occur. You still need to have the disc in the tray for copyright, but yes you do need to download the compatible version from the Xbox store which should happen automatically.

Does this apply to DLC too? I need my horse armor! (and Shivering Isles) Edit: Nvm, quick search told me I can. Guess I know what I'll be doing tonight...

Lol, horse armor. Classic!

dang i gave my sister my 360 and the games. she gave the games that are "adult" to a donation store. ugg im not missing my games. ill just have to buy it one day.

Awesome! I love both Oblivion and Airborn, so double sweet.

Still waiting on the supposed "skywind" to hit.

I have so many Lego games that I would love to see hit the backward compatibility list. Did manage to snag Lego Jurassic World for $10 during the XB1 Black Friday sales, even though I already own the disc for the 360.

Lol, still only 2 games I have out of about 30ish have made it to the x1. And those two that I have I don't really care about. I'd like ace combat games to come though. We need more jet flying games to be made honestly.

I don't need an Xbox 360 or One to play this game. It's from 2005. Even the most low end Windows 10 PC should easily be able to play it. The recommended PC specs for this game are a Pentium 4 and 512MB of RAM.

It's a port... No one implied that you needed the power of an Xb1 to play Oblivion

I don't think you really understand what this is about.

Will the GOTY version (2 discs, 2nd disc contains the expansions) work as well?

Has it been 10 years already??? Wow...another reminder on how old I'm getting...

I actually thought it was older till this article. I remembered the whole 360 being forecasted for 15 years and this being released early on in its life cycle. I still remember that like an idiot, I bought this as a special edition new from GameStop for 80 bucks.
Windows Central Newsletter
Thank you for signing up to Windows Central. You will receive a verification email shortly.
There was a problem. Please refresh the page and try again.