Microsoft's Fluent Design comes to Groove Music on Xbox One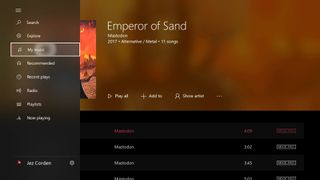 Microsoft's new Fluent Design language is slowly making its way to the company's various apps, and now you can add Groove Music on Xbox One to that list. The app has been updated on Microsoft's console, adding in some of the blurred acrylic elements that are part of Fluent Design, matching Groove on Windows 10.
Image 1 of 2
The main thrust of this update is the menu bar, which now features a translucent acrylic look that is common across Microsoft's Fluent Design implementations. The result is an effect that gives you a slight peek at what is layered behind the menu at any given time.
It's a relatively minor addition, but it brings Groove closer to its look on Windows 10 PC and Mobile, which have already had similar elements added. Fluent Design, however, is planned to much more than the acrylic blur seen here, and it's likely we'll see more elements added over time.
You should be able to update Groove on your Xbox One to see this implementation now. it's entirely likely that this is part of a slower rollout, so some patience may be required.
Download Groove Music at the Windows Store (opens in new tab)