Elephone reportedly releasing a Windows 10 flagship phone with a 2K display, fingerprint scanner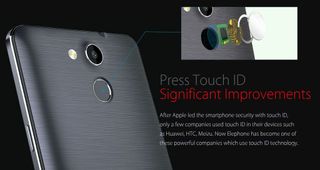 File this one under wishful thinking, but Elephone is evidently working on a new flagship device. The alleged phone vaunts a QuadHD (2560 x 1440) display, 4GB of RAM and a 20.7-megapixel camera (Sony's IMX230 sensor). Powered by an Intel processor and boasting a fingerprint scanner, the phone runs Windows 10 for mobile.
A version with Android 5.0 Lolipop was also shown, although it is not clear if these are two separate versions of the phone or a more unlikely dual-boot scenario.
The news comes from the annual Hong Kong trade fair, where Elephone, who is based out of Shenzhen, China, has a booth showing off their current Android phones and upcoming devices. Details of the phone were revealed on a billboard behind the booth, describing the upcoming device(s).
Of course, trade shows are one thing, and until Elephone has an actual device to show people, we will file this one under rumors for now. No ETA was given for the release of this unnamed phone. However, a fall launch would be likely seeing as that is when we are expecting new Windows Phone hardware to hit the market.
Elephone has been on the Chinese smartphone scene for nearly eight years and asserted 10 million sales of devices across Europe, North America, South American and the Middle East. They pride themselves on their research and development, and they currently have more than 1,000 employees.
Elephone's current flagship is the P7000 and it sports 3GB of RAM, a 5.5-inch 1080p display, 16-megapixel main camera and a fingerprint scanner. The phone even has a metal frame and all comes for less than $200.
We are always cautious about such claims by Chinese manufacturers, who often over-promise and under-deliver. Nevertheless, with Windows 10 for mobile, including free licenses, Windows Hello, and support for more advanced hardware, anything is certainly plausible.
Source: GizChina; Thanks, Rodrigo C., for the tip!
Daniel Rubino is the Editor-in-chief of Windows Central, head reviewer, podcast co-host, and analyst. He has been here covering Microsoft since 2007 when this site was called WMExperts (and later Windows Phone Central). His interests include Windows, Microsoft Surface, laptops, next-gen computing, and for some reason, watches. Before all this tech stuff, he worked on a Ph.D. in linguistics and ran the projectors at movie theaters, which has done absolutely nothing for his career.
Fingerprint Scanner..? C'mon Microsoft....

Do u heard about Microsoft hello..

That's face recognition I suppose..?

No all types of biometrics including iris..

Solid flagship for less than 200 bucks o_O surely this company is something to look into

200$ is former flagship price. This new one may cost more... 350$ at least in my view

I'd probably pay $350 for it without complaint. I'd really like to see this come out with GSM bands. Hope to hear about the new Microsoft flagship soon.

Nope. Going by pricing strategy of Chinese manufacturers, the new flagship wont be costlier than $250. But even I would not ming paying in the range of $300-$350 for such specs on a windows phone.

Finger print scanner is: So last season

Yeah, keep saying that until some tries do this... :O :P. http://i.dailymail.co.uk/i/pix/2011/05/11/article-1385959-0C01309F000005...

And Windows phones still didn't haven't it... Posted via the Windows Phone Central App for Android

And Windows Hello is a Windows 10 feature.

For me, that is fine. And to be honest, I have yet to come across anyone that asked for it. Never seen anyone use one either. Mist definitely not a USP now.

Last season? My Windows Mobile 6.5 phone had a finger printer scanner.. about 4 (Maybe 5) years ago. Look up the LG GW825, it even had a hardware keyboard, and a snap on pico projector.

Sounds like a fair bit of kit.

Intel processor. Maybe in 2018.

Wrong. 8 inch tablets have been shipping with Baytrail CPUs for months, with 1 or 2 GB DDR3. This cell phone has 4 GB. They can run Win 8.1 with 16 GB EMMC, Win 10 will not require more, but it would be better to have 32 GB. 32 will be average by the time this cell phone ships. For the same price as the cell phone you can have a 7-10" Windows 8.1 phablet right now with GSM. LTE is on the near horizon - ASUS makes one now....yes it's currently Win 8.1. So what do you know??? Not much....

It is supposed to be a Phone. Not tablet. Not desktop.

How can you possibly say that when one of the most important is left out, the CPU. If its as underpowered as the latest bunch of windows phone CPUs then this device is a total non-starter.

My gues is a Baytrail, since Skylake is a ways out. Just Google the specs...

Baytrail is EoL. It would be Cherrytrail, or more likely a Qualcomm S820.

No way :D. Please come to Verizon!

He did not mention any carriers.

Why would this be a rumor if the company itself claims this is an upcoming device?

If its a dual booth scenario. I'll be dammed.

How about vaporware? Because Chinese companies have promised devices in the past, which have not come to market. Also, since there is no press release or firm details from the company, it is still just rumor.

Today's rumours are tomorrow's............

But...but... there's a poster!

confirmed now http://www.neowin.net/news/new-elephone-flagship-to-launch-with-windows-...

Because W10 for phones does not support x86/x64. With the speed Nutella develops said operating system I would not expect any progress any time soon even if Intel would say that they are all in. EDIT: Intended as comment for one thread up but for some reason wp-central app keeps posting it here.

More to be precise it only supports arm 86x which is incompatible with intel/amd x86 CPUs

Nutella is a bread spread. What do you mean?

Ihear that phone will be using the mediatek Octo-core to run the Android side. And a an Intel quad-core to run the windows 10. Kind like what Asus did with the transformer book that runs Android and Windows 8

Well, if it's not official, then it's a rumour, I guess. But this may create interest with those specs whether it's a rumour or not.

Things happen plans change. You never know. That's why.

Now THIS is a flagship! Take notes, Microsoft.

Exactly!!..they should pay attention now ..even if its vapor ware

Do you know the new flagship from MS?

And the CPU? Oh, thats right. There is NOTHING about the CPU mentioned other than its made by intel, with their proven track record of super powerful, low energy, efficient chips. Oh, wait...

hope Microsoft's next flagship Lumia will have the iris scanner :)

That would be cool, but I'd rather it be a surface phone not a Lumia

Lumia will always be better.. Nokia set the standard

Fingerprint scanner is much more convenient than an iris scanner. Who wants to hold their phone up parallel to their face ot unlock it?

You're looking at your phone right now, is that so hard?

This with a desktop dock that supports one or more external displays, keyboard, mouse, and other USB devices is what I'm looking for. I'd even love to have a laptop dock like the Asus Padfone or Motorola Atrix. That's what they were trying to achieve, but Android just doesn't work with it.

Yeah, that would be awesome. Just what I need.

If the 940 (XL?) doesn't impress me, I may just have to go with this. The specs are amazing!

4GB RAM! Android users - Whoooo... WP users - as smooth as lumia 635.

Thanks a lot. I hurt myself falling out of the chair laughing. hehe... lumia 635. Yeah, I got one. Smoother than butter on a GS6.

Well MS did list 4gb RAM as a requirement for w10 flagships

Spec wise, sounds great... but performance is a different thing.

If it came to Verizon I'd def get it. Or just switch to att since they always carry WP

WANT... but from Microsoft, not from Elephone.

A three ton phone the size of a bus, amirite? Noice

I own a Lumia 1520... The only way i would buy a new Windows Flagship Devices is if they call it Lumia Surface and they offer long-lasting battery, the best processor on the market and should also include a stylus.... And If it comes with a kickstand like the surface tablets, I would be a killer phone!

With minidisplay port and iris scanner

and makes me cappuccinos too....

And has the option to transport me across the globe in nanoseconds.

And can grant me 3 wishes.

Touch ID? I smell a lawsuit...

Think it's just a generic term in this case.

WANT.
I'll literally be sick if it does come out but it's not available for AT&T though

I would switch carriers for something like this. My contract is almost up anyway.

I literally pooped my pants

Awesome! I'll get this (if) when it comes out and install Bluestacks on it! No more app gap!

Bluestacks works on Windows Phone?

Sooo pretty!!! I want! ;)

Who the hell is Elephone? You know what, I don't care. All I care about is the fact that they're considering a WP Flagship with features on par with what's available on Androidand iPhone, which is more than I can say for most of the other OEMs out there.

Well.. I'm all about getting a new flagship. My 1520 is soon celebrating 2 years birthday, but design & hw are even now top notch, same can not be said about work done by MS on software side.

Nice one but what about the future updates and Lumia only apps.. Lemmi stay with the underpowered lumias

I will buy it if it will be available in Lebanon

Wow this is the first windows phone with finger print scanner I've ever heard nice

Sounds more like a mini tablet then a phone.

Windows 10 for phones, like the phrase!

Look! Up in the sky...pie!

"QuadHD (2560 x 1440) display, 4GB of RAM and a 20.7-megapixel camera (Sony's IMX230 sensor). Powered by an Intel processor and boasting a fingerprint scanner, the phone runs Windows 10 for mobile." Hold on a second you're telling me the Windows 10 for mobile is 64-bit? I thought it was 32-bit... if it is then that extra 1 GB of RAM becomes unusable... also say goodbye to the battery life.... powering that QHD screen and 4 GB of RAM. So I smell bull on this.

Well let's hope it uses an extremely power efficient processor :)

Intel Atom CPUs have PAE enabled so they can address up to 64GB of RAM. Also Windows 10 supports this fucntion. So the 3GB limit is... old and stupid. I don't know if Windows 10 for Mobiles will be 32bit and/or 64bit enabled but why not? 64 SoC's are widely available and it would be stupid not to be available.

2K Screen, rly? this is madness, 1080p on 5" is sharp as hell, where this is going? 4K 8K 16K in 5" devices in 2020?

Until we make some huge stride in battery tech, it really is nonsensical... Even if it had a huge battery like the 1520

NOKIA (Microsoft) MAKE SOMETHING LIKE THIS

Nokia (Microsoft) does not exist.

I cant wait to see this phn. it looks awesome. Another CrApple iJUNK killer. For those who think CrApple was the 1st to have fingerprint sensor on its phn, you better think again. 2011 Motorola Atrix 4G had fingerprinting feature. I believe HP/Compaq Windows phns had that too WAY before anyone else, specially CrApple iJUNK. All CrApple does, is copying others and then they LIE and FOOL people it was all their idea. NOOOOOT

I'm excited after hearing this I love Android, but I need full brown windows features becabecaI'm always in the road, and the majority of apps I use are only made for Windows. If they make this phone, I'll order it straight from them. BTW does any know exactly when they are releasing windows 10 for phones?

All I know is that it's coming this fall

This phone looks really good. I can't wait to see it. This clearly shows how bad CrApple is ripping iSHEEP off. iJUNK only cost $80 to $110 to have China make iJUNK 6/6+(depending on storage size)for CrApple, and sell for a ridiculous price of $800 to $1200+ with 1/2 of this Elephone specs. If people would just open their eyes, and look at what they are really getting, and not go by FAD, they would see how many better devices are out their than all iJUNK crap combined, that is 4 years behind technology.
Windows Central Newsletter
Thank you for signing up to Windows Central. You will receive a verification email shortly.
There was a problem. Please refresh the page and try again.