Enhance your Super Bowl weekend with the Xbox One
Let's play some FOOTBALL!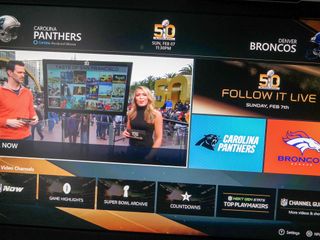 It's that time of year again, when one of the planet's most-watched sporting events grips us all: Super Bowl Sunday is upon us.
It doesn't matter if you're a Panthers fan or rooting on the Broncos (or if you're just tuning in for the commercials), the Super Bowl is an event to be enjoyed the world over.
Microsoft has some heavy involvement with the NFL, not least its provision of the customized Surface tablets the teams use on the sidelines. And if you own an Xbox One, there's a great, footballing time to be had with it.
Here's a look at a few things to get you through!
Madden 16
Play out your own virtual Super Bowl with the longest-running NFL game franchise around. Madden 16 is the latest incarnation with all the licensing and players for the current season.
One of the great things about Madden is that casual players can have just as good an experience as the hardcore football fans. The playbooks are deep, but you don't have to take full control over those decisions. The game will serve up a small selection of suggestions to help you on your way.
It looks fantastic, it plays fantastic, and it's the closest you'll come right now to the perfect, digital NFL experience.
EA Access
EA Access is a fantastic service for Xbox One owners, allowing them to play a number of games from EA without having to buy them as well as get a 10% discount on purchases. For a small monthly or yearly outlay, you get access to a number of great titles — including Madden.
Just in time for Super Bowl 50, EA added Madden 16 to its vault. So, if you fancy trying it out but don't feel like paying $60 upfront for it, maybe subscribe for a month for just $4.99 and toss around the ol' virtual pigskin.
There are also a couple of older Madden games to play, too, including Madden 15 and Madden 25 (the anniversary one). If you want a year's subscription (and to save a decent bit in the process), hit the link below to grab a voucher from the Microsoft Store for $29.99.
See at Microsoft (opens in new tab)
NFL on Xbox and Windows 10
While we're specifically talking about the NFL on your Xbox One here, we'd be remiss not also mentioning the NFL app on Windows 10, also. Both apps are great ways to follow the action.
You're getting tons of video content, nex-gen replays where you can analyze the play yourself, fantasy support, and stats galore. On the Xbox One you can even snap the app to one side of your TV while you're watching the game. Grab it in the Apps section of the Xbox One Store.
Check out more on both at the link below.
Watch the Big Game on Xbox One
Install the CBS Sports app on your Xbox One and tune in Sunday, February 7th 2016 at 6:30PM ET to watch it live. This is a great option to have in case something goes wrong with your cable or satellite service. The app is free with no login credentials required. You can grab it from the Apps section in the Xbox One Store.
Pizza!
You're going to get hungry over the weekend, right? If you're in the UK and Ireland, at least, you can order yourself some eats without having to leave the comfort of your Xbox One with the official Domino's Pizza app.
It's basically the same app as you'll find in the Windows Store, and while basic, it does what you need it to do. Order up your food, then snap the app to the side so you can keep tabs on your order's progress while you keep on gaming or watching TV.
Grab it now from the Apps section in the Xbox One Store. You can also download the Domino's Pizza app on Windows 10 Mobile (opens in new tab) if it's not available on your Xbox One.
So, that's a few ways we'll be using the Xbox One over the Super Bowl weekend. If you've got any suggestions of your own, or just want to shout about your support for the Panthers or the Broncos, hit the comments below!
Windows Central Newsletter
Get the best of Windows Central in your inbox, every day!
Managing Editor - Tech, Reviews
Richard Devine is a Managing Editor at Windows Central with over a decade of experience. A former Project Manager and long-term tech addict, he joined Mobile Nations in 2011 and has been found on Android Central and iMore as well as Windows Central. Currently, you'll find him steering the site's coverage of all manner of PC hardware and reviews. Find him on Mastodon at mstdn.social/@richdevine
Oh yeah, I can't wait to see who wins!

Domino's still makes me sad. I would think the UK would have some authentic, Italian offers to put Domino's to shame, since Italy is so close. Also, obligatory request for Rory McIlroy on EA Access.

What? Do you think people watching the super bowl want some nice authentic Italian pizza? It almost doesn't even go with it
It wouldn't put it to shame even if it was available.
It's like expecting people to drink wine while watching the game, while they wanna drink beer

Talk about a horrendous analogy. Wine and beer aren't close to the same thing. Your analogy would be applicable if I suggested McDonald's over Domino's, but I didn't. I suggested a higher quality version of the same kind of food.

I think they mean to suggest that just because it's "Italian" it isn't automatically better. Just like wine, while also containing alcohol, is not always a "better" option (depending on your party members and their tastes. I personally have beer, wine and the hard stuff on hand so I don't have to care who wants what (keeping it simple).

We do have some better options, but Domino's has an Xbox app so it's about the best you get without moving ;-)

Maybe UK Domino's is better than the US one, haha. Personally, I can't stand it here, worst non-frozen pizza I've ever had. Besides, I hate delivery, so I'd have to get up anyway. Might hit up Pizza Hut later today myself. I haven't had that in some time.

Go Papa Murphy's, you have to bake it, but it's really good and you get a fresh baked hot pizza :P

I haven't had them in YEARS, because of that. We have one here, but no one in my family ever wants it.

Unfortunately, I won't be able to use any of these, as I'll be sitting in the lower level endzone by the Broncos sideline cheering on my team :) I'll have my 950 with my Chinese orange back cover with me, though! Go Broncos!! :)

Here's hoping they do better than a couple years ago ;-)

That was a tough one, and reminded me of being a Broncos fan as a kid and having to endure the Super Bowls against the Redskins, 49ers, and Giants. It's all worth it though when things are right with the world, like the amazing '98 and '99 Super Bowls ;)

It seems to me that an app that's pretty important to the Super Bowl game day has been left off this list - CBS Sports on Xbox One and Windows 10. Free streaming of the game!

That's what you get having a Brit writing about handegg ;-) Thanks for the heads up, have asked one of the American guys to grab something on that and add into the post :)

Then there's also espn & sling tv(though from what I've read about their espn streams your better off logging into the espn app)

Left out watching the game through OneGuide, I get a better picture though my XBox One than I get from the cable provider. GO Broncos!

What do you mean? Is the streaming option being offered through OneGuide somehow?

Ah, answered my own question CBS Sports App (hopefully that option works without a cable provider).

The OneGuide works best with "over the air" broadcasts. It can work with some cable boxes. You do need the XBox TV Tuner dongle and an antenna. I don't think OneGuide works with the CBS app, and not sure if the app will have the SuperBowl on it. For me, if XBox ever adds real DVR capability it will be the event that cuts my cable.

I thought the most watched sporting event was the work cup. Superbowl just holds the most watched event In USA

Exactly, but most Americans thinks the world is there. A lot of regional sports came with the name "world championship" "world series" and so on. Like NASCAR, baseball...

You missed where Richard is from, and also what he wrote. Besides, we all know the rest of the world doesn't have teams that can compete with the NFL, MLB, and NBA. The best players in those sports play in those leagues. That is a fact. NASCAR doesn't claim any world titles. Nor does MLS. Next time you feel like being smug, stick to subjects you understand.

I was going to say the same about the World Cup, you beat me to it. America and their "World Championship" teams lol

"one of" And no, not just America.

I never get it... Why call it football if the players use they're hands kkk

Muricans said the ball has the size of a foot so foot-ball.
But in Europe anyone knows the real FOOTBALL.

Google can answer your question in about 10 seconds. Do you have Google in your country?

He probably doesn't even have potable water in his country.

Because they like to feel special

Good idea. I am all for that if t he rest of the world renames the Eurpean football: "Kick the round thing ball, with exception the one player on each teacm that can use their hands". Kind of long I know or pehaps they could just call it flopball beause they seem to do that a lot more then kick the thing.

American football should be called rugby for pansys

Won't agree with the "planet" statement.... NFL what's that all about.