Follow the football season with the official NFL app for Windows 10 and Xbox One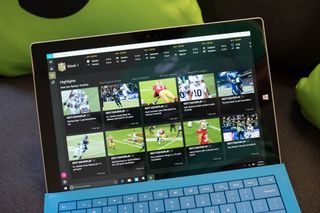 Football season is here, and Microsoft is making sure you don't miss the action on Windows 10 and Xbox One. The NFL app keeps you up to date with the latest scores, watch and analyze replays, check out the highlights, deep dive into the stats, and even follow your fantasy team. We go hands on with the app on Windows 10 and Xbox One. Watch our video!
NFL on Windows 10
When you open the NFL on Windows app, you see the week number on top along with the matchups. You also see the time, date, the team records, and scores. You can use your mouse, trackpad, or touchscreen to scroll this section horizontally.
A big feature in this NFL app is the Next Gen Replay. It lets you analyze plays to see what went right or wrong. Along with the video replay, there's an animated diagram with which lets you tinker with the play speed and camera angle. It would be nice to be able to zoom or rotate the diagram, but that feature is not currently available. Tapping or clicking on a player shows their speed and total distance for that play.
At the bottom of the main page, you'll see the latest videos related to your favorite teams. You can choose up to two favorite teams from the Settings. The main page also displays a tile for your fantasy matchup. Tapping or clicking that tile brings you to the fantasy football section where you can see your scores for the week.
Highlights are broken up into sections. You can see trending replays, highlights from your favorite and fantasy teams, as well as other highlights from around the league. Any highlight you tap or click on immediately opens a video.
Certain actions on the NFL app opens your browser. For example, tapping or clicking a week's matchup or editing your fantasy team's lineup has to be done on the browser.
Overall, NFL for Windows is a great-looking app with a fluid user interface. We love that the app is video centric, so all the highlights are visual instead of text. Fantasy players will love seeing their team at a glance, but managing the team will require the web browser.
NFL on Xbox One
The Xbox One experience for the official app is very similar, but with extra features. In addition to the Next Gen Replays, highlights, and following your fantasy team, the NFL app for Xbox One includes Next Gen Pick'em and Next Gen Stats Top Playmakers.
Next Gen Pick'em lets you make predictions to win weekly prizes and maybe even a trip to Super Bowl 50. We're not sure why this feature is missing on the Windows 10 version. There are questions like "Which of these players will reach the fastest Top Speed this week?" and "Which of these players will have the most receiving yards?" You have a better chance of winning a prize when you earn more points with your picks
The Top Playmakers section features certain stats for players each week. For Week 1, players' top overall speeds are shown off along with replays. We think other stats will be featured in following weeks.
Another cool feature is that you can snap the NFL app on the Xbox One. This means you can play your game while keeping track of highlights, matchups, and more on the side.
NFL fans win
Whether you are using your Windows 10 PC or Xbox One, you are just a few taps or clicks away from NFL highlights, stats, replays, and more. The Xbox One app seems to have a couple more features than the Windows 10 version, but they're very similar otherwise. Have you tried this app on your PC or Xbox One? Do you like it? Sound off in the comments!
If you need more NFL coverage, make sure to check out our top Windows Phone and Windows 10 apps for the NFL Season
Get the Windows Central Newsletter
All the latest news, reviews, and guides for Windows and Xbox diehards.