Follow the football season with the official NFL app for Windows 10 and Xbox One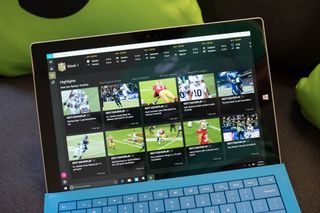 Football season is here, and Microsoft is making sure you don't miss the action on Windows 10 and Xbox One. The NFL app keeps you up to date with the latest scores, watch and analyze replays, check out the highlights, deep dive into the stats, and even follow your fantasy team. We go hands on with the app on Windows 10 and Xbox One. Watch our video!
NFL on Windows 10
When you open the NFL on Windows app, you see the week number on top along with the matchups. You also see the time, date, the team records, and scores. You can use your mouse, trackpad, or touchscreen to scroll this section horizontally.
A big feature in this NFL app is the Next Gen Replay. It lets you analyze plays to see what went right or wrong. Along with the video replay, there's an animated diagram with which lets you tinker with the play speed and camera angle. It would be nice to be able to zoom or rotate the diagram, but that feature is not currently available. Tapping or clicking on a player shows their speed and total distance for that play.
At the bottom of the main page, you'll see the latest videos related to your favorite teams. You can choose up to two favorite teams from the Settings. The main page also displays a tile for your fantasy matchup. Tapping or clicking that tile brings you to the fantasy football section where you can see your scores for the week.
Highlights are broken up into sections. You can see trending replays, highlights from your favorite and fantasy teams, as well as other highlights from around the league. Any highlight you tap or click on immediately opens a video.
Certain actions on the NFL app opens your browser. For example, tapping or clicking a week's matchup or editing your fantasy team's lineup has to be done on the browser.
Overall, NFL for Windows is a great-looking app with a fluid user interface. We love that the app is video centric, so all the highlights are visual instead of text. Fantasy players will love seeing their team at a glance, but managing the team will require the web browser.
NFL on Xbox One
The Xbox One experience for the official app is very similar, but with extra features. In addition to the Next Gen Replays, highlights, and following your fantasy team, the NFL app for Xbox One includes Next Gen Pick'em and Next Gen Stats Top Playmakers.
Next Gen Pick'em lets you make predictions to win weekly prizes and maybe even a trip to Super Bowl 50. We're not sure why this feature is missing on the Windows 10 version. There are questions like "Which of these players will reach the fastest Top Speed this week?" and "Which of these players will have the most receiving yards?" You have a better chance of winning a prize when you earn more points with your picks
The Top Playmakers section features certain stats for players each week. For Week 1, players' top overall speeds are shown off along with replays. We think other stats will be featured in following weeks.
Another cool feature is that you can snap the NFL app on the Xbox One. This means you can play your game while keeping track of highlights, matchups, and more on the side.
NFL fans win
Whether you are using your Windows 10 PC or Xbox One, you are just a few taps or clicks away from NFL highlights, stats, replays, and more. The Xbox One app seems to have a couple more features than the Windows 10 version, but they're very similar otherwise. Have you tried this app on your PC or Xbox One? Do you like it? Sound off in the comments!
If you need more NFL coverage, make sure to check out our top Windows Phone and Windows 10 apps for the NFL Season
THE APPS ARE COMING, TAKE THAT APPLE Ps the iPhone 6s is a joke

So is it coming to Windows 10 Mobile

It will when the OS is finished.

Don't want them to rush it but WP being so far behind is really halting progress

Announcers still don't refer to the Surfaces by name.

They said iPad again Thursday night. How infuriating for MS. Basically they are paying them butt loads of money to specifically not say iPad and they still continue to do it. Apple is laughing all the way to the bank. MS is paying the NFL to promote iPad.

just detected in the Windows phone version that fonts and dropdown menu are larger than display so you watch not complete the rest of what the dropdown menu says, that happens in my Lumia 820. Anyone else has noticed this defect in the app?

Very true. Just this Thursday the announcer said "There's Belichick on his iPad" while on a Surface. Sad indeed.

Don't really get surprised, just today got an android phone and is a joke that Skype on android have more options than Skype on Windows phone, to me was frustrating watch that Microsoft is killing to WP slowly, in the future, in fact why discontinued the 830 without have any successor of that phone?

Surprised there isn't a Premiership app.

Stop using the word football dammit. It's barely a ball and you barely use ur foot...

What game are you watching where all the players are doing handstands or crawling across the field? The players use their feet on every play. It's called running.

That ​could be the worst argument ever given for why it is called football. Congratulations!

Go invent a game and name it whatever you like.

Its football... As opposed to Polo... Which has traditionally been played on horseback... or in water...

The ball it's a foot in length. Research something.

It should be called hedgehog ball to be honest.. Darn these Americans!

Stop reading the articles.

It is football but please write American football so we don't get confused by it.

Do you know the word soccer right and that this website is American right? Then the whole site is in American English so who must get used to the language is the visitor not the staff

It's because the ball is almost a foot in length. So it's foot ball Posted via the Windows Central App for Android

I wonder if the Nextgen Replay will be a live feature during games post-plays or something to access after the game is over?

It almost certainly won't be live

It's live in that the next gen replay is available when the video replay is available, which is typically between 5 and 15 minutes later.

Cool, that's what I wa hoping for

I was really hoping for live, but it doesn't seem that way. Too bad, I finally canceled cable a couple of weeks ago. Like NASCAR, I would pay for a live virtual service.

Now we need an update to the fantasy app

xbox one version can also run sunday ticket and gamepass windows version need the seperate app

How do you sign up? They should advertise this. Posted via the Windows Central App for Android

I want to know this as well!

What is the difference between NFL Mobileand NFL for windows 10?

The NFL Mobile app is going away. NFL on Windows will take its place.

Not a follower of American football but thought the app looked good. Would be great if maybe microsoft could work with telstra to make an app for windows 10 for AFL (australian football league). There is currently no app available on windows 10 for afl and while they are at it make it universal because the windows 10 phone app is just awful.

It doesn't support ESPN fantasy football :(
Only CBS, NFL, and Yahoo

Did you mean American football or rugby?

Maybe read the article so you don't sound stupid in the comments, lmao!

Too bad it's not an universal app

Apps Are Coming So Beware Apple nd U Robot...We Throw Both Of U From Our Windows...

Right now the app doesn't want to open. It gives a message: "We were unable to download some essential data at this time. Please check out your internet connection and try again." My Internet connection is fine, BTW.

I thought you were talking about actual football. /s plis to title it appropriately as American Football or NFL next time. :/

NFL is in the headline. Not sure how much more obvious we can make it.

Boom! Rekt! Good response Richard!

Windows central is an American based news source, if I was reading an England based news source and they had a headline about football, I would know it was about what I know as soccer

I would love to see some football/soccer apps like this. For the Champions League, World Cup, premier league for example.

Onefootball (although it was great before they redid the UI)

Cortana (Bing) doesn't pick the winner on the phone anymore!?! What gives?

Only by voice, I still got a prediction inside Cortana by Bing for the Falcons game.

I don't want to bing to pick a winner but to provide perfect results with search and maps.

Hey. Someone else having issues with fantasy football apps on Win8.1 and Windows Phone?

Is this app for US only? Not available in store for me :(.

Just downloaded on my laptop. I love the fact that this is a Microsoft Studios app. Keep em coming!

Why on earth is this requiring an Xbox Live login for the Windows 10 app? I do not have an Xbox nor do I plan to get one, so I have no need for an Xbox Live login. We all have Microsoft Live logins, why not use that for the Windows 10 app?? This is ridiculous, does anyone at MSFT have any common sense? (Also, the NFL Mobile app on Windows 8.1 no longer works at all apparently?)

It's slow on win 10 mobile

Yea I have it on my XB1 and on my 640 with W10 preview installed. The App is game. I'm on!
Windows Central Newsletter
Thank you for signing up to Windows Central. You will receive a verification email shortly.
There was a problem. Please refresh the page and try again.