Enjoy music and games on your Windows Phone? You'll love In Two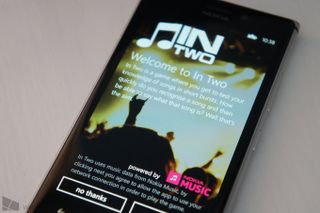 If you enjoy chilling to your favourite hits on your Windows Phone, as well as playing the latest games (possibly at the same time?), you're going to love In Two. The game is developed by Scott Lovegrove, a well-known developer in the Windows Phone community here in the UK, and is a new title that's essentially "guess that tune," but with a slight twist. That twist being it's powered by Nokia Music.
As one can imagine, the aim of the game is to guess what the title of the song is that's currently playing, as well as the artist. Points are awarded based on what the player (or players) manage to get correct. Once the game is loaded, a specific genre of music can be selected, or if you're looking for a challenge there's the possibility of including all genres. The difficulty can also be configured, which will provide anywhere between 1 and 30 seconds per track. There's no endgame either, so you literally play until you get bored.
When attempting to guess the song and artist, the player can choose to type in the entries manually or say "Artist is..." or "Song is..." along with the guesses and the app will do the rest. If you happen to get stuck and even Bing can't help you (we know some of you will use search engines!) then selecting the give up button will skip to the next.
We noted that In Two uses a points system, so a leaderboard is available, right? Absolutely. This requires registration, but is completely optional, so if you simply want to have a laugh with friends that's indeed possible. Lastly, since In Two connects to Nokia Music for all the songs, you can select that specific song you're currently on and the app will take you into Nokia Music where the song can be purchased. We recommend checking In Two out, especially if you're into music.
You can download In Two from the Windows Phone Store. The app requires Windows Phone 8, is free to run and is ad-supported (these can be removed with a 79p / $0.99 in-app purchase).
Get the Windows Central Newsletter
All the latest news, reviews, and guides for Windows and Xbox diehards.
Rich Edmonds was formerly a Senior Editor of PC hardware at Windows Central, covering everything related to PC components and NAS. He's been involved in technology for more than a decade and knows a thing or two about the magic inside a PC chassis. You can follow him on Twitter at @RichEdmonds.
this is a good game, it has kept us all busy in the office for ages

I suppose for you guys this can probably be categorised as 'research'?

haha, that's a good excuse, i'm going to use it. This game is doing pretty well and showing everyone else how bad my music knowledge is, but for some reason whenever a song by The Script comes up I do ok!!!!

I do love this app, and Scott as always has taken plenty of strides since the beta days. Quality work :)

Good game ! I did a variant this last month "Music Test" on the market. But I could not use the pieces of music as there about the copyrights on songs :(

Scott Lovegrove please publish this game here in Brazil. You can use PEGI/ESRB certificate to do this. I can help.

I don't that PEGI/ESRB can be use to Brazil ! It's good ! I send a update of my games asap

I try that but the DevCenter give an error when you publish to Brazil without the DJCTQ ...

You have to upload the PEGI or ESRB certificate in the place of the Brazilian one (DJCTQ) and select the matching game rate. For example, if your game has a Everyone ESRB certification you have to choose the "L - Livre Para Todas As Idades" what means "free for all ages". A made a guide to hel developers with it and Paul did a article here as well: www.wpcentral.com/brazil-wp-certification-guide Any doubt you can ask me here, on Twitter in my email: guilhermemanso@outlook.com

Oh yes ! thanks you for you guide ! I follow it on monday :)

Can you drop an email to intwoapp@outlook.com and let's see if we can get it into the Brazil market :)

Somebody needs to see if we can get the Zune HD game, I think it was audiosurf correct me if I'm wrong, but that game was so much fun. Riding the groove to your favorite tunes

There was talk about it a while back and how the developer was possibly making a new version... but I haven't heard anything for months. I agree, would love to see AudioSurf on Windows Phone 8 and Windows 8!

Its a great idea and i thought id love it... But it needs to allow close answers. I guessed 'daft punk featuring pharrell williams, get lucky', which was wrong, it wanted 'daft punk feat pharrell williams'... Ok I can live with that. But some are just impossible, But i guessed Beethoven, moonlight sonata. Ludwig van Beethoven, moonlight sonata. Ludwig van Beethoven, moonlight sonata 1st movement Ludwig van Beethoven, moonlight sonata first movement Then I gave up... Turned out it wanted me to put... Finghin Collins, Piano Sonata No.14 In C-Sharp Minor, Op. 27:2, "Moonlight Sonata: Adagio" Which is the same song, played by someone else with an impossible title to know.

The answer checking does need some work and I'll be taking a look at it over the weekend to try and make it a little better.

I'm doing really well this time, im on easy listening and the answer to every question is carpenters, nat king cole, Neil diamond or Susan Boyle :D lol

Seems to be a perfect example of why the platforms for Windows Phone and WindowsRT should be amalgamated. Sure, this will be great on a phone and for playing on the bus, but if it was available in the normal Windows Store you could play it with more people and have it be a social, party game. Looks like a really nice app though.

I might take a look at porting it to the Windows Store, but no promises.