Enpass password manager extension finally available for Microsoft Edge
The Enpass extension for Microsoft Edge is finally ready for primetime.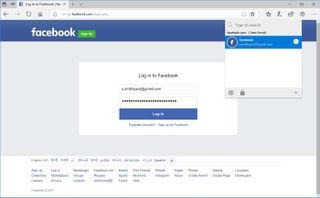 Popular password manager Enpass has been working on an extension for Microsoft Edge for some time. One was actually released in beta form in mid-2016, but Enpass never released it out of beta, largely due to API issues that prevented the extension from communicating with the main Enpass app. But after working with Microsoft, Enpass has come up with a solution and its extension is now available for everyone. (opens in new tab)
As Enpass explains, there's a bit of a trick to getting things to work, however. The extension will not work with the current version of the Enpass Universal Windows Platform (UWP) app that has been available on the Windows Store for some time, due to limited APIs. Instead, the extension requires the full Win32 desktop app, which Enpass has thankfully managed to port to the Windows Store (opens in new tab) courtesy of Microsoft's Desktop Bridge.
The existing UWP app, Enpass says, isn't going anywhere for the time being. PC users can also install it, but they should be aware it doesn't work with extensions. Going forward, Enpass plans to focus on its newer app release. From Enpass:
The existing Enpass app will continue to be available for Windows 10 Mobile users.
In any case, if you're an Enpass user, you can finally use the password manager's browser extension in Edge. It works much as you'd expect, offering up an easy way to generate and store complex passwords, as well as autofilling login details, and more. Just be aware that you'll have to install both the extension and the new Enpass app from the Windows Store to get started.
Thanks for the tip, Claude!
Windows Central Newsletter
Get the best of Windows Central in in your inbox, every day!
Dan Thorp-Lancaster is the former Editor-in-Chief of Windows Central. He began working with Windows Central, Android Central, and iMore as a news writer in 2014 and is obsessed with tech of all sorts. You can follow Dan on Twitter @DthorpL and Instagram @heyitsdtl.
Link to install extension does not work!

It's adding the proper link after windowscentral.com. Cut out the windowscentral.com part and it will work.

So to make it even more confusing, if you also want to use Enpass in Chrome (and presumably also Firefox), you still need to keep the other Win32 app available because that's what it will connect to. I don't know if that's the permanent plan, but I just tried turning off the other one since I got the Store one, and it started giving the connection error. I'm glad it's there, though. I might start using Edge more now.

You do realize that both standard and Windows Store 'Bridge' app are the same, right? Both are supposed to work the same, with Chrome, FF and Edge alike. For me, bridged app works fine with Chromium. Perhaps something was wrong with your settings?

Yep. Just came back to edit my comment. It did not load my existing apps from the other version so I did have to check again to allow browser access. And it also was not minimizing to the task bar when I closed it, so it would stop working whenever I did that. It was long enough ago that I had installed it that I forgot those settings were not on by default.

There is also a setting for that that should have been enabled by default.

So does the bridged version support Windows Hello like the UWP version? I was about to buy the UWP version when my fingerprint reader comes through tomorrow. Also, if I buy the Windows Phone version do I still get the bridge version included for desktop as with the UWP version or do I now have to pay twice? Or even three times to get the plug-in browser version as well?

Bridge version is the same as desktop one, so it's free. And always has been. Not sure about UWP and W10M tho.

UWP is chargeable, but one fee for both desktop and phone. So does the bridge version support Windows Hello?

Thanks for your feedback guys! The bridged version is free and currently doesn't support Windows Hello. We are working on it and it will add it in any of subsequent release.

Thanks for the response chum. I shall keep an eye out and set up Enpass (including buying the Windows Mobile app) once Hello is in place as it is a key feature for me. Combining Enpass with 8-Zip UWP will really allow me to make proper use of my soon-to-arrive fingerprint reader on the desktop.

Stupid Microsoft! somebody actually takes the initiative to make a great UWP app, and ends up abandoning it because of the limitations it imposes. :(

It's an api issue that isn't there yet, "yet" being the keyword. Not "limitations imposed by Microsoft." It still sucks they couldn't get whatever api is needed implemented yet.

They should have released this as an update to the UWP version (just for PCs).

Still waiting for Dashlane but I understand that they have their security reasons still - integration still doesn't allow their solutions so probably it will be possible after next big Edge updates. That is why we are still hoping for Edge in Store! :)

Did the dev team look into making the Edge extension completely standalone? I'd much rather that than requiring a connection to an app, UWP/Win32/or otherwise. Needing that connection means I won't be installing this plugin, I don't want to run Enpass in the background all the time and when I did try it with the Chrome plugin the convenience wasn't great anyway, often it would tell me that the main Enpass app had locked and I'd have to unlock it again. If the Edge extension was standalone then I'd use it, but without that I'm using Enpass as my primary password manager and Edge (using the Windows Web Credential Manager) to store a secondary copy of all my web passwords.

In order to use Enpass Browser extension, the main app must be kept running in the background. The reason is that being an offline password manager, Enpass saves all your database locally on your device, not on any server from where it could have fetched the details. Whenever you visit a login page and click Enpass browser extension for auto-filling, the extension securely connects with an Enpass app to get those details for auto-filling. But to make the life simpler, you can always keep Enpass minimized to system tray (go to Settings>General>Minimize app to system tray) along with setting Enpass to autorun on system startup (settings>General>Autorun on system startup) so that you don't have to manually start it every time the system starts. We are working on to make the unlocking of keychain more convenient for you by adding Windows Hello support.

Two questions:
1) Aren't there other apps that are able to use Edge and passwords successfully? What's the difference with Enpass that has API issues?
2) If I'm already using both the Desktop and Mobile UWP apps - which sync together using OneDrive - will the win32 Store app also sync with UWP? Is it using OneDrive also?

Their desktop app does sync to OneDrive.

Enpass is the first offline password manager to support Edge browser extensions and all that started more than a year back. Just Google, "The Curious Case of the Enpass Extension for Microsoft Edge" and you'll get the clear picture with our blog post. :)

Ugh. This is about as far from what I wanted as possible. The whole reason I bought into Enpass was the UWP app. They've essentially announced that they are stopping development on the UWP app and now will focus solely on the Win32 app that will not run on my phone. I actually would have much preferred they just announce they can't do the integration. At least then I wouldn't know that soon enough they will kill off the UWP app entirely. As another poster mentioned, a secondary Win32 app with its own connection to the cloud that acts as a go-between between Edge and Enpass would have been the right solution. I also agree that needing to leave the other app open for the link to be up is not an enjoyable experience. Look, I know everyone is backing away from UWP, including seemingly Microsoft themselves (for some reason that I can't even fathom). But this one stings. I really loved that UWP app... looked great, always worked. Sigh.

Not to mention Windows Hello support on the UWP app, which apparently is "coming soon" to this desktop bridge. It's a ridiculous state of affairs--Microsoft sucks.

I bought the Enpass UWP app thinking this would have happened sooner, but kept waiting. Eventually, Norton beat them and I opted to just use the NIS extension because already have my logins saved there. A bit quirky, but it works. Really wanted to go through the effort of moving all my logins to Enpass because of its more inherent secure aspects, but ugh, sounds like a lot of work now....
Windows Central Newsletter
Thank you for signing up to Windows Central. You will receive a verification email shortly.
There was a problem. Please refresh the page and try again.