Eufy BodySense Smart Scale: Simply the best
If ease of use and value are your top considerations, the Eufy BodySense Smart Scale is all you need.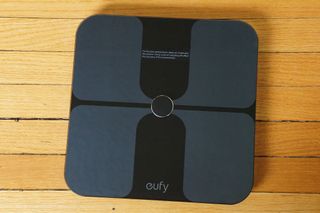 Stepping on the bathroom scale is one of the more mundane parts of life. For some, it's simply part of a daily ritual for maintaining good health while others may see it as a nothing more than a necessary evil as you pray for a lower number than last week.
Often the usefulness of the "smart" version of a product is overstated, but that's not the case with smart scales. Smart scales use bioelectrical impedance to measure your body fat percentage, bone density, and much more. By sending the slightest electrical current up through your legs, a smart scale is able to tell the difference between the muscle, water, fat, and bone in your body. Knowing your body fat percentage and muscle mass gives you a much better insight into your overall health.
Amongst all the smart scales available options out there, the Eufy BodySense Smart Scale is your best buy. It's a Bluetooth connected health device that's fast, easy to use, syncs with your favorite health apps, and is extremely affordable.
Fast and accurate
In my mind, every "smart" product trying to improve on a trusted household item needs to function equally as well it's 'dumb' counterparts — smartphones need to reliably make and receive calls, smartwatches need to tell the time, and smart scales need to weigh you promptly when you step on.
Step onto the Eufy Smart Scale and the LED display comes to life and quickly displays your current weight. All the other smart calculations are made after the fact and only transferred to your phone if it's open to the EufyLife app with a Bluetooth connection. It looks and operates like a normal bathroom scale for any friend or relative looking to get a quick check-in after Thanksgiving dinner, and if not for the markings for the conductive pads for the biometric measurements, there would be no way for them to tell the Eufy smart scale from their scale at home.
While having a smart scale that's always trying to record the maximum amount of data sounds like a great idea in theory, in practice it's much more convenient to be in control of when your measurements are going to be recorded in your profile log. Some days you might not want to track everything when you step on the scale. A Bluetooth connection to the EufyLife app is required to record your body fat percentage, muscle mass, and the other five metrics measured almost instantaneously when you step onto the scale, so if you don't want to track your weight in one morning just don't bring your phone into the bathroom with you.
Depending on how you look at things, the Bluetooth connection is either a flaw or feature — I tend to look at it as a feature because I'll really only want to track my results once a day anyway, but might, for example, use the scale to figure out how much my cat weighs. I wouldn't want that measurement messing up my graphs.
The EufyLife app is a breeze to use
Speaking of graphs, the EufyLife app is, fortunately, an app that you'll actually enjoy using. That's pretty rare in my experience using different smart products — if your product doesn't integrate nicely into the health apps I'm already using, then I'm probably going to forget or get tired of using it for one specific piece of tech.
The EufyLife app has bucked that trend, offering clean design and ease of use. You can create multiple accounts on the same device, or have each member of your household download the app and set up accounts on their own phones. As you'd expect, you can set your target weight.
With your EufyLife profile set up, it's time to start tracking your stats. With the app open and Bluetooth on, all you need to do is step onto the Eufy with bare feet and you can watch your health stats populate in the app. The EufyLife app tracks seven health metrics — total body weight, body fat, BMI, water, muscle mass, bone mass, BMR and visceral fat. You can tap each metric to learn more about it and see how far off you are from your ideal stats based on your vitals.
You're also able to see your weight, body fat, and muscle mass trends presented as graphs. It can be encouraging to see how you've progressed over time or to track which workouts or diets offer the best results. The app is available for both Android and iOS, and the collected statistics can also be synced to Google Fit, Apple Health Kit, or Fitbit which is always good, although you'll still need to load up the EufyLife app to take the measurements.
You can't beat the price
The Eufy BodySense Smart Scale regularly sells for around $50, but it is frequently on sale for well below price as part of for holiday sales. Right now, you can get one in while for just $33 which is significantly cheaper than the Fitbit Aria 2 or Nokia+ Body Scale (formerly Withings). It's a great gift idea for someone who's into fitness or just a great thing to buy for your own household — especially if you're planning some New Years resolutions to shed a few pounds.
Should you buy one?
If you're in the market for a smart scale, the Eufy BodySense Smart Scale should be at the top of your list. It's easy to set up and use, works great as a normal bathroom scale for guests, and is inexpensive yet feels like a premium product.
Get the Windows Central Newsletter
All the latest news, reviews, and guides for Windows and Xbox diehards.