Eve breaks record with Indiegogo campaign, reveals protective sleeves from Mozo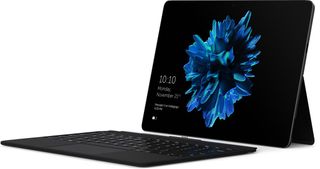 Just hours ahead of its end, Eve has announced that the Indiegogo campaign for its Eve V 2-in-1 tablet has been a pretty big success, and has even set an impressive record. Specifically, the Eve V was the fastest crowdfunding campairng to cross $200,000, the company says. As it stands, the campaign has raised nearly $1.4 million at the time of this writing, blowing away its initial $75,000 goal.
Here are some of the tidbits provided by Eve:
Fastest crowdfunding campaign to hit 200,000 USD at any time across any platform
Devices sold across the world with US, UK, Germany and Japan being the biggest countries
30% of buyers are switching from Macbook to V
On top of the campaign, Eve has also scrambled to put together a crowd-developed protective sleeve with the help of backers. Mozo, who is known for making some pretty attractive cases for Microsoft products like the Lumia 950 and 950 XL, will be behind creating two sleeves, each of which is currently available for backers to order for $29.90. After the campaign, the sleeves will go up to $39.90.
Lastly, Eve recently held a Reddit AMA where the company answered questions about the Indiegogo campaign and the tablet itself. If you're interesting in learning more about the initiative, you can check out the full AMA on Reddit now.
Were you among the many Eve V backers on Indiegogo? Let us know your thoughts on the Eve V in the comments!
Dan Thorp-Lancaster is the former Editor-in-Chief of Windows Central. He began working with Windows Central, Android Central, and iMore as a news writer in 2014 and is obsessed with tech of all sorts. You can follow Dan on Twitter @DthorpL and Instagram @heyitsdtl.
Pretty happy to see such successful startup!!
Next up, Eve Mobile :P

Wow i did not expect this at all! With this much success it might become the next major Windows OEM.

Love the "tidbit" 30% of users have switched from MacBook. NICE. Apple is finally starting to rot from being stagnant with development in the desktop/notebook segments. Their quest for the thinnest devices has made them a flop....

Not sure if MacBook users are switching over (at least in UK). Although I will love to see it.

I am guessing that they asked the people who bought the device what it is replacing, if it is....

Many of them are going to be disappointed when looking at the hardware. Just look at the trackpad.

Ever heard the saying; "don't knock it till you've tried it?"

Trackpad is the latest model, glass covered.... Why do you think that we are going to be disappointed with it?

Because it doesn't have a silly little apple logo.

I would appreciate if it mentioned that the particular item is Windows based. I guess it is though, right?

Yes it is. It's a surface pro inspired device.

Well, that much was obvious from the photo! But ty. When it came to the OS I wasn't sure if this was both Windows and android release like Lenovo does.

what is so special about the EVE V that is making it break all of these records? Is it just a really good surface competitor? EDIT: nevermind, just looked it up. Its basically the oneplus 3 of the tablet world

You couldn't be more right!!! ;) Greetings from the Eve community :)

Yes you're right, the V is not so special by the features but the key of its success is because the community made it. They community chose the form factor, the display, the minimum of ram, the speed of SSD, the layout of the keyboard and the sleeve too. Let me give you another example, the camera on the V is not really good (rear front), just ok because the community said it was not important and said to EVE not to invest too much in it. The V is kind of special by its approach, it's like the pc you customize from the start, an high spec pc at a great price

Indiegogo are thieves. No support for any problem, just an' go away' . Never again will I back anything from them.

so basically you screw the people looking for crowdfunds instead of Indiegogo.

Pre-ordered mine last month. Wasn't quick enough to get in the first batch so have to wait until April. But I'm super excited!

Best of luck to them and all that good stuff but there's still something shady about that company and its "followers." Maybe it's all just a translation issue or something else...

I'd like to see a 360 view of the product and full specs before putting any cent on it.

how to download these kind of wallpapers?

Now it's waiting on the first review on youtube. Am curious for this.

It's impressive a new company can start up like this and make a competitive product to compete with the major OEMs, but I do wonder how well it will be supported.
Windows Central Newsletter
Thank you for signing up to Windows Central. You will receive a verification email shortly.
There was a problem. Please refresh the page and try again.