Eve Tech's T1 Windows tablet is now available to order for an affordable €159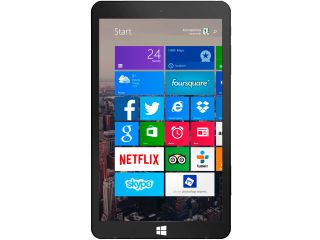 New start-up company Eve Tech has revealed pricing for its first Windows tablet, the Eve T1. Listed for just €159, the Finnish company is aggressively marketing the product as a capable tablet for those who require solid performance at a low price point. The Eve T1 is available for order today.
To remind you all of the specifications sported by this affordable tablet, we're looking at a 1280 x 800 8-inch display, Intel Bay Trail Z3735F processor clocked at 1.8 GHz, 2GB RAM, 32GB internal storage, 5MP rear shooter (with a 2MP front-facing camera), and a 4,000mAh power plant. Also, to sweeten the deal, Microsoft is offering a year's subscription to Office 365 for free.
Let us know in the comments if you'll be ordering one.
Source: Eve Tech; thanks, Bjørn, for the tip!
Windows Central Newsletter
Get the best of Windows Central in your inbox, every day!
Rich Edmonds was formerly a Senior Editor of PC hardware at Windows Central, covering everything related to PC components and NAS. He's been involved in technology for more than a decade and knows a thing or two about the magic inside a PC chassis. You can follow him on Twitter at @RichEdmonds.
Good deal. Wish it's available outside EU as well

Very good deal with the free Office365 subscription for free.

Don't you think we need to see more of the tablet to get a sense on what we are purchasing. Like the back for example, they should provide a video on it.

Here is the same tablet under a diffrent branding for sale in the US. http://www.microcenter.com/product/437499/TW801_Tablet_-_Black#BVRRWidgetID

Sorry Glen, but T1 doesnt have a full USB port, which the TW801 does.

Your right, the TW801 is a better deal. I only wish you could buy this thing on line.

Available on ebay. Hurry ! I m avoiding it because shipping costs 50 bucks. Thats way too heavy on a 140 dollar product !

That Windows logo is too big

Not really imho. Looks cool.

Too big for what? It is a button, it need to be big enough.

Too big for tablet design.

There are so many cheap iPad clone windows 8.1 tablets that haven't been covered by windows central like telcast x98 air and onda v975w. One can only wonder why the market share doesn't seem to be improving.

Those tablets look kinda cool, i'd buy em just to piss off my apple using friends lol

Lol exactly....buy don't forget to get some kind of body armor cus I heard they do tend to explode from the battery :)

I just got the Onda v975w and it's awesome. After several hours of trying to figure out how to change the language to English, it turns to be a real awesome tablet. It replaced my Dell Venue PRO 8 64 GB. I had to change the high resolution lower to get better performance and battery life. So far it's great.

I am totally buying it ! And they will release a stylus early 2015, which will make it the best W8.1 tablet out there.

Placed an order for one just after it went live. Securing local workplaces and my wife's love for 159€ is a good deal.

Woww so many affordable Windows tablets...pity none of them are coming to India

Paritosh heres some news for you The best 10 and 8 inch Win tabs are being made by an Indian company and hold your breath, only available in India If you are studying the market hard, you will find them.

notion ink is one of them.

Hows your experience with the Cain Ashish .?

Nice. But does it have accelerometer and gyroscope? There is only GPS in spec. And no BT, but it is not so important.

Ordered mine today. Lets hope I can play with it before Xmas.

Intel HD graphics, no idea how it comapres with other mobile GPUs in the market. edit: performance wise somewhere between the Adreno 320 and 330 it would seem

Already have the Surface RT, so not sure whether or not I want another tablet, and if I do, whether or not I want another Windows -tablet. Both the Nokia N1 and Jolla tablet seem like decent choices as well. Decisions decisions.

Looks like a nice budget tablet. This year im getting the HP Stream 7 for myself for christmas. Finally one need not be wealthy to afford Windows products!

Ok I need better specs, at least 1080p HD 4GB RAM and 64GB of memory on a 9" Windows tablet for under $100!

See you in 4 years then. :)

Prefer laptops to tablets

Microsoft had to make new separate OS for tablets... I just don't like RT. The tablet should have similar OS that a phone have...

Good deal, but that 32 gig is a just a biter to the hand. Posted via the Windows Central App for Android

When Microsoft will launch its Lumia tablets....I've been waiting for a long time.....

Very cool products in Europe and America lately,,,only hurts because we either don't get to see it here in Nigeria, west Africa,or generally in Africa at large or the price is so inflated

So, 159 tablet +15 shipment - (12 * 10) Home Office per year that I'm already paying = 54€ for a tablet? Did I do it? In a second! But is this calculation OK? Am I wrong? Well, it's on its way now

I even came across a 10 inch Win tab which has not one but 2 full USB ports ( one usb 3 and one usb 2) , apart from a normal micro usb port. And it comes in pristine white, all for 270 dollars !!

Looks like the masses are hungering after Win tablets with good specs. <blockquote class="twitter-tweet" lang="en"><p>We have sold out all T1&#39;s in 48 hours. More devices will be available soon! <a href="http://t.co/McbbiGqQD4">pic.twitter.com/McbbiGqQD4</a></p>&mdash; Eve (@evedevices) <a href="https://twitter.com/evedevices/status/542804545383202817">December 10, 2014</a></blockquote> <script async src="//platform.twitter.com/widgets.js" charset="utf-8"></script>