Eve V hands-on: Quirky crowd convertible
By Alex Dobie last updated
Eve promises a Surface-beating tablet at a disruptive price. And so far the signs are very promising indeed.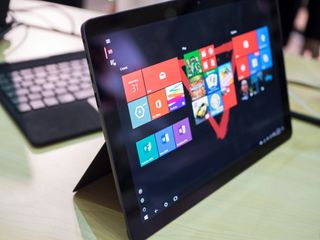 We've been keenly following the crowdfunded, community-developed Eve V convertible tablet since the first specs and images emerged late last year, and now it's hands-on time! The Finnish company was present at the Microsoft booth at Computex 2017 today, showing off their creation alongside more established brands. (Microsoft, among Intel and others, is one of the company's backers.)
Image 1 of 5
Image 2 of 5
Image 3 of 5
Image 4 of 5
Image 5 of 5
To answer a few likely questions upfront: Yep, this thing looks and feels a lot like a Surface Pro. But it also has its own distinctive identity, with sturdy build quality, and a near perfect balance between size and weight. It hits all the important spec targets, as we've known for a while, and the addition of extra ports and features (compared to Microsoft's latest convertible) doesn't seem to have come with any unwanted side-effects.
So if you're after a Surface-alike that's a little bit qurirky, with improved connectivity — USB-Type C, Thunderbolt 3, and a microSD reader — then look no further. The pricing of a maxed-out V hasn't been confirmed yet, but the base model starts at $799, for specs that outpace the Surface Pro, and the manufacturer seems enthusiastic about the halo effect of Surface comparisons. It's "flattering," that consumers might see the V and mistake it for Microsoft's tablet, CFO Tuukka Korhonen told me.
Despite its associaton with big names like Microsoft and Intel, Eve still sees itself as a disruptor, and its focus on developing products with its community isn't unlike what OnePlus has tried to achieve in the Android phone world. (It's also a tactic that's been attempted by many less successful crowdfunding hopefuls.)
The tablet is built around a 12.3-inch IGZO LCD with 2736 x 1824 resolution, which looks gorgeous, and easily visible under the bright floodlights of the Microsoft booth. (We didn't get to try it under the bright Taipei sunshine, but a rated brightness of 450 nits bodes well for daylight visibility all the same.) There's just enough bezel to hold onto, without making the device appear clunky. The metal body has a subtle matte texture, and feels sturdy in the hand. And the angled side walls serve much the same purpose as the Sufrace Pro's, helping with grip and providing a home for all your ports. That includes the power key, with integrated one-touch fingerprint scanner for Windows Hello.
Image 1 of 3
Image 2 of 3
Image 3 of 3
Around the back, there's a Surface-like hinge, which was apparently a major focus of engineering effort throughout development, as Eve worked to get it feeling just right while avoiding any issues with wear and tear. From a layman's point of view, I can say that the hinge does its job, strikes a nice balance between stiffness and ease of motion whether the device is in laptop or tablet mode.
Powering the whole assembly are seventh-generation Intel chips — Core M3, i5 or i7 — along with 8GB of 16GB of RAM, and 128, 256 and 512GB storage options. There's also an ample 48 Wh battery, which we're told is good for a full day of use. (The 10-12 hour rating naturally depends on what you're using it for.)
Eve's branding is subtle, almost to a fault. You'd easily miss the "V" logo around the back (dark gray on black), and the front panel is completely featureless. The more playful additions can be found on the keyboard backlit, Alcantara-clad keyboard, which connects over Bluetooth and charges over pogo pin connectors. The V key is replaced with a V logo (pressing Fn + V will change your backlighting color, for what it's worth), and backspace becomes "Oops." Because why not?
Image 1 of 5
Image 2 of 5
Image 3 of 5
Image 4 of 5
Image 5 of 5
It all plays into V's brand image as a disruptive influence — a product developed, publicly, with the people who are going to be using it. And as such, Eve is free to drop in whimsical hardware quirks like this.
The keyboard itself is somewhat thicker than the Surface Pro's, but it equally doesn't feel excessively bulky, and stays put just as well as any magnetically attached tablet cover.
Image 1 of 3
Image 2 of 3
Image 3 of 3
Other notables include stylus support with Windows Ink certification — the V has its own pen, but also works flawlessly with Microsoft Surface Pen and Surface Dial, CEO Konstantinos Karatsevidis told me. And on the audio side, quad speakers (they get pretty loud, but these things are hard to judge in a trade show environment) are backed up by a 1-amp 3.5mm headphone jack.
It's going to take longer than just a half-hour or so with the Eve V to judge its overall success, or otherwise. But the first impressions are very positive. The company appears to have the fundamentals down — everything works, looks good, and the only giveaway that this is the product of a crowdfunded startup are the splashes of branding about the place.
There's no shortage of Surface clones right now, but the Eve V is one we're eager to see more of in the months ahead.
Provided the build quality holds up and the after sales support is there, this could be an awesome device and one I think many people would choose over the Surface Pro.

"after sale support" nope, forget it

My biggest concern would be things like driver and firmware support.

You're a right miserable git on here. Out of interest why do you bother coming here?

lol I ask that myself everytime I see one of his comments. I don't think I've ever seen an even slightly positive comment.

We're discussing Support options in the community right now. There's no doubt there will be great support, as some of the hardware repair, etc. may even be done by skilled community members who are familiar with the device.

Well, they previously have an Windows Tablet product 3 years ago, Eve T1 (back on the Windows 8.1 days). It's limited, but they still do support on the online forums.

Have you ever posted a positive comment? You seem like an angry troll that bashes everything and anything.

The CEO is Greek, so I'll consider it seriously :D

Powering the whole assembly are seventh-generation Intel chips — Core M3, i5 or i7

I think it's important to note those are Y-series chips: m3-7Y 30 / i5-7Y54 / i7-7Y75.

Which means you will take a serious battery hit on the i5/i7 if it has to go into turbo mode to match the U models.

I don't believe that difference is going to matter much to most potential customers, to be fair.

I don't believe TB3 or USB-C will matter to many either. But I do think that as average users push that m class chip to turbo over and over and their battery life is more like 6-8 hours they will notice.

Dude... We've been doing the CPU-limit trick (capping at 99%, so it won't go Turbo) for the SP4 i5/i7 for years to manage the maximum 7 hours batery life (usual 5.5 hours if the user doesn't know). Basically the Eve V is the "7th Core-M/Y Model of the SP4 that Microsoft won't bump the Storage/RAM above 128/4gb... with TB3 USB-C/2A ports and 48Wh battery.' I checked the Indiegogo pricing, the i5/256/8Gb is $1000-1100 & the max i7/512/16Gb is $ 1399-1500 (w/without tax-shipment). If the build quality is on-par, that's not a bad bargain.

Bezels almost look too small.

This doesn't "outspec" the Surface Pro, it's using Y series processors, which alone was a deal breaker for me. Regardless, good to see more options for consumers, still waiting for something that's not gimped compared to the Surface Pro, just with an added Thunderbolt 3 port...

I doubt anyone would be using the TB3 to any significant advantage with an m3, so I doubt it will be a big deal for the renamed m5/m7 (which in essence is what the Y chips are).

The Surface Pro isn't using only Y-series processors though, and such port will be very handy on the i5U/i7U variants...

Whole different issue, expect those next year, now that intel has seen the writing on the wall.

I'd still prefer a Surface Pro just for the design and untouchable Pen experience but this seems very promising. I hope they do well.

Will the keyboard be turned off when disconnected?

The keyboard can be paired with other devices. I believe it can be switched off.

Last-time I checked on their forums, the Keyboard is pogo-pin Surface and has the Bluetooth 4.1 capabilities to pair to devices (w/ a small battery-inside). So yeah, it's a nifty feature above MS/iPad Pro; you could connect to the Tablet like it would (say you are drawing and need to type from afar.) or hook it up to your phone.

I remember Eve prices being an instant put off for many.

No kidding. My interest in this device over the latest Surface Pro really is gaining headway. I just can't help the nagging feeling, though, that there's a gotcha waiting to be found. It doesn't really bother me that this doesn't support the pen sensitivity that the new SP does--I currently have the SP3 and the pen is fine even now. One thing that does concern me is the fact that the keyboard is Bluetooth. I know some would call this a plus, but it's one more thing that has a battery that can lose ability to hold a charge over time. I guess if I never plan to have it separated from the tablet while I'm using the keyboard this won't matter, but.... Bottom line, I'm anxious to see more substantial reviews of it and am curious about when it will be available and through what avenues. If I'm going to off on replacing my SP3 (which still works awesome, so no real hurry), I want to make sure I'm going with the best value.

Well, for the keyboard, as you said yourself the Bluetooth is to be considered simply as an added benefit. If you want to use it plugged only, you can. And if from time to time you need to use it with the tablet a meter away (tablet on table and keyboard on your lap maybe?) or to use it with another device (your smartphone maybe?)...you can. And you're likely to have the keyboard with you often since it comes with the tablet. I'm currently seriously considering the Surface Pro but I clearly want to wait until reviews of both the Surface and Eve V are available. I also want to know the final price of the V + keyboard + pen. What drags me a bit to the Surface is all the comments that we can read that insist that any Surface device has that little "something" that makes you just want to use it. I've never owned a Surface device so I'm curious to check by myself. But if battery life of EVE is on par or better than Surface Pro and price is lower...I might go for it.

With a Y series (rebranded m) versus and actual U series iCore.

True, but for my use which is pretty casual (with no gaming at all), I'm pretty sure an i5-Y is enough or more than enough. If I suddenly launch many tabs and/or many programs at the same time, the burst should provide enough power for that limited time. I'm mostly using the web browser, quite a lot of store apps, and a few x86 programs including office.

That's my point, Y series chips are perfect for that use, but TB3 is wasted in that scenario. A TB3 use scenario (I.e. EGPU) would stress a Y-series chip

Good to know it's perfect for this use! Not that I was worried but a confirmation is always helpful

For me, that little something is the same thing that attracted me to Eve. For example, a few weeks ago it was discovered during artificial aging tests that the V's screen could develop yellow spots over time. This is an issue that happens with Surface Pros, iPhones, you name it, all the "high end" big-name manufacturers have this issue on some devices. But Eve returned the screens to the supplier and went with a different screen supplier to eliminate the issue. We're still waiting to hear whether the new supplier has really fixed the issue. Another "little something", each V purchased as an "early bird" is going to have it's display individually professionally color-calibrated to IIRC 102% sRGB (or similar). I could go on and on, the ability to adjust the processor TDP up to a higher value (which doesn't throttle the device because of the custom engineered heatsink), the ability to connect the keyboard by Bluetooth to three separate devices with the push of a button, etc. These guys appear to be the real deal, which is why I've backed them since February 2016 and have an m3 model on preorder. So excited! 😃

Something to watch out for....basic same design (look), better specs for the dollar ? Sounds like a win to me

Running the rebranded m5/m7 is not better specs for the dollar. The much demanded TB3 would be useless on a Y series chip.

Wrong. It's already been tested by prototype testers. An eGPU works great on the V through TB3, that's one of the reasons it was included in the device.

Thermally stressing a Y-series chip with programs needing an eGPU... Yeah, recipe for long processor life.

Not as big of an issue as you think. Case in point, I've been running an AMD FX 4130 OC'd to 4.2 GHz on almost 24/7 runtime with an hour or two or more of hard gaming every day since mid 2014. Thing is, these processors are designed to handle heat and if they get too hot thermal limiting kicks in. It's a lot harder to burn out a CPU than it used to be.

if there is an 8GB RAM/128GB storage version with an m5 or i5 for say $900 I'd be intrigued.

Hi DigitalDD! :) Our "smallest" configuration is featuring the Core M3/8GB/128GB SSD so that should hit the mark for you ;)

CNET says this device outperforms the new surface device in every aspect. Correction " SIGNIFICANTLY OUTPERFORMS", both the Surface Pro and all the rest and at a significant reduction in Price, which anyone loves. JC

Literally the only area it doesn't is in the pen area. The Surface Pro is a few ms faster with pen input and has more pressure levels, neither of which i think will really affect me. Sounds like the V will be getting pen tilt support so that part is on even ground.

There is no way this outperforms the new Surface Pro in any way. Y-series processors, thicker/unknown weight, worse quality trackpad (that's Synaptics for you) and MUCH worse pen are the confirmed standout aspects. Other aspects I have doubts about include likely lower quality screen, lower quality build, lower quality hinge, lower quality keyboard and finish (seems to be quite a fingerprint magnet like the 1st gen Surfrace Pros). I think it's a wonderful product, and I fully support these guys, but comparing a startup's first device with the fruit of years of experience and resources of the Surface Team is a little unrealistic.

Weight is known (It's just over 100grams heavier than the SP4 due mainly to the bigger battery and the slightly heavier built keyboard), the trackpad is a Precision Touchpad, and the pen is the same as the SP4 but is more accurate on the V than the SP4 pen is. As well, the V should support the new tilt feature as well as the added pressure levels, leading to the end result that if all of this holds true, the V will be every bit as good as the Surface Pro in the pen department EXCEPT for the response time improvements on the SP, which mean different things for different people, personally, I didn't have an issue with the SP4 response times, and when you're running CPU intensive software, you won't be getting that low latency anyways. The screen is optically bonded Gorilla Glass 4 with a new anti-reflective coating not found on competing devices. Hinge is sourced from the same manufacturer who made SP4 hinge. Keyboard has color-customizable backlighting, can work over Bluetooth without being docked, and can support up to three Bluetooth devices with the press of a button. The Y-series processors will be TDP adjustable and the device works with eGPU due to the Thunderbolt 3 port. I'm not saying that the V is better than the Surface Pro in every way, but there is some attention to detail and uncompromising standards being shown here that mega-companies with set deadlines and huge profit margins to make simply cannot compete with. Keep in mind, too, that the review model is actually a DVT3 hand-assembled prototype, which is not completely representative of the final product, especially in build quality. Also, Eve has been at this for several years now, with their first device being the Eve T1 a couple of years ago.

On driver support the Eve team chose only branded components from vendors with good driver support e.g. Intel SSD, Realtec audio. I'm a hyper early backer and really looking forward to getting my V in June. The devices have been through 3 rounds of prototype testing by 20+ community members to iron out as many bugs as possible. On performance while the V has a 7th Gen Core i Y series CPU performance tests by the community have shown comparable performance to the equivalent 6th Gen Core I U series due to less CPU throttling. Eve Tech are finalising the support model, but there will be coverage for warranty and repairs (possibly similar to the Surface send in model). Not to forget there is a passionate community behind Eve V who will likely provide better and faster support than most larger tech companies. Eve tech keep prices low by cutting out the middle men. Direct orders and shipping direct from the factory. This model might not work for everyone, particularly those who want to see the device before purchasing. Again here the community might provide the answer. There have already been several meet ups to show off prototypes to community members. With 2000+ baxxckers around the world you will probably find a community member near by who is happy to organise a meet up for interested parties. Just join the community and post.
Windows Central Newsletter
Get the best of Windows Central in in your inbox, every day!
Thank you for signing up to Windows Central. You will receive a verification email shortly.
There was a problem. Please refresh the page and try again.