Eve V hands-on: Quirky crowd convertible
Eve promises a Surface-beating tablet at a disruptive price. And so far the signs are very promising indeed.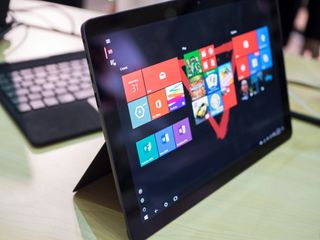 We've been keenly following the crowdfunded, community-developed Eve V convertible tablet since the first specs and images emerged late last year, and now it's hands-on time! The Finnish company was present at the Microsoft booth at Computex 2017 today, showing off their creation alongside more established brands. (Microsoft, among Intel and others, is one of the company's backers.)
Image 1 of 5
To answer a few likely questions upfront: Yep, this thing looks and feels a lot like a Surface Pro. But it also has its own distinctive identity, with sturdy build quality, and a near perfect balance between size and weight. It hits all the important spec targets, as we've known for a while, and the addition of extra ports and features (compared to Microsoft's latest convertible) doesn't seem to have come with any unwanted side-effects.
So if you're after a Surface-alike that's a little bit qurirky, with improved connectivity — USB-Type C, Thunderbolt 3, and a microSD reader — then look no further. The pricing of a maxed-out V hasn't been confirmed yet, but the base model starts at $799, for specs that outpace the Surface Pro, and the manufacturer seems enthusiastic about the halo effect of Surface comparisons. It's "flattering," that consumers might see the V and mistake it for Microsoft's tablet, CFO Tuukka Korhonen told me.
Despite its associaton with big names like Microsoft and Intel, Eve still sees itself as a disruptor, and its focus on developing products with its community isn't unlike what OnePlus has tried to achieve in the Android phone world. (It's also a tactic that's been attempted by many less successful crowdfunding hopefuls.)
The tablet is built around a 12.3-inch IGZO LCD with 2736 x 1824 resolution, which looks gorgeous, and easily visible under the bright floodlights of the Microsoft booth. (We didn't get to try it under the bright Taipei sunshine, but a rated brightness of 450 nits bodes well for daylight visibility all the same.) There's just enough bezel to hold onto, without making the device appear clunky. The metal body has a subtle matte texture, and feels sturdy in the hand. And the angled side walls serve much the same purpose as the Sufrace Pro's, helping with grip and providing a home for all your ports. That includes the power key, with integrated one-touch fingerprint scanner for Windows Hello.
Image 1 of 3
Around the back, there's a Surface-like hinge, which was apparently a major focus of engineering effort throughout development, as Eve worked to get it feeling just right while avoiding any issues with wear and tear. From a layman's point of view, I can say that the hinge does its job, strikes a nice balance between stiffness and ease of motion whether the device is in laptop or tablet mode.
Powering the whole assembly are seventh-generation Intel chips — Core M3, i5 or i7 — along with 8GB of 16GB of RAM, and 128, 256 and 512GB storage options. There's also an ample 48 Wh battery, which we're told is good for a full day of use. (The 10-12 hour rating naturally depends on what you're using it for.)
Eve's branding is subtle, almost to a fault. You'd easily miss the "V" logo around the back (dark gray on black), and the front panel is completely featureless. The more playful additions can be found on the keyboard backlit, Alcantara-clad keyboard, which connects over Bluetooth and charges over pogo pin connectors. The V key is replaced with a V logo (pressing Fn + V will change your backlighting color, for what it's worth), and backspace becomes "Oops." Because why not?
Image 1 of 5
It all plays into V's brand image as a disruptive influence — a product developed, publicly, with the people who are going to be using it. And as such, Eve is free to drop in whimsical hardware quirks like this.
The keyboard itself is somewhat thicker than the Surface Pro's, but it equally doesn't feel excessively bulky, and stays put just as well as any magnetically attached tablet cover.
Image 1 of 3
Other notables include stylus support with Windows Ink certification — the V has its own pen, but also works flawlessly with Microsoft Surface Pen and Surface Dial, CEO Konstantinos Karatsevidis told me. And on the audio side, quad speakers (they get pretty loud, but these things are hard to judge in a trade show environment) are backed up by a 1-amp 3.5mm headphone jack.
It's going to take longer than just a half-hour or so with the Eve V to judge its overall success, or otherwise. But the first impressions are very positive. The company appears to have the fundamentals down — everything works, looks good, and the only giveaway that this is the product of a crowdfunded startup are the splashes of branding about the place.
There's no shortage of Surface clones right now, but the Eve V is one we're eager to see more of in the months ahead.
Get the Windows Central Newsletter
All the latest news, reviews, and guides for Windows and Xbox diehards.