Eve V's latest confirmed specs include an impressive display, fingerprint sensor and more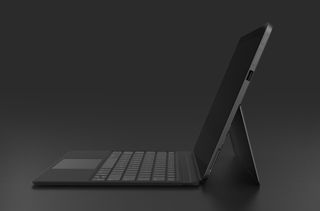 If you're eagerly awaiting the release of the crowd-developed Eve V Windows 10 2-in-1, Eve has revealed some new specs for the device that will likely make the wait even more difficult. The latest specs revealed by the company include details on the display, touch panel, sensors, and pen.
Perhaps most notable is the reveal of the Eve V's display, which will come in at 12.3-inches at a 2736 x 1824 resolution (3:2 aspect). Eve is calling this "one of the finest displays in the category," with the panel packing a special anti-reflective coating and great color reproduction. From Eve:
Eve is also talking up the Eve V's pen, noting that it is targeting accuracy that may surpass that of the Surface Pen. The Eve pen will obey the same N-TRIG protocol as the Surface Pen, which means that it will work with the Eve 5 as well (though it may be less accurate than its own pen, Eve notes).
The Eve V is also planned to pack a fingerprint sensor right on the device's power button, meaning you can use the sensor with Windows Hello even if the keyboard is detached. Finally, Eve did have a bit to say on the LTE version of the device, noting that it has opted to postpone its launch in order to find a design that will work with the LTE antennas.
The Eve V is set to hit Indiegogo later in November, and more will be revealed about the device's specs as the weeks go on. In the meantime, you can read the nitty-gritty details of the latest revealed specs in Eve's dedicated blog post.
Dan Thorp-Lancaster is the former Editor-in-Chief of Windows Central. He began working with Windows Central, Android Central, and iMore as a news writer in 2014 and is obsessed with tech of all sorts. You can follow Dan on Twitter @DthorpL and Instagram @heyitsdtl.
Small brother of Surface?

"Small" brother in what way? The screen size, aspect ratio, and resolution are identical to the Surface Pro 4...

Perhaps a brother from another mother.

Small because it is born later.

Microsoft has layed the foundation for what and how they want WIndows 10 devices are. Now everyones emulating a Surface like. They needed to give these dumb OEM's a new look for laptops. The ugliness can stay on Macbooks and Chromebooks.

It's the superior device.

Oh wow! This sounds pretty damn impressive! Love the finger print scanner on the power button. Great use of space.

LTE version of the 2-in-1 on the horizon, that will be interesting.

Normal people know nothing about this indiegogo...why would anyone go the indiegogo way whereas with windows there are lot of options already available on the market , Huawei, Surface, Lenovo.....

Indiegogo is just for the first batch, after that they will sell the product online through their own webshop

indiegogo already scammed me once. Paypal and Visa can't help and Indiegogo will not assist or answer questions. NEVER AGAIN.

Yeah IGG is waaay dodgier than KS, had several dodgy scenarios with them before, but never any MAJOR issues with KS. They go radio silent & refuse to help in any way if a project falls through, they don't even try to communicate with the project founder to find out what's happening, they just shut you down with BS one-liners. See Zaptip as just one example, of a very suspect way of handling crowdsourcing projects. I may've considered this if it wasn't done at IGG, but for now will just see if it survives the IGG churn process, if it does & end-user reports are solid, only then would I consider.

Its been funded by Intel already, IndieGoGo campaign is just for first batch production runs. THIS WILL BE MY NEXT PC!

Like fully guaranteed long-tail funding? Why the need for IGG at all then, for the 1st batch of production runs?

http://eve.community/t/big-news-indiegogo-launch-pyramid-flipper-officia...

Why would anyone opt for this over the Surface Pro? It's not a bag against their brand but I'm sincerely curious about the compelling pitch to this device because it's an expensive risk to take. They also quietly snuck over another delay in this product's release date. I hope they do eventually release the product though.

There are some smart people backing and advising on this project including MS and Intel. It may help to usher in crowdsourced 2-in-1 PC design and provide valid competition for the old guard. Yes, there is a risk their manurfacturing and support fall short of say a MS but I highly doubt it given how low the bar was set and the knowledge gained from others' shortcomings

Well it's got usb c, and thunderbolt 3 with e-gpu support for one :)

This is living proof of Microsoft's hardware vision. They create the hardware categories to show what Windows 10 can do, and then other hardware partners create their versions and/or clones that could possibly outperform Microsoft's own offering, at what could be a better price. It might be a slow play, but the Surface line is proof that it can be a successful plan.

Agreed, just as Intel created the ultrabook category and the market, including Apple, followed suit; its a proven strategy.

Hate to be "that guy" but the MacBook Air was released in '08. Intel announced the Ultrabook initiative in '12. Source: Wikipedia. I agree that overall using a Halo/Aspirational device has been a good strategy

Noted but Intel's new custom low-power CPUs, first "given" to Apple for its Macbook Air, combined with Apple's later adoption of Intel's Thunderbolt, prove that strategy works as Apple has (as best Apple could) conformed to an Ultrabook standard pioneered by Intel. I think of the Air as the first halo Ultrabook.

Looks good, but I literally thought this was a Surface device with the keyboard pulled down a bit. It is a good, time tested design. Not sure about the specs, but I would be looking for a 2-in-1 surface-like device with USB-A 3.1 x1 and USB-C 3.1 x1, microSD, magnetic charger, and other things.

Wasn't this the company that was astroturfing here a few months ago?

Indeed they were rubbishing the huawei matebook and telling us to wait for this one

In Finland we have a saying "good bell tinkles far, bad even further". This seems to case here too as this unfortunate happening that you view as astroturfing is the only thing you write about (when there is a piece of news about us). For the sake of clarity, I've presented our stance back then and apologized on behalf of our (then)overly enthusiastic community members. They are normal people, just like the rest of us here, and normal people sometimes make mistakes. As I said before, we do understand why one would draw a conclusion that it is in fact Eve team members writing, instead of their "fans". We also understand that it brings up emotions. But what you are claiming, was (and is) not the case. Unfortunately there seems not to be anything I can do to make you guys believe it so I'll finish by expressing my sincere apologies on behalf of the members once again. Take care! - Mike

not as bad as Apple and Google that are here everyday in the comments sections rubbishing everything created by MS.

Is that a Surface Pro 4 keyboard attached to it or does it just look similar?

They spent way too much effort and resources on this TBH. This is not gonna sell a lot. The specs are very impressive, no doubt, but this will also be priced accordingly. The higher the price the less sales. especially from an unknown brand.

Is it AdobeRGB or is it sRGB, there is no Adobe sRGB. This is an important distinction since there is quite a large difference between the two. 100% sRGB is relatively easy to achieve. 100% AdobeRGB (nevermind greater than 100% as claimed in the quote) is not so easy. Even the high end Eizo coloredge monitors only claim 99% AdobeRGB coverage.

It seems like it have been a mistake, because now the quote looks like this: "Covering over 100% of the widely accepted, professional sRGB color standard, pictures and videos will look like nothing you've seen before"

When oled screens will finally arrive to tablet/pc?

There are plenty of OLED tablets out there, just not in Windows. For Windows10 there is Samsung's Tab Pro S. OLEDs are still very expensive for larger displays and to make it in a non-conventional form factor makes it even harder. I presume OLEDs will be starting to arrive mid 2018 to late 2020 based on how slowly the production is maturing and the recent supply availability. Most users out there are just not willing to pay the high premium (and yes, OLEDs according to some sources are cheaper to manufacture with volume than LCDs, but that's not applicable in an odd aspect ratio like 3:2)

Nah. First off IGG is a scam site. Second, SP5 will come in spring 2017 with superior specs.
Windows Central Newsletter
Thank you for signing up to Windows Central. You will receive a verification email shortly.
There was a problem. Please refresh the page and try again.