Eventbrite wunderapp Events for Me updated, brings wallet integration and more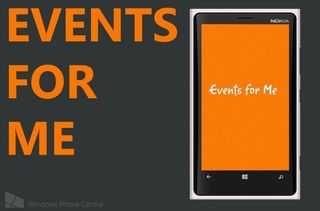 Windows Phone is happening. The gap for quality apps is closing every day, whether it's an official app or an excellent third-party one. Eventbrite doesn't have an official app on Windows Phone yet, but Events for Me is so good we might not need them. The latest update adds some sweet features that just put this over the top. Let's check them out.
Eventbrite is a service that aids people in the entire process of organizing and running an event. Users fall into two basic categories: event planners and attendees. Events for Me is aimed at attendees, allowing them to log into their Eventbrite account and access their tickets, check upcoming events, and more. Here's what's new in the latest 1.3 update:
Added Wallet integration. Now you can store your tickets in the Wallet!
Now showing multi-day symbol next to multi-day events
Localized the project - new languages will be added in the next releases. Please submit requests for which languages you would like to see via the UserVoice link on the About page.
Removed the limit of max 5 events only on the main events pivot
Added UserVoice, Rate This App, and Our Other Apps links to About page
Added 'Forgot password' link to the login screen
Added Share option using QR code
Bug fixes
More exciting features coming soon
Having the ability to grab Eventbrite tickets from the Wallet in Windows Phone 8 will be very handy for those with many upcoming events. That's the biggest update in the latest release, but the other small changes are welcomed for making the app better overall. Bug fixes are typical, but the UserVoice addition will help allow you to become part of the development process of Events for Me.
Right now Paras Wadehra, the developer behind Events for Me and a Nokia Ambassador, is going to be focusing his future efforts on adding NFC to this app. He's also working on an app for event organizers to accept check-ins and manage events. NFC will allow attendees using Events for Me to tap their phone to an event organizers phone to check in.
You can grab Events for Me for both Windows Phone 7.x and 8. Grab it in the Store for free, use the QR code below, or swipe to the right to grab it.
What I love about windows phone apps is most look so much more attractive than their IOS and android siblings. This is a nice app design.

Thanks Sam for the great review. Hi everyone, I am Paras Wadehra, developer of the Events For Me app. Thanks for using it and making it the defacto Eventbrite app on Windows Phone! Please do provide me with your suggestions and feedback, either via email or via the UserVoice feedback option. Also, let me know what languages would you like to see the app support in the future. And don't forget to rate the app with 5-stars in the WP store Cheers,
Paras Wadehra
Nokia Developer Ambassador
INETA Community Champion
Twitter: @ParasWadehra
FB: FB.com/WindowsPhoneDeveloper
My WP Apps



Hi, Paras!

Thank you very much for your efforts that resulted in an awesome app. I have these suggestions: Illustrate (better with screenshots) what benefits will I get from wallet integration after the purchase. Change the tile title to event name instead of "Events For Me". Having more than one pinned tile is difficult now. Utilize the screen-wide tile (aka double tile) effectively, as now the QR is just centered and there is a lot of space around it. Thank you again for an awesome app!

Thanks for the great suggestions smarx007 I would love to discuss and understand your needs better over email, and provide you with updates that make sense. Can you please send me an email from within the app? Regards,
Paras

wish i had something to go to so I could use this app

HI @chadwick611, you can find events of your interest using the app itself and register for those :)
Windows Central Newsletter
Get the best of Windows Central in in your inbox, every day!
Thank you for signing up to Windows Central. You will receive a verification email shortly.
There was a problem. Please refresh the page and try again.