Evernote launches its PC desktop app in the Windows Store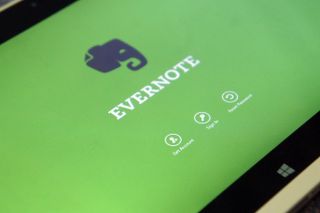 As promised, Evernote has launched its regular PC desktop app in the Windows Store for Windows 10 users. The app is the same Win32 version that has been available for some time. but is now distributed via the Store.
Evernote previously revealed in late July that it would be launching the desktop app in the Windows Store on August 2, but apparently the app was not ready to go live until today. The desktop app was likely converted to be distributed to the Windows Store via Microsoft's "Project Centennial" Desktop App Converter tools.
The desktop app is replacing the older Evernote Touch for Windows 8 and 10 users. In late July, the company stated:
Windows Phone owners will still be able to access their own version of Evernote in the Windows Store.
Download Evernote for desktop in the Windows Store (opens in new tab)
Windows Central Newsletter
Get the best of Windows Central in your inbox, every day!
Moved from Evernote to OneNote a while ago! But good to them in Windows Store again.

This app was very poorly done. I hope they add features UWP in the future

They might have to rewrite the code all over if they everwant to do an UWP app. I don't understand why developers don't want to make UWP apps, is it so hard to do one? Or does ppl just retire from code and development out of boredom?

Although I have not found that good he did not take advantage of being a UWP app, I prefer to download from the Windows Store, since it is basicamete the Win32 version, but with some limitation that only brings more security to the user. This is a UWP app with Win32 interface.

I tried Evernote briefly but have been a long time One Note user. Good for them though. I imagine a lot more people will install and use Evernote now that it's in the app store.

I'm a OneNote fanatic as well, but I hate the tagging system in it. The Evernote tagging systems is so much better.

When for windows mobile 10?

Finally, they got rid of the terrible touch version -- it was the worst. The desktop version is great though.

They are missing the whole points of Windows 10. They should have released a single app that work across all Windows 10 devices. Not one for phone and another one for desktop. They are now missing good touch capability on devices such as Surface and they don't have the app available on IoT, HoloLens or Xbox. These are very bad decisions. To me it looks like they have been taken without the knowledge of the benefits of Windows 10.