Evernote Windows 10 PC app spotted in the Store, but it's not ready yet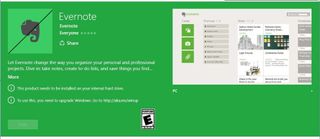 A listing for a Windows 10 version of the popular Evernote app has appeared in the Windows Store. However, the app itself is not ready for prime time.
The listing itself (opens in new tab) was spotted by noted Windows leaker WalkingCat on Twitter. While there is an app to download from that link, it only opens to a white screen, showing that the file is actually a placeholder in preparation for the official Evernote launch.
The listing only shows support for Windows 10 on PCs and Hub. Evernote previously released an app for Windows Phone and another version for Windows 8.1. It's unknown if this new app was made via the UWP design so it can work for Windows 10 Mobile as well.
Will it be the same as Evernote on Android and iOS where they have to download the notes every time they open the notes (even the same note)? (no signature)

Which one is better one note in windows 10/evernote

I still prefer OneNote. My office is using Evernote, and it's even more unreliable over time. Crashes, image metadata corruption (something that will make us can't upload pictures saved on Evernote for advertising products), and freezes. Not to mention the requirements to download notes every time we open the note for free users. Even worse when Evernote free users are limited to just 2 devices.

Paul Thurott also did an article on why Onenote is better. Posted via the Windows Central App for Android

(For me & my usage), Evernote is easier to retrieve tagged notes. While OneNote has its tagging system, it is not as intuitive (and fast) like those of Evernote & Google Keep.

Although I don't use Evernote, a WUP app will be very welcomed. I really believe the strategy is working on that area

It doesn't have a "Built for Windows 10" marking..

Thanks, but no thanks. I used Evernote a looooong time ago (I had an android tablet then) and OneNote is ages ahead since it can sync almost everywhere.

I don't know about ahead since you can't share a folder with someone and collaborate.
You have to provide a link for download and vice versa.
I mean it would be great if a unique folder on two or more Windows users can sync each other.
Like a virtual network with OneDrive as the server.

I think that would bring with it complex merge problems that probably are too complex for a consumer market.

Not exactly, they don't need to collaborate in real time.
It could be as simple as a common 'sky drive' where you upload a file and text me to open it for discussion if need be. Even on a company server, majority of files are not open at the same time.
All that a server is in a users eyes is a common place to access company files.
Just a shared folder everyone has access to. On OneDrive, you work on a document and sync when you online.
OneDrive can lock the file for editing online once someone has downloaded it.
This can be done with a simple prompt...
- Download and Lock For Edit
- Download For Viewing/Comment All users would know the file is locked for editing.

Sweet! Will test it out when it comes available! Hopefully this and the Starbucks app with be released soon!

No, I'm pretty sure this is the final version of the app. At least, that's the impression I've gotten from every dealing I have had with their support engineers in regard to their Windows support (other than Win32).

Pandora UWP appears on Xbox but cant download

I have tiped about IMO availbilty on store with link . why are you not publishing ??

I switched from Evernote to OneNote. Not going back.

As long as it doesn't support natural digitizer pen input, would never consider it... Posted from my OnePlus One.

OneNote is a category defining piece of software that won me over in the tabletpc days that somehow gets very little attention.

I'm actually quite suprised that OneNote works so well...and it doesn't seem bloated and unweildy (which I expected from Microsoft) Evernote is obviously a very good product. Really, what made e change to OneNote was the way it works on Android....specificially, the Note series of phones. It recognizes the stylus immediately. My phone is now a real, USEFUL, compact, note pad. It was very thoughtful for Microsoft to consider this niche of android phones (stylus recognition).

I migrated all my evernote content to OneNote. Never looked back.

Biggest news is that messenger supports calling in windowsphone.

I'm happy enough with OneNote which I switched to from Evernote when I jumped from Android to Windows phone

With their new restrictions and paywalls, nobody should care. OneNote forever.

With those new limitations on the free evernote, I don't get it either why people would still use it when onenote is just awesome on all devices for free... I like Onenote a lot also!

Used EN since 2008... have been Premium member last four years or so. When they just proposed to raise that yearly fee from $45 a year to $70, I thought that increase was out of proportion. Batch imported my EN to ON. For two days poured through every video and instructional piece on ON... will not use Evernote, ever again! I'm all for a business getting what is fair as far as price, but this increase is exorbitant.

Stopped using evernote sinds they changed the terms and added a device limit. A limit of 2 is too little for me.
And the one note features are just plain better.

I would gladly pay twice as much for evernote than one note...so MS does not get any more of my money. See people this is how you speak volumes to MS regarding unhappy consumers. speak with your money! I dropped all MS services and products like a bad flu. Instead of doing nothing and just waiting to see...I ditched it all.

Never used it and never will now it's not free
Windows Central Newsletter
Get the best of Windows Central in in your inbox, every day!
Thank you for signing up to Windows Central. You will receive a verification email shortly.
There was a problem. Please refresh the page and try again.