Everything we know about the Microsoft Band 2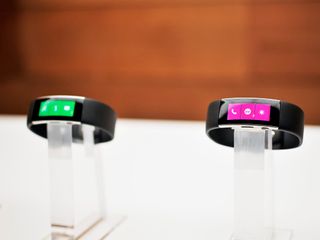 The curvaceous Microsoft Band 2 got its big reveal at the #Windows10Devices event in NYC. The previous leaks appear to have panned out, as the Band 2 sports as striking curved screen with a sleek metallic finish.
Here's everything we've learned about Microsoft's latest answer to fitness tracking (and don't call it a smart watch!)
The original Microsoft Band, dubbed as a 'learning experience' by Microsoft, launched only in the US and UK. Microsoft seems far more confident about the new Band, and as a result, it's widely expected to be launched in a wider selection of territories. Unfortunately only US, UK and Canadian availability has been confirmed so far.
The Microsoft Band 2 retains all the features found in the first Microsoft Band while bringing some new capabilities to the table.
Specs & Features
Category
Specification
Material
Thermal plastic elastomer silicone vulcanate (TPSiV)
Display Size
32mm x 12.8mm
Display Type
Curved AMOLED
Resolution
320x128 pixels
Battery
48 hours (GPS may impact battery life)
Average Charge Time
Full charge in less than 1.5 hours
Battery Type
Li-polymer
Operating Temperature Ranges
-10°C to 40°C (14°F to 104°F)
Maximum Operating Altitude
-300m to +4877m
Sensors
Optical heart rate sensor
3-axis accelerometer
Gyrometer
GPS
Ambient light sensor
Skin temperature sensor
UV sensor
Capacitive sensor
Galvanic skin response
Microphone
Barometer
Additional
Technology Haptic vibration motor

Connectivity
Bluetooth® 4.0 LE
Supported mobile devices
Windows Phone 8.1 update or greater
iPhone®5, 5C, 5S, 6, 6 Plus with iOS® 8.1.2 or greater
Android™ 4.4 or later phones with Bluetooth®
The Microsoft Band 2 sports much of the same functionality as its predecessor, with a few key upgrades. On the health side of things, popular weight-loss app Lose It! will be lending their services to the Band ready for its October 30th launch. They also appear to be developing apps for Windows devices in kind. The Band 2 retains Cortana integration, and the mail, texting and other notification features from the first Band. Uber will also support the new Band, presumably allowing you to summon cabs directly from your wrist using the Band's GPS sensor.
The new Band is packing a barometer, which measures elevation. As a result, you should get more accurate caloric burn readings when biking uphill, or climbing. The data from the barometer and the other sensors is stored in the Band until you connect it to an iPhone, Android phone or Windows Phone using Bluetooth. The data then gets pushed to the Microsoft Health app, which recently got a design refresh, in addition to the Microsoft Health dashboard online.
Beyond internals, the Microsoft Band 2 has undergone a pervasive design refresh. The material used for the straps is far more malleable than the first iteration, and the curved edges help it to sit more naturally on the wrist. The battery has moved to the end of one of the straps and is charged using a new custom cable that attaches to the end of the strap.
Pricing and Availability
The Microsoft Band will be available in the US and Canada on October 30th, for $249.99 and $339.99 respectively. Brits will have to wait a little longer for a November 19th launch with a £199.99 price tag. There's currently no information about availability in other territories, but stay tuned to Windows Central for updates.
Pre-order the Microsoft Band 2 from Microsoft (opens in new tab)
Dan and Mark are in NYC checking out everything Microsoft announced at their #Windows10Devices event. Keep your eyes on Windows Central for all the latest Microsoft Band 2 news and a full review later on.
Lumia 950
Surface Pro 4
Surface XL
Microsoft Band 2
Jez Corden is a Senior Editor for Windows Central, focusing primarily on all things Xbox and gaming. Jez is known for breaking exclusive news and analysis as relates to the Microsoft ecosystem while being powered by caffeine. Follow on Twitter @JezCorden and listen to his Xbox Two podcast, all about, you guessed it, Xbox!
I really hope they'll keep their promise to launch it worldwide

Yes at least to the "apple countries" market as a start, it's time to flex muscles! Anyone wants my Band v1 for just 160€ :D :D ?

1.60 Euros? I'll buy it! :P

Correction: You mean Surface countries.

Pity it's not for swimming but I love the redesign! Looks positively sexy! Can't wait to try it out!

Aye, I read a comment on Twitter from someone at the event that it's gone up a level in the "water resistance scale" but its still def not water proof. they'll get there I think

Jez , it's my birthday on the 19th. Buy me one? ;) Posted via the Windows Central App for Android

Do optical heart rate sensors work properly under water?

Forget about tracking fitness underwater, it's about my band surviving when someone pushes me in a pool. I heard a story of some guy in the Philippines ordered one and basically paid double for his just to get it shipped, he put it on and jumped in a pool on accident and destroyed the band. Poor guy

My band has been is dunked in saltwater while boating, in my pool, the shower, rain, sink, etc. With no issues. It is rated to be water resistant to 1 meter for 30 minutes if I'm not mistaken. I generally take it off to swim or charge while in the shower, but otherwise I don't worry about it. I'm not sure why everyone thinks a few drops of water will kill it. If you know someone that lost their band because they fell in the pool, then that band was probably defective.

It should survive a dunk in the pool fine. I've forgotten and showered in mine and jumped into the pool with it. Very suprised that someone would kill one with one quick dunk in the pool. That is not the norm from what I have seen reported.

what about wearing it on the outside of your wrist? will the screen orientation change? and what's with the lack of spaces in recent articles? ("or greateriphone" for example)

between words in the articles

In the settings when at the baybrook store, they had some orientation settings on the band, so I think so, but I don't know to what extent.

No the band is still pretty much useless when worn like a classic watch. The only way how to comfortably use it is with the display on the inside of your wrist.

Really wish it was water proof, so I could take it when going for a swim. The problem with a lot of fitness trackers is that they only account for dry land sports. Maybe next year...

If someone wanna buy it in Europe, just buy at Microsoft.co.uk. No worries, it's possible. You just have to fake your billing address...

Definitely fraud! A sinister plot that should require long mandatory jail sentences for sure. How can society survive with criminals among us?

As far as I know retailers inside the EU cannot discriminate shoppers based on their naitonality or citizenship. They don't have to deliver to your country but they have to sell it to you if you're a European citizen. Therefore Microsoft cannot expect you to be living in the EU country they are selling inside of.

You had me at Thermal plastic elastomer silicone vulcanate.

2nd gen. And still not water proof, I'm gonna skip another year, but it looks sweet.

Remind me which competitors are waterproof?

Fitbit flex. And... Nothing?

Garmin Vivofit is waterproof. Technically, FItbit calls the Flex water resistant, but it's waterproof to most people's standards.

Vivofit also has no GPS, no heart rate monitor, etc.. ​The Fitbit that does have these features is not waterproof. Garmin has the Forerunner, which is waterproof, requires an external heart rate monitor and lists for $500.

Flex has no heart rate monitor and no GPS. No altimeter, no UV, no smartphone notifications, no screen. Completely different thing.

I dont care about the competition the band 2 is a fitness tracker and I'm pretty sure many sports include water, I'm not talking about salt water either, I want to take it swimming, Jacuzzi, bath the river.

You should probably read up on the definition of "waterproof." Most manufacturers are not dumb enough to declare a product waterproof unless it can survive at the bottom of the Mariana trench. The band is water resistant which is about all you can ask for this type of device. It's a scale not a yes/no.

Correct. That's why the correct way is to to say, waterproof to 3m = you can use it shower, or 50m = you can swim with it, 200m = you can dive with it. Water resistant means, you can have it in your inside pocket if it rains in the next county.

Really hoping this is coming to the Surface regions, I could really use it during workouts.

Operating temperature -10 to 40C. What about places where the temperature soars to 50C?

It will melt and cut off your hand at the wrist, but it's okay because most people have a backup hand. Posted via the Windows Central App for Android

If it's 50c you probably won't be outside exercising.

At 40C I'm not outside exercising.

What about us Canadians that might want to go for a run in the -20's and -30's? What then? -10 is like... warm.

Why not -40 where the Fahrenheit and Celsius scales are equal? Ha!

Will you be running in extreme cold with your band outside on your sleeve or under you outer wear? Really if it is too cold for the band then your body is likely as not, not covered well either and that leads to joint problems

I tend to run in a loin cloth usually. I like to start my run off with a mug o' hot mead to keep my innards permeating heat from the inside out. That way, in the frigid cold, I can sustain my nudeness at all times. The frosty knees do tend to be a problem though, as you say. I may start running with some kneepads just to counteract this problem!

If this isn't launched in countries where apple products are it will never have mass adoption sadly.

Though the article doesn't say much about it but I was totally blown away by the fact that the new band can calculate your VO2 Max. How.. Awesome.. Is thatt! It is shifting towards serious therapeutic health rather than just casual fitness. Also found a study article for the same.
Means a lot for me being in cardiac profession.

Will the usefulness of that depend on how accurate it is? Will be interesting to see it compared to the "real" VO2 Max tests and see how accurate it is. I don't pretend to know how that works, but is it potentially like those machines that claim to be ableo calculate your body fat index by getting you to hold onto two handles? Where as body fat calipers would be a more accurate way

I was told yesterday when talking with the band guys that the accuracy was somewhere around a 5% margin of error for vo2 max, but that it tended to be pretty close. From what I understand, It's machine learning based, so they have a ton of training data that combines the various profile and sensor data and trains it against the measured vo2 max using the traditional method.

Although nice, it doesn't have to be extremely accurate with those bodyfat readers as well as this device. You use the first reading as a baseline, and as long as the device is consistent, you should be able to track your progress from where you started.

The original band did this as well.

Yep, in fact, there is little difference between the 1st and 2nd gen. 2nd gen is prettier and adds the altimiter. I'm wondering if the 1st gen will get a software update.

No word on one of the more important functionalities; music control...
I gather there's no internal storage, so you could work out to music without the need for a phone?
Looks much better than the first, which incidentally has been sold in airports around the world; not just the UK and the US...

You're talking about a smartwatch, however, this is a fitness tracker. Emphasis on "tracker".

What? How is music control not an integral part of a fitness device? I never run or exercise without music, and life would be a lot easier without having to carry and fiddle with a smartphone during a session! Take a look at the Dash earbuds as inspiration... Besides, I don't see the Band as a fitness tracker first and foremost at all; more of a simple smartwatch with a focus on fitness.
Honestly, if there's no music controls I have no use for this device, fitness or not. And internal memory would weigh heavily as well...

I seem to recall the first band having music controls, but don't take my word for it.

nope. The way the band works, I think music controls would be complicated to implement. When you're running or cycling or working out, you're in workout mode. There's not much of a task switching capability on the Band. You would almost need hardware buttons or something to do music control, or they would need to add some kind of task switching where you could leave the workout screen, but have it still running while you switch to a music app.

If you watched any of the demo videos yesterday you'd know that Microsoft IS advertising this as a heath fitness tracking device. The extra added features were icing on the cake. Seems to me that you're just looking for a device with a built in mp3 player. I'm not sure how many of them are able to do that now, maybe Apple's watch. That Dash earbud is cool.

What I'd like is a basic smartwatch with fitness capabilities, gps and music controls. Preferably with internal memory, so a smartphone isn't necessary. The Dash would be a perfect alternative if it had gps.
The 950s were presented as substitutes for PCs; doesn't mean that's ALL they are, right?

Quantified Health: Microsoft Band claims to measure VO2 max. Does it? http://quantifiedhealth.blogspot.in/2015/05/microsoft-band-claims-to-mea...

Great article, thanks for sharing.

They (MS) showed it in the announcment, will wait for subjective reviews myself before taking their word for it :P.

The original Band already does it. Its not a direct measure, they call it an estimate.

Only 40 degrees! I can't wear it during an Australian summer... damn! :) I'll be buying one of these babies as soon as it's available in Australia. Hopefully the exchange rate doesn't make it too expensive though.

Lol. You're crying about "only 40 degrees". I'm crying about "only -300m". Looks like everyone has their own gripe with the band.

What about +5000m? Is it going to explode if one flyes with it? :-D

We'll if you are above 16500 feet flying without pressuization then I guess you readings may not be accurate. I doubt it will explode. Which is ironic in that if a plane I was flying in lost pressurization, I'd be interested to see what my heartrate did.

How do you recharge its batteries? None of the images show an obvious charging input like the first gen.

I watched without sound, but I believe they covered that in the video ;)

The charging connector is located at the end of the strap ;-)

You connect the charger to the end of one of the straps, its in a video somewhere.

What about screen rotation? It's the only reason I haven't baught the Band 1 so I hope they fixed it (or will fix it soon)

A setting to flip the screen but keep it locked would be good. Having it constantly rotate as I move my arm would be extremely annoying.

Is the silver part of the body metal or just paints plastic, that's what I want to know

It felt like metal in hand.

Really wanted it to be shower proof lol. Hate taking my fitbit off when going for showers. Posted via the Windows Central App for Android

Hmmm.. That's when I charge it.

Same here. Since you can do sleep tracking, I dont charge overnight. I do it while I'm showering and getting ready in the morning.

Hahaha, what do you do in the shower that you need tracking? Swimming on the other hand....

Wait till 3rd gen when i can use it for swimming

Sorry I can't buy this with that huge metal clasp sitting on your wrist.... That looks ridiculous. How isn't anyone else complaining about this?!

Where do you expect all the sensors go?

Exactly my sentiments. The band looks good when worn on the outside, but you can't use it like that and the moment you put the screen on the inside of your wrist you look like an idiot. It's a fundamental design flaw.

There seems to be just enough to save your workout data.

The article makes it sound like the LoseIt! and Uber apps are only coming for the Band 2. It would seem as though they should support the original also unless there is some difference in the OS/configuration.

This is what I'm interested in finding out. The OS looks the same and so far I'm assuming the SDK will be the same as the first band. I wonder if my app (Backup Your Band) will let you transfer your current theme to the Band 2, not sure when I'll be able to get one to test it - Also need to try and add some form of cloud backup to the app

I wish the make one waterproof

Then be prepared to pay in the $400 range. My Casio Pro Trek PRW2500T watch has multiple sensors and can do 200m of water and has been to hell and back on various hikes/camping/hunting trips and still works great although with a few scars. Waterproofing is difficult and not even fitbit does it well.

Does everybody else have the issue that Cortana doesn't work on Band v1 with Windows 10 Mobile? When I first install the Microsoft Health app I get a message saying "This version of the app doesn't support Cortana. Check back for future updates" or similar

Yeah well wait for future w10 mobile release

Yeah, its been broken in all builds so far. Right now my band wont even sync to my phone.

We also know it tracks UV while exercising now... not just when you press the button.

This will help me a lot as my white frail skin burns so quick in the sun

The band 2 also has gorilla glass 3 display

My band 1 screen became damaged after I sprayed bug spray on my arms. Actually it's the border around the display. Hopefully the gorilla glass covers the whole thing with band 2 so we don't have to worry about that sort of thing.

Mental note: Don't spray with bug spray. Thanks.

Bug spray is very damaging to alot of things.

West Nile is even more damaging! I hate mosquitos with a passion!!

That stuff is insane. I spilled some on a kitchen table once (the pump version, not aerosol). It completely dissolved the finish off the table down to bare wood like paint stripper. And we spray it on our skin...

Wow Posted via the Windows Central App for Android

But can we trade in our band 1.0 for a discount on the band 2.0??? That's the big question here!

Especially if they are going to hold to the claim that the V1 was "dubbed as a 'learning experience' ". We paid big bucks for being their "study/exploratory participants". Hey Microsoft, let's do the right thing here.

I think it will come to Germany -> https://twitter.com/alialvi/status/651436389490278400 Also V1 shows the VO2 Max in my dashboard already, there is no new sensor needed for that.

After Update of Microsoft Health, my app has been translated and functions only available on Band 2 has been added, so I think at least it will be lunched in Denmark.

It is a really stylish redesign but not enough for me to upgrade, I'll wait for the Band 3.

I like the looks of the new design compared to my existing band, but I quit using it because of the need to charge it every other day. The Band 2 battery life looks like it is the same 48 hours.

It looks like the exactly the same device, just prettier and with an altimeter.

Well, it's ergonomically improved. I could never get the first band to fit comfortably on my wrists.

$339.99 CAD......ugh! Our weak dollar is killing us up here north of the 49th parallel. I think it's projected to get even weaker come the end of this year. :( Perhaps I should buy a Band sooner rather than later? :)

Has anyone heard if it will allow you to control groove music yet? This to me was a major over site of the first band. Would love to see that

No. I think that would take more powerful hardware and a different OS. The Band doesnt seem to do multitasking of any kind, so if you are in work out mode, you are pretty much locked in workout until you finish. I dont thing you could switch apps to a music player and switch back and keep GPS and everything running in the background. I dont know if thats a processor limit, battery life, or what, but it seems designed for one thing at a time.

Like others have mentioned, I'd love to trade in my v1.0 for a discount on this one. Surely they'll do that at some point...

Just pre ordered it from the uk online store.....won't arrive until after 19 November but will sooooo be worth the wait :)

I really want this. But no interna; storage for music means I have to bring my new big ass 950XL with me to my runs??? or another music player?? HUGE opportunity missed here.....they shoud have added something, even 1gb of storage for some music would work. The fact is that the MAJORITY of people that are the targets here workout with MUSIC. Love the product, but it is such a letdown that in 2015 theycant add a little storage here for music.....sad, really sad.

Everyone asking about water proof of the band, if you do some research you will find your answer on the MS Band sight. Here is the offical wording. Microsoft Band meets these standards for dust- and water-resistance: IP6X: No ingress of dust. Complete protection against entry of dust. IPX7: Protection against temporary immersion in water (at depth of 1 meter for 30 minutes). IP67: Means it meets both the dust- and water-resistance standards above. Important Microsoft Band has tested to the IPX7 standard. Though it meets this standard in testing, Microsoft Band is not intended to be immersed in water and immersion is not covered by the warranty. Here is the link, scroll to the bottom. https://www.microsoft.com/microsoft-band/en-us/support/safety-guide

I need it to be waterproof and have raised bezels to protect the screen. I'll just hold out hope for the Band 3.

Has anyone heard if they did anything about the metal around the charging port corroding and disrupting the bands ability to charge?

I thinkt the charging port is located in the clasp now, so it should not come into contact with too much sweat and thererfor corrode much less.

I had to give up my Band because once my hands were sweaty, I could do nothing with the screen. About 2 hours into a long run, it would start saying, "Are you still running?" and i couldn't answer it. I couldn't pause for water, and if I could, I couldn't unpause. Not sure this is fixed in Band 2. Might get one, although now my Garmin 920XL does run/bike/swim beautifully.
Nothing does sleep tracking like the Microsoft Band, though. That was seriously awesome.

It is me or does the clasp look horrible? I'd like to see better pictures of it being worn, because the big shiny chunck of metal on the top of a wrist doesnt seem like it would look too good.

It looks weird. It's a very functional clasp you can see the adjustment rail on it, not very appealing.

I can't find many decent photos of the clasp - It's going to be the same experience as the Band V1 when wearing it on the top of your wrist (i.e Awkward, except in certain activities, like Rock Climbing) so that clasp will be on show a lot. The V1 looks better when the screen is underneath (Too awkwardly flat for the top of your wrist), the V2 looks better when on top from what I've seen so far (as the clasp doesn't look as nice) - I've only had my V1 since UK launch, so I'm feeling like I should keep it a little longer, or wait for the Band 3 if these become an annually released device

A barometer measures air pressure, not elevation. The big thing I'm wondering is if Microsoft did a better job of protecting the internals from sweat.

48 hour battery? I just cancelled my preorder for the Band 2. That's a pathetic battery life when the fitbit Surge and Pebble last 5-7 days.

I think they should make up their mind. It's either going to be a standalone product fully replacing your phone during workouts (incl. all the fitness apps and music services). Or it's a companion device and then it shouldn't have display and it should've much longer battery life.

You're complaining because you have to take it off every two days to charge it for 45 minutes?

The battery complaints ring hollow to me. If you take a shower at least once every 48 hours, then you're good to go.

None of those are as powerful and feature rich as the Band 2 tho, of course all that extra functionality is gonna eat battery.

Can the band be replaced?
Can the band one charger the band 2?
Can you turn off the GPS on the band 2 and have it use the GPS on the phone? I climb Mt Whitney twice a year (winter and summer) I always take my phone with me and must always take a spare battery, I dont eant to take anything more to recharge the band2.

What about a power bank? Should be able to charge both your phone and the Band.

An all you know article and you don't know if it tells the time? Or always shows the time? I HATE any watch that you have to press something to get the time off of. I had tried Band 1 and returned it in 5 days...not really liking the feel of handcuffs, I figure the Band 2 feels better but real question is can it jive with a Surface Pro or does it have to always be a mobile phone?

I wish these things had wireless charging.. :/

Qi charging would have been great for this thing....

Since it supports Bluetooth 4 do you think it's possible to have Kevo lock support? I'd like to go running without bringing my keys.

If Kevo offers a development kit for their locks it would be possible to creat an app for it.

I'd be ALL IN at $199, but $250 seems a bit much when I still have a v1 that's under warranty. I probably can't even sell it for $100. :/

The operating temperature range of -10 ... +40 degree Celsius is a problem. That qualifies the Band 2 for indoor use like any regular stereo. That's not a temp range one would specify for outdoor usage. Especially higher temp rangers >40 degrees Celisus can be easily reached. This needs to be fixed with Band 3, otherwise the Microsoft Band is only fit for use in training rooms and mild spring days and cannot be let on a car's dashbaord or close to a window on hot summer days.

My concern is can I keep my phone in my pocket and my bluetooth headset on my head, then how does the band work to manage calls? I still wish to be able to answer the call with a button press and see the caller ID on the band, I don't really care if the button I press is on the band or the headset, I just want ease of use with multiple bluetooth devices. Does anyone else use their devices this way? Share your experiences if you do. BTW, this message box does not do running spell check, there are no squiggles under misspellings, webmaster please fix that.

I've looked everywhere on info about this and cannot find a complete answer. Can the MS Band 2 play music? Is a phone required to do so? I like to listen to music while I run and it would be great if I could connect with my wireless bluetooth headphones and be able to leave my phone behind.
Windows Central Newsletter
Get the best of Windows Central in in your inbox, every day!
Thank you for signing up to Windows Central. You will receive a verification email shortly.
There was a problem. Please refresh the page and try again.