Everything we know about the Microsoft Band 2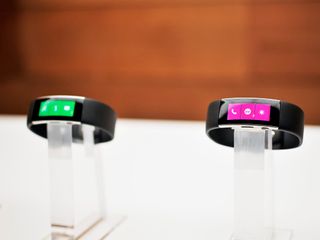 The curvaceous Microsoft Band 2 got its big reveal at the #Windows10Devices event in NYC. The previous leaks appear to have panned out, as the Band 2 sports as striking curved screen with a sleek metallic finish.
Here's everything we've learned about Microsoft's latest answer to fitness tracking (and don't call it a smart watch!)
The original Microsoft Band, dubbed as a 'learning experience' by Microsoft, launched only in the US and UK. Microsoft seems far more confident about the new Band, and as a result, it's widely expected to be launched in a wider selection of territories. Unfortunately only US, UK and Canadian availability has been confirmed so far.
The Microsoft Band 2 retains all the features found in the first Microsoft Band while bringing some new capabilities to the table.
Specs & Features
Swipe to scroll horizontally
Category
Specification
Material
Thermal plastic elastomer silicone vulcanate (TPSiV)
Display Size
32mm x 12.8mm
Display Type
Curved AMOLED
Resolution
320x128 pixels
Battery
48 hours (GPS may impact battery life)
Average Charge Time
Full charge in less than 1.5 hours
Battery Type
Li-polymer
Operating Temperature Ranges
-10°C to 40°C (14°F to 104°F)
Maximum Operating Altitude
-300m to +4877m
Sensors
Optical heart rate sensor
3-axis accelerometer
Gyrometer
GPS
Ambient light sensor
Skin temperature sensor
UV sensor
Capacitive sensor
Galvanic skin response
Microphone
Barometer
Additional
Technology Haptic vibration motor

Connectivity
Bluetooth® 4.0 LE
Supported mobile devices
Windows Phone 8.1 update or greater
iPhone®5, 5C, 5S, 6, 6 Plus with iOS® 8.1.2 or greater
Android™ 4.4 or later phones with Bluetooth®
The Microsoft Band 2 sports much of the same functionality as its predecessor, with a few key upgrades. On the health side of things, popular weight-loss app Lose It! will be lending their services to the Band ready for its October 30th launch. They also appear to be developing apps for Windows devices in kind. The Band 2 retains Cortana integration, and the mail, texting and other notification features from the first Band. Uber will also support the new Band, presumably allowing you to summon cabs directly from your wrist using the Band's GPS sensor.
The new Band is packing a barometer, which measures elevation. As a result, you should get more accurate caloric burn readings when biking uphill, or climbing. The data from the barometer and the other sensors is stored in the Band until you connect it to an iPhone, Android phone or Windows Phone using Bluetooth. The data then gets pushed to the Microsoft Health app, which recently got a design refresh, in addition to the Microsoft Health dashboard online.
Beyond internals, the Microsoft Band 2 has undergone a pervasive design refresh. The material used for the straps is far more malleable than the first iteration, and the curved edges help it to sit more naturally on the wrist. The battery has moved to the end of one of the straps and is charged using a new custom cable that attaches to the end of the strap.
Pricing and Availability
The Microsoft Band will be available in the US and Canada on October 30th, for $249.99 and $339.99 respectively. Brits will have to wait a little longer for a November 19th launch with a £199.99 price tag. There's currently no information about availability in other territories, but stay tuned to Windows Central for updates.
Pre-order the Microsoft Band 2 from Microsoft (opens in new tab)
Dan and Mark are in NYC checking out everything Microsoft announced at their #Windows10Devices event. Keep your eyes on Windows Central for all the latest Microsoft Band 2 news and a full review later on.
Lumia 950
Surface Pro 4
Surface XL
Microsoft Band 2
Jez Corden is the Managing Editor for Windows Central, focusing primarily on all things Xbox and gaming. Jez is known for breaking exclusive news and analysis as relates to the Microsoft ecosystem while being powered by caffeine. Follow on Twitter @JezCorden and listen to his Xbox Two podcast, all about, you guessed it, Xbox!
I really hope they'll keep their promise to launch it worldwide

Yes at least to the "apple countries" market as a start, it's time to flex muscles! Anyone wants my Band v1 for just 160€ :D :D ?

1.60 Euros? I'll buy it! :P

Correction: You mean Surface countries.

Pity it's not for swimming but I love the redesign! Looks positively sexy! Can't wait to try it out!

Aye, I read a comment on Twitter from someone at the event that it's gone up a level in the "water resistance scale" but its still def not water proof. they'll get there I think

Jez , it's my birthday on the 19th. Buy me one? ;) Posted via the Windows Central App for Android

Do optical heart rate sensors work properly under water?

Forget about tracking fitness underwater, it's about my band surviving when someone pushes me in a pool. I heard a story of some guy in the Philippines ordered one and basically paid double for his just to get it shipped, he put it on and jumped in a pool on accident and destroyed the band. Poor guy

My band has been is dunked in saltwater while boating, in my pool, the shower, rain, sink, etc. With no issues. It is rated to be water resistant to 1 meter for 30 minutes if I'm not mistaken. I generally take it off to swim or charge while in the shower, but otherwise I don't worry about it. I'm not sure why everyone thinks a few drops of water will kill it. If you know someone that lost their band because they fell in the pool, then that band was probably defective.

It should survive a dunk in the pool fine. I've forgotten and showered in mine and jumped into the pool with it. Very suprised that someone would kill one with one quick dunk in the pool. That is not the norm from what I have seen reported.

what about wearing it on the outside of your wrist? will the screen orientation change? and what's with the lack of spaces in recent articles? ("or greateriphone" for example)

between words in the articles

In the settings when at the baybrook store, they had some orientation settings on the band, so I think so, but I don't know to what extent.

No the band is still pretty much useless when worn like a classic watch. The only way how to comfortably use it is with the display on the inside of your wrist.

Really wish it was water proof, so I could take it when going for a swim. The problem with a lot of fitness trackers is that they only account for dry land sports. Maybe next year...

If someone wanna buy it in Europe, just buy at Microsoft.co.uk. No worries, it's possible. You just have to fake your billing address...

Definitely fraud! A sinister plot that should require long mandatory jail sentences for sure. How can society survive with criminals among us?

As far as I know retailers inside the EU cannot discriminate shoppers based on their naitonality or citizenship. They don't have to deliver to your country but they have to sell it to you if you're a European citizen. Therefore Microsoft cannot expect you to be living in the EU country they are selling inside of.

You had me at Thermal plastic elastomer silicone vulcanate.

2nd gen. And still not water proof, I'm gonna skip another year, but it looks sweet.

Remind me which competitors are waterproof?

Fitbit flex. And... Nothing?

Garmin Vivofit is waterproof. Technically, FItbit calls the Flex water resistant, but it's waterproof to most people's standards.

Vivofit also has no GPS, no heart rate monitor, etc.. ​The Fitbit that does have these features is not waterproof. Garmin has the Forerunner, which is waterproof, requires an external heart rate monitor and lists for $500.

Flex has no heart rate monitor and no GPS. No altimeter, no UV, no smartphone notifications, no screen. Completely different thing.

I dont care about the competition the band 2 is a fitness tracker and I'm pretty sure many sports include water, I'm not talking about salt water either, I want to take it swimming, Jacuzzi, bath the river.

You should probably read up on the definition of "waterproof." Most manufacturers are not dumb enough to declare a product waterproof unless it can survive at the bottom of the Mariana trench. The band is water resistant which is about all you can ask for this type of device. It's a scale not a yes/no.

Correct. That's why the correct way is to to say, waterproof to 3m = you can use it shower, or 50m = you can swim with it, 200m = you can dive with it. Water resistant means, you can have it in your inside pocket if it rains in the next county.

Really hoping this is coming to the Surface regions, I could really use it during workouts.

Operating temperature -10 to 40C. What about places where the temperature soars to 50C?

It will melt and cut off your hand at the wrist, but it's okay because most people have a backup hand. Posted via the Windows Central App for Android

If it's 50c you probably won't be outside exercising.

At 40C I'm not outside exercising.

What about us Canadians that might want to go for a run in the -20's and -30's? What then? -10 is like... warm.

Why not -40 where the Fahrenheit and Celsius scales are equal? Ha!

Will you be running in extreme cold with your band outside on your sleeve or under you outer wear? Really if it is too cold for the band then your body is likely as not, not covered well either and that leads to joint problems

I tend to run in a loin cloth usually. I like to start my run off with a mug o' hot mead to keep my innards permeating heat from the inside out. That way, in the frigid cold, I can sustain my nudeness at all times. The frosty knees do tend to be a problem though, as you say. I may start running with some kneepads just to counteract this problem!

If this isn't launched in countries where apple products are it will never have mass adoption sadly.

Though the article doesn't say much about it but I was totally blown away by the fact that the new band can calculate your VO2 Max. How.. Awesome.. Is thatt! It is shifting towards serious therapeutic health rather than just casual fitness. Also found a study article for the same.
Means a lot for me being in cardiac profession.

Will the usefulness of that depend on how accurate it is? Will be interesting to see it compared to the "real" VO2 Max tests and see how accurate it is. I don't pretend to know how that works, but is it potentially like those machines that claim to be ableo calculate your body fat index by getting you to hold onto two handles? Where as body fat calipers would be a more accurate way

I was told yesterday when talking with the band guys that the accuracy was somewhere around a 5% margin of error for vo2 max, but that it tended to be pretty close. From what I understand, It's machine learning based, so they have a ton of training data that combines the various profile and sensor data and trains it against the measured vo2 max using the traditional method.

Although nice, it doesn't have to be extremely accurate with those bodyfat readers as well as this device. You use the first reading as a baseline, and as long as the device is consistent, you should be able to track your progress from where you started.

The original band did this as well.

Yep, in fact, there is little difference between the 1st and 2nd gen. 2nd gen is prettier and adds the altimiter. I'm wondering if the 1st gen will get a software update.

No word on one of the more important functionalities; music control...
I gather there's no internal storage, so you could work out to music without the need for a phone?
Looks much better than the first, which incidentally has been sold in airports around the world; not just the UK and the US...