EVGA enters the gaming laptop market with the 17-inch 4K SC17 notebook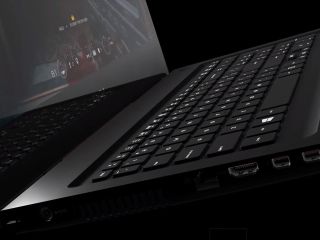 EVGA is well known to hardcore PC gamers for its high-end graphics cards and motherboards. However, it has never released a laptop. At CES 2016, the company revealed plans to do just that with a high-end gaming notebook, the SC17.
The 17-inch laptop will have a 4K display and inside there will be an Intel Core i7 processor with a clock speed of 3.8GHz, along with a NVIDIA GTX980M graphics chip. Even though it's a large laptop, it will be only 1.05 inches thick and weight about 8.5 pounds, which is on the light side for a laptop of this kind. Pricing and a specific release date for the EVGA SC17 have yet to be announced.
Source: EVGA (YouTube)
Get the Windows Central Newsletter
All the latest news, reviews, and guides for Windows and Xbox diehards.
Definitely will be keeping my eye out on this one.

Oh yes...I've been looking to buy a new laptop for gaming too. I will be waiting to check this one out. Usually I buy then end up on the end of, I wish I would have waited. Im waiting this time around!

i laughet at first when it said "thin. just under 1.05 inch" haha :D I know it's a gaming laptop, but i'd point that out AFTER showing the processor and graphics first :)

They did. Unless they changed it.

I think it's the highest one available. It's been clocked on 3.8GHz.

Truly desktop class gaming laptop!

I don't get why everyone is making 4k gaming laptops when 4k gaming on PCs isn't even mainstream yet. No way a 980m will be able to game at 4k.. I have a 980ti and 2560x1440 monitor and I can reach 60fps.. 4k no way.

The 980m could do it for some games. The 980ti is overkill for 4K on some games.

I have 2 EVGA GTX980's in SLi on an X99 Extreme motherboard and an i7 hexacore processor aligned to an M.2 Samsung SSD with 1000+ mb/s read speeds. 4k gaming on it is not great. Some games run at 40fps on high graphic settings. I ended up getting rid of my 4k monitor and now use a 3440*1440 21:9 monitor because the gaming experience was sub par driving all those pixels, despite my system reaching the top 1% of submissions on most benchmarks. I fail to see how this laptop, or any laptop, will offer even decent 4k gaming. More likely games will have to be played at HD to get any performance, which is still ok, but laptop 4k gaming is just not great right now. 3-4 years off I think.

Well, you can use 4K for non-gaming applications while gaming at full HD, which is a perfect match for scaling on the 4K display too...

I still preffered my Aorus X7 pro with 970m SLI. It's slim at 0.9 inches thick, weigh at 6.6lbs. With same or better performace than 980 gpu desktop that can run ultra above 60fps. Im not sure about the superclocked 980m compare to 970m SLI if which is better. I bet the exhaust fan is loud in that thickness.

Very VERY sexy laptop. I think I'd prefer an HD display though instead of 4K. Pushing all those pixles on a 980m is maybe not the best pairing of video card and display. I'd rather run at native res at HD (1080) and get a nice smooth framerate then not be able to handle more demanding games and try and run games at 4K. I'm very picky about native res on LCD's though. Maybe more than most people. :) Actually here is an idea. Make an Ultra Wide gaming laptop. 2560x1080 21:9 aspect radio. THAT would be epic! Does anyone make anything like that? I would totally buy it. -- J

The size of that laptop would be epic, but I totally agree it would look incredible.

I would definitely rather have a FHD panel with 144hz then 4k. Just saying.