Evohome Remote for Honeywell smart thermostats heats up and enters the Store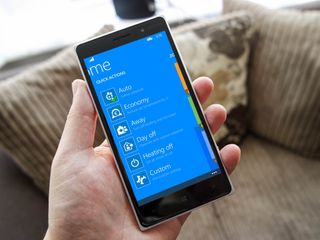 Back in December we brought word of Evohome Remote, a third-party creation for controlling Honeywell Evohome smart thermostats through your Windows Phone. Thanks to feedback from the Windows Central community, the developer, David Horn, has fine tuned the app and released it now into the Windows Phone Store for all to download.
If you're familiar with Nest, then Evohome is along a similar line. It's a connected heating system that allows you to use such things as mobile devices and voice activation to control the temperature throughout your home – and much more besides. There is no official app for Windows Phone, so David took it upon himself to make one. It's a free download without any ads, and it looks great.
Some of the features include:
Compatibility with the any generation Evohome system
Compatibility with the Honeywell Single Zone WiFi thermostat
Hot water control
Flexible and resizable tiles
Scheduling
Capability to set exact finish times on overrides (system wide or by zone)
Layout improvements on smaller screens
Multiple themes
Since the first beta the app is now much faster and easier to use, and it's a fine example of the excellent work some third-party developers are doing on Windows Phone. If you're using one of these systems in your home, definitely download it and give it a shot. You'll find the necessary links below.
Richard Devine is an Editor at Windows Central. A former Project Manager and long-term tech addict, he joined Mobile Nations in 2011 and has been found on Android Central and iMore as well as Windows Central. Currently you'll find him covering all manner of PC hardware and gaming, and you can follow him on Twitter and Instagram.
@someone2639:
Seems gay-er.
No wait... it doesn't.

Maybe that will get Nest (now Google) to get their ass into gear and publish an official app too... Though I'm not holding my breath...

I see no reason that they would start to support Windows Phone... in fact, quite the opposite. certainly a third party app for a competitor won't change their minds.

Don't hold your breath. Google is not supporting Windows Phone 8 at all. And I doubt they will release any Windows Universal apps.

You see this is where Google and Apple seem to be missing the trick. Microsoft creates apps for all systems and earns from it. Earnings is earnings, no mater where it comes from.....

Can't connect to the Server error!

PM'd you. But for others experiencing this problem, it's because the app only has access to the European API. If you visit https://europe.mytotalconnectcomfort.com/Account/Register and set up your gateway there, it should work. Cheers, Dave. (app developer)

Well that didn't help. It only lists Countries in Europe. Since I'm in the USA it won't let me register.

@chasvs, then select the UK. :)

Would love to have one to control regular Honeywell wifi stats.

Im in the US. Looks like its only for Europe?

From the description (which I guess I should make clearer!):

If your thermostat is installed in North America it's probably set up with an independent Honeywell server. Your thermostat can be controlled with this app but you'll need to register your internet gateway with the European Comfort Connect website first (https://europe.mytotalconnectcomfort.com/Account/Register).

I am not sure how that is possible considering it requires an address, and there is no option to choose US for the country. Am I missing something? Is it not possible to allow it to be region specific, or do you just not want to? I wouldn't blame you if it was the latter, since it appears you are not in this to make money.

Just pick a random UK address. :-)

Confirmed, I just set this up and I had to pick a random postal code in Liverpool UK to set it up. I also had to delete my current Honeywell account to deregister my thermostat. This requires a bit of sacrifice to make it work in the USA. I think if you're using the Honeywell website via a Windows Phone then this is an upgrade. I imagine more features week be coming.

Thanks for sharing your experience Jeff. Do you have any other clients accessing the thermostat? My wife has an iPhone, and I am concerned what will happen to her device if I de-register and re-register with the UK server. I would rather continue using the web app than break her app.

Developer based in Europe. It's absolutely reasonable he's working with the tools he has available.

When did I say it wasn't? It was and still is a reasonable question regardless of his locale. I am sure there would be more than a few people willing to test a regional feature. Perhaps some would even be willing to pay or donate for such a feature, myself included. With that said, I am well aware this is somewhat of a niche app, and the combination of where he resides plus the lack of monetary compensation offers him little incentive to implement such a feature. It would still be nice to know where he stands, so those of us in the US know whether or not to continue following the progress of the app.

This is great news, but where is Honeywell. If your out there listening Honeywell, as I have told you directly. I have a home with two AC units. When a Honeywell app that works for Windows Phone and/or computer comes out, you have instantly sold two of your high end units to this USA customer.

+1 (I only have a single zone furnace)

@David Horn - I really, really want this (thanks for creating this, it looks great). I've been using mytotalconnectcomfort for a few years, and there was briefly a 3rd party windows phone product available that has since been pulled. Since then, I've been on the hunt. I tried this out a few weeks back, going as far as setting up a Europe totalconnectcomfort app. Once I got to the point of registering my gateway, it wouldn't let me register since it was already registered in North America. Are you looking at adding the option to choose your connection point (NA or Europe, etc)? I really don't want to go down the path of removing my gateway from the NA mytotalconnectcomfort site, and then adding it exclusively to the Europe site, as I'm not the only user. I'm currently controlling 4 thermostats, but I have to do it through the website since there's no app available for NA...

I'm in exactly the same boat. Was using the 3rd party app that was in the WP store previously, but then that stopped working. I'd pay to have a good, working, US app.

Can't connect, so I'm uninstalling.

Hi, Is the code for this available anywhere that I could port to wp7 or universal app? Cheers Dave
Windows Central Newsletter
Get the best of Windows Central in in your inbox, every day!
Thank you for signing up to Windows Central. You will receive a verification email shortly.
There was a problem. Please refresh the page and try again.