Evolve's new content update includes two maps for Xbox One owners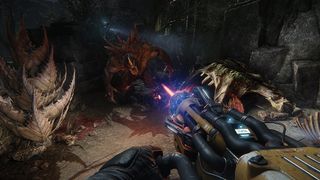 Developer Turtle Rock Studios and publisher 2K Games have released a new content update for the hit co-op sci-fi shooter Evolve. The update includes two free maps that will be available first for Xbox One owners of the game before they are released for the PC and PlayStation 4 on April 30.
Here's what 2K Games says about the two free maps:
The update also includes a new monster for the hunters in Evolve to kill, called the Behemoth. It's free to download for folks who pre-ordered the game; everyone else can get the Behemoth for $15 through the Monster Expansion Pack. There's also four new Hunters: Torvald (Assault), Crow (Trapper), Slim (Medic), and Sunny (Support). They can be downloaded for $7.50 each or all four for $25 with the Hunting Season Pass.
Evolve also has a new, and free, Observer mode with this content update. 2K Games says:
Finally, there's a bunch of improvements, bug fixes and game balance changes in this update. You can check out the full, and lengthy, change log on the game's official website.
Source: 2K Games
Windows Central Newsletter
Get the best of Windows Central in in your inbox, every day!
It's relieving to see some game makers giving the Xbone preference for once.

Actually, not to put them down, but MS paid for this exclusive, so that PC and PS4 will get the maps a month later. Ideally game makers should give preference to no single system.

This. What devs are doing to this game is retarded beyond words.

Xbox One. Where the true gaming experience is at.

As a PC owner, my message for devs is: Go **** yourself.

Oh look another "PC masterr rac3 gais!!!!11!" kid. Just please leave, idiot. Thanks. I don't even understand why you're commenting on an Xbox article if you're just gonna say "go **** yourself huehuehue," moron.

This isn't because this game is XBone. I couldn't care less about that. The problem at hand is that the two platfroms are being neglected in favor to this platform. This isn't about gaming anymore. This is shitty bussines that needs to die. Promptly. Because at this point what they're actually doing is killing the game. I never saw devs to be such ignorants when it comes to their won game just because no one is paying them extra money to support it on said platform accordingly.
Windows Central Newsletter
Thank you for signing up to Windows Central. You will receive a verification email shortly.
There was a problem. Please refresh the page and try again.