Exclusive Xbox Windows 8 Preview: Rocket Riot 3D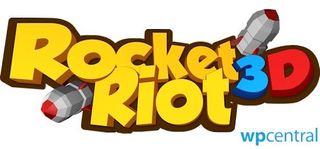 A short while ago, Microsoft announced 40 Xbox games that will release within the Windows 8 launch window. A few are titles that have never been released within Microsoft's Xbox ecosystem, but many will be familiar to Windows Phone and Xbox 360 gamers. One such game we're excited about is Rocket Riot 3D, developed in-house by series creator Codeglue and published by Microsoft Studios.
Head past the break for our full preview with lots of exclusive details.
A flying riot
Windows 8 screenshots
For those who've never played Rocket Riot, the game can be summed up as a cartoony 2.5D arena-based shooter. The cute bean-shaped characters fly around with rocket propulsion and blast at each other with a variety of armaments. While the game takes place from a 2D perspective, the environments are rendered in 3D and explode into tiny cubes when shot. It makes for a frenzied but lighthearted experience. Check out our Rocket Riot WP7 review (one of my very first for thi site) for more details.
Twin sticks, both real and imagined
Rocket Riot is a twin-stick shooter. The character can fly in any direction using the left stick, while the flicking the right stick (rather than holding it) fires your gun. The Windows Phone version actually controls really well with its virtual sticks, which I consider the finest on the platform.
In moving to Windows 8, Rocket Riot 3D supports more control formats than ever before. Virtual sticks return for tablet gamers, while the desktop crowd can go the mouse and-keyboard route. Or plug in an Xbox 360 controller to experience the same controls as the original. Basically, it should play great whether you're on the go or plugged in with peripherals.
Graphical enhancements
Rocket Riot 3D gets its name from its new stereoscopic 3D support. The extra-dimensional effect works with both red/blue and red/green 3D glasses. Even if you don't care about adding a third dimension to the visuals, this version still looks better than the original Xbox 360 game. It supports up to 1080P resolution (same as my gaming notebook's screen, ooh). The environmental explosions (which already looked terrific on WP7 and especially Xbox 360) have also been improved, making the game even more of a riot on the eyes.
High-flying campaign
The Windows Phone version of Rocket Riot's campaign featured 48 single-player levels – quite a few less than the original XBLA game's 80 stages, but still decent for a phone game. The story pitted players against the evil pirate Blockbeard, who was quite the devil of an endboss. Thankfully, Rocket Riot 3D not only packs all 80 levels (complete with music cut from the mobile game), it also adds a lot more on top of that – 48 brand new levels.
The new campaign's narrative picks up right where the first one left off. Code Glue doesn't want to spoil too much of the story, but it will revolve around lumberjacks and samurai (two of history's most notorious occupations) instead of pirates this time. The levels stringing this epilogue together feature all-new locations and enemies. The new campaign can be selected right from the start, so players who've already experienced Rocket Riot on other platforms can jump right into fresh content.
Two more additions to the single-player game are minibosses and diseases. Minibosses will make normal levels more challenging due to their giant size, extra health, and unique offensive powers. Meanwhile, some regular enemies will carry diseases that they can pass on to players. You'll want to avoid their red rockets like the plague!
Social features
Rocket Riot 3D doesn't include real-time multiplayer like the XBLA game as it's primarily designed around the tablet experience. But the asynchronous Challenge mode that was recently added to the Windows Phone game returns, so you'll still be able to compete with friends by setting up challenges for each other. A new sharable screenshot feature lets players show off their single-player accomplishments as well.
More to come
Considering the relative ease of portability between Windows 8 and Windows Phone 8 code, it's fair to wonder whether Rocket Riot 3D might see a WP8 release. Code Glue doesn't have any such plans yet, but that could change after WP8 becomes available.
Rocket Riot 3D is scheduled to launch alongside the Windows 8 OS on October 26. It will be an Xbox title and have 200 GamerScore worth of Achievements. We'll have more to share (including first word of an all-new, ridiculously cool playable character) soon. In addition to checking back with Windows Phone Central, Codeglue asks you to keep an eye on their Facebook page and Twitter account @Codeglue for additional fun tidbits.
Windows Central Newsletter
Get the best of Windows Central in in your inbox, every day!
Paul Acevedo is the Games Editor at Windows Central. A lifelong gamer, he has written about videogames for over 15 years and reviewed over 350 games for our site. Follow him on Twitter @PaulRAcevedo. Don't hate. Appreciate!
Still bummed that I gotta play the first one again for the avatar freebies.

Hey could WPCentral ask them if people who have already beat the game get a code for the avatar stuff? We could email them our gamer tag so they could confirm. Then they could email or send to our gamer tag the codes for the rewards. I'm sure this would make a lot of people happy.

Hey can you confirm that it has new ACHIEVEMENTS? I'd assume so.

You know you can edit your comments for a little while after you make them, right? ;) Yes, Rocket Riot 3D is an entirely separate game and will have its own Achievements. About the avatar awards, for some people they'll pop as soon as you launch the game. But otherwise you've got to replay those levels. It's not a super long game, so getting at least the first award shouldn't be hard.

As it looks fun, I really hope we see some WP8 games that blow me away. Graphicly this is not too impressive, so.

After seeing games like Rage for the iPhone, I want to se that level games for WP8...

As with any downloadable games platform, whether it's Steam (which also sells Rage), XBLA, Windows 8, or whatever, some games will push the boundaries of realistic graphics while others will take more stylized or cartoonish approaches. While these screenshots don't really convey it, Rocket Riot 3D does look better than its Xbox 360 counterpart, so it's not slacking, so to speak.

I know this game is more cartoon but, just saying what I hope to see...

One of the main reasons I want Windows Phone 8 is for better games...I need my games and there is a bunch of good ones for WP7 but, nothing that says WOW to me...

So is it only new Xbox 360 arcade games that get 400 achievement points?

That's how it looks right now, unfortunately.

It actually makes sense. XBLA came a long way, they're, most of them, very evolved products, it's fair to distinguish.

Yeah, but many Windows 8 games will be XBLA ports, so we could end up seeing an identical game offering half the GamerScore. Perhaps they'll be priced a little lower, which would even it out.

Why do people like these blocky graphics? I had my share of Amiga, TRS80's, and Commodore 64. Please stop!

It's a deliberate stylistic choice on the developers' part. Rocket Riot also looks much better in motion than in screenshots. You can try the WP7 version's demo right now to see what I mean.

That's very egotistical of you, I don't mind you having your boring, pseudo-realistic art style games which age really bad. Can I have my stylized games ? We can both be happy!

Anyone know if game purchases on WP will work similar to PS Vita/PS3? Where as when you purchase the game from the marketplace on one device and it will allow you to download the same game on your other device all for one price? I'd hate to have to pay for seperate versions of the same game on my WP and Surface tablet.

No, buying a game on Windows Phone won't give you access to the Windows 8 version or vice versa. You can buy a Windows 8 game and use it on both PC and a Surface, but only because they're running the same OS and it's the same version of the game.

Hmm. Too bad I guess. But what about game progress? If I progress in a game on Surface should I have to re-do it all again on my WP version?

It is a shame - hopefully Microsoft will embrace the concept of buying a game on one platform and getting access to it on others someday. I'm most concerned about it with Pinball FX2, because it would be super expensive to buy every table multiple times just to play it on different systems. In the case of Rocket Riot 3D, progress won't be shared between 3D and the XBLA or WP7 versions of Rocket Riot because those games don't use cloud saving. But there are a few upcoming Windows 8/WP8 games that will share save data across the cloud.

You're right and it was Pinball FX2 that made me think about this.. After buying all your favourite tables you can easily spend $40 or more. I can't imagine why I should have to do that again on WP or Surface. And I would really hope to assume that my gamertag will be linked to all versions so my highscores are across all versions.
And glad to hear about the introduction of cloud game saves. I actually didn't know that was coming as I've always wondered if or when they would introduce that. I almost refuse to really get into my WP games because of the fact that I know I'll lose all my progress on my next phone upgrade (which for me can be 1-2 times a year).

Bear in mind that this is a new version of the game, and is actually pretty different from the WP version. Although the core gameplay is pretty much the same, we've added back most of the XBLA levels and put in a new story level pack with a new boss battle.
We've also added 2 new classes of enemies, one that shoots bad powerups at you and another called a Miniboss, which is pretty much like what it sounds!
And, we've taken full advantage of a more powerful platform, with some new shader effects and more particles!
We have a full list over at rocketriot.com and we've just posted a video of a new level with Minibosses and some new characters!
http://www.youtube.com/watch?v=JP7EjNIl4eE

Looks fun, I'm interested to see how games for WIndows 8 will play out, their costs, etc. I'll need a new laptop soon, so hopefully the one I get can run most of these games (I know nothing about PC Gaming, but always enjoy the chance to boost my gamerscore)
Windows Central Newsletter
Thank you for signing up to Windows Central. You will receive a verification email shortly.
There was a problem. Please refresh the page and try again.