Fable digital card game in the works from ex-Lionhead developers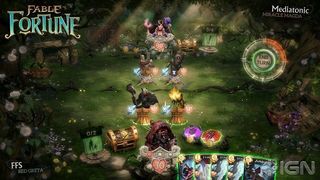 A small group of former Lionhead Studios developers are hard at work on a new Fable title in the form of a digital card game called Fable Fortune. The game was actually in development at Lionhead prior to the studio's closure, and now Flaming Fowl Studios has been allowed by Microsoft to continue its development. The studio aims to release Fable Fortune for PC and Xbox One in late 2017.
From IGN:
Fable Fortune will also feature quests during some matches, challenging you to use certain types of cards, or even make moral choices as you could in the original Fable games. These choices, for good or evil, will impact your character, which in turn can even morph some of your cards.
Though Flaming Fowl has Microsoft's blessing to use the Fable IP, it is turning to Kickstarter in order to finance and publish the game. The campaign will run for four weeks, and will kick off on Tuesday, May 31 at 10:00 a.m. ET.
This will flop. Late to the game for an IP that's been destroyed.

All depends if they could get assistance from companies that know the genre wizards for example

Wizards would be the last that would or should help. The already have, and support magic. Also, look how popular magic is right now. It has such a learning curve, you need a pick up and play game. Hearthstone is a perfect example, and Bethesda is right behind them.

Looks like a few of the assets / styles from FL made it into this.

I would be more excited if this was in development for Windows 10 Mobile. With no Hearthstone or other card games they could have that market all to themselves.

You're right, that would be nice. Maybe it could come in the UWP variety later?

Interesting. I will look into it for the sake of the Fable IP which I love. I hope they use characters from Fable Legends. Those were really nice designs. Loveable, fleshed out characters.

Would be good if Microsoft let them continue development of Fable Legends instead

Exactly what I was thinking! Despite what some people have been saying, I actually played & loved the beta!

MS spent $75 million dollars on the game and they still weren't delivering a good enough product. I think they'd have to build their trust back up again with MS first.

no thank you, give me legends instead

cautiously waiting and will be watching on this ,time is limited.

This would be a great Windows Phone title.
Windows Central Newsletter
Thank you for signing up to Windows Central. You will receive a verification email shortly.
There was a problem. Please refresh the page and try again.