Fable Fortune game developers launch its Kickstarter fund raising campaign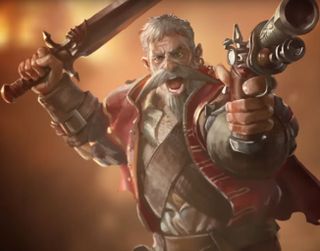 As promised, developers Flaming Fowl Studios, made up of ex-Lionhead team members, has launched its Kickstarter fund raising campaign for Fable Fortune, a free-to-play digital card game set in Microsoft's Fable universe. It will be released for the Xbox One and PC in early 2017.
The minimum goal for the campaign to be successful is $365,385, or £250,000, but the game does have a number of stretch goals to add content, all the way to £700,000 ( about $1,025,314) to fully fund the Xbox One version. Here is Flaming Fowl's humorous description of Fable Fortune:
Fable Fortune was in development at Lionhead for 18 months before Microsoft made the decision to close the developer earlier this year. The team members of Flaming Fowl have received permission from Microsoft to continue its development. The game will be made in collaboration with another UK developer, Mediatonic. Android and iOS versions of Fable Fortune are also planned for sometime in the future.
Support Fable Fortune on Kickstarter
Windows Central Newsletter
Get the best of Windows Central in in your inbox, every day!
UWP mobile app stretch goal with syncing and I'll golf some coins their way.

I don't even want the game, but if they made that a stretch goal I'd fund it.

There's obviously something I don't understand with one Windows and future unified store why that would stretch. But yeah, if they bring game to others windows 10 devices also, I'm going to fund right away.

Yep. Don't talk to me about any charity kickstart unlease Windows 10 Mobile is written to be I. With it and almost immediately...not 2 years down the road.

It's a pity Microsoft didn't have any spare cash to support the game, what with them managing to run the one great studio by forcing them to develop for Kinect, and then a microtransaction fueled 4vP game.

Any chance they could get a studio that has actually worked on tcg's before going halfcocked on a side project
Windows Central Newsletter
Thank you for signing up to Windows Central. You will receive a verification email shortly.
There was a problem. Please refresh the page and try again.