Facebook Messenger app for Windows Phone adds video sharing in new update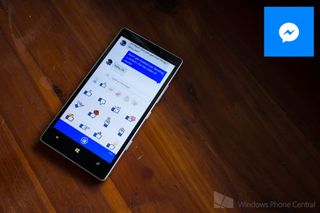 Facebook has just updated its stand alone Messenger app for Windows Phone to version 6.0, adding in support for sharing videos for the first time along with a couple of other improvements.
The change log for version 6.0 of the app shows what's new:
Video: Send photos and video instantly with one tap. When people send you videos, play them right in the app.
Stickers: With recent stickers, find your favorite stickers faster.
Plus, other improvements to make the app faster and more reliable
The addition of video sharing will certainly be a popular one and being able to quickly find favorite stickers will come in handy as well. This update comes as Facebook is slowly ditching messenger features in its iOS and Android apps and offering them in its Messenger app, although at the moment the Windows Phone port, which is actually published by Microsoft itself, still contains messaging features..
What do you think of the new video sharing feature? Thanks to the many people who tipped us!
Windows Central Newsletter
Get the best of Windows Central in your inbox, every day!
I'll probably never use this feature, but at least it isn't lagging too far behind iOS/Android.

What about Facebook messenger Calling features???

WP needs CHATHEADS! Coming from someone who uses FB messenger a lot, its a pain using the WP version of this app.

I'd say that's a limitation of WP than the messenger app.

I have a dream
That someday Facebook app on windows phone developed by Microsoft will be better than the ones created by Facebook itself for other platforms. I have a dream....

I also dream a dream as big as a dream could be...

But the tigers come at night, with their voices soft as thunder...and tear your hope apart...

He's got a dreaaam!!(tangled style) lol!!

If only Facebook made out app, alone !

This is made by FB with collaboration with MS.

Did you see the last word ? :)

Sorry, but what's the point here?

i want them (FB) to do the app alone simple as that, we will get almost fully featured app and faster than what we got now

Your statement still doesn't make any sense. This is a joint thing from MS and FB....so don't you think this should actually provide more features than any other platform...why would MS stop FB to include more features or vice versa?
And how do you know FB alone will do it better or faster when we know untill MS got involved they were completely ignoring the WP like it doesn't exist....and how in the world they would do better alone without MS who can give them backdoor entry to the APIs kept secretly for internal use...

Actually is. A lot faster!

Well, I actually find the separate Messenger app on Android irritating. In fact, the inside of the app is really good and smooth, it's the dancing chat-heads that I have a problem with.
Posted via the WPC App for Android!

And it's slow on Android
it's faster to recieve the message on WP than Android
at least for me, two android with two different Accounts

I don't see much difference in speed between the Android and WP apps. But at least there are no unruly chat-heads prancing around on your screen...sometimes hampering other activities.
Posted via the WPC App for Android!

Not the speed of the app, i meant receiving messages
for example i send my sister a link
her Lumia 630 ring like half a minute before her Nexus 7

My experience is the opposite. My Moto G rings a split-second before my Lumia 720 does when I get a message.

I like the chat heads but sometimes they can be irritating but the idea is good Posted via Windows Phone Central App

You can turn chat heads off you know.

Didn't know that, coz I use my Android phone sparingly. Thanks for the info. :)

translate.google.com Yo odiaba la mensajería integrada en Facebook, era lenta, tenia que esperar a que el mensaje se enviara para empezar a escribir el siguiente, demas no tenia stickers, video, emoticons, era obsoleta.

I would've rather had voice messaging than video

Just hold your thumb over the front lens and, voila! Voice messaging!

Why don't focus on bringing official Facebook app rather than making changes to the messenger? Even the BETA version is having lots of lags and issues. Posted via Windows Phone Central App

Seriously. This IS your official.

I'm taking about OFFICIAL FACEBOOK APP, NOT OFFICIAL FACEBOOK MESSENGER APP.

I simply hate this app. Why on Earth there is no keyboard rotation? I can barely write

Gives us a official Facebook app. It will be much better for us.

That's silly of them since I've deleted my fb account.

How could they update a service you don't use anymore? How rude.

Maybe MS could be a doll and fix Skype now to..well you know be competitive...like picture attachments circa 2001..and then move on to the "hard" stuff like integrating it across Windows devices and generally not sucking....:)

Been waiting for this :) need voice messages now Posted via Windows Phone Central App

How long did it take Microsoft to add video messaging to Skype on WP? FB showing MS how its done.....

It's funny cause FB can't add voice calling to their app on wp yet.

And it's funny because MSFT *is* Facebook on WP.

Does anyone experience fast battery consumption when using this app? I don't know if this update fixes the issue. Using Lumia 920 OS 8.0 It'd be great if we could set a dark theme instead of light :)

Yeah, but then that would be FB getting away from what tey are really trying to do... shove their "brand" down everyone's throat and dominating the mobile app scene with their crap.

I think you are right. Big part of facebook brand must be related to its ... whiteness, so it would be a bad marketing choice. Well, they sure must fix that battery comsumption issue if in the near future they make it mandatory to use their Messenger app to use chat, as it is happening with iOS and Android.

can FB cut the BS already and just take over development of the actual Facebook app. its not a bad app, i commend Microsoft for their work to retool it and improve it, but it's nowhere near the iOS or Android app, meanwhile our FB messenger app (made by FB) is outstanding and compares very well to it's counterparts.

I don't think the WP fb app is any worse than the android one.

Well you haven't been using an Android phone lately it seems. Posted via the WPC App for Android!

Surely you're using the FB Beta app, right? It's worlds better than the non-Beta version. I see no material difference between it and the app on my wife's iPhone.

i guess i am not so lucky... just upgraded and it crashes... never opened... :P

They've actually been doing a pretty good job with this app. Fantastic even.

So, what features are still 'missing'? Voice messaging? Chat heads? Anything else?

and skype still cant open a message from action center without crashing 2 times, hell if fb adds videocall to this skype should simply stop making their freaking app altogether

Haven't they stopped it already? ;)

You're right. Skype app was abandoned a while ago. Sad to see that it belongs to MS.

Still can't send pre recorded videos..

Is it possible to record audio in the app?

I don't like Facebook, but this messenger app is really good! And it's getting better..

What about notifications issue with WP 8.1? Like it appears in the notifications center, you clear it, the tile doesn't clear like say other apps.

Nice update. FB messenger is getting better and better and has almost all features you can find on other platforms. I would only like to have voice calling support but maybe they will add this in 6.5 version.

Please add voice messaging!!

Perhaps it will not come & if ever come by the time android & ios will get video calling

And can someone explain to me why there are so many people always posting same old comment about other apps? Please use forum for that.

No landscape or 1080 resolution support. Oh why its so hard on every app.

Exactly, it's an app where you write a lot, landcape is a 'must have'

Maybe if Microsoft let FB and other companies that created their own apps do so for WP they would have more time to work on their own apps so they wouldn't be so far behind

WHY WE CANT HAVE BETTER APPS THAN ANDROID AND IOS... EVERYTHING IS COMING IN THE NEXT WEEKS AND ONCE IT ARRIVES IS A BETA FUCKING VERSION. IM GETTING TIRED OF THIS SH.. SOMEONE BRING ME A CUP OF TEA.

>Add your "give us an official fb app" comment here

There's a new Instagram Bolt messaging app that just came out I see.

Why not making it like as in android or iPhone? Why it's so hard to add calling & pop up features. Is it windows platform constraints or the facebook not interested to provide as share in WP < android or iPhone.At least you declared a time frame .NONSENSE FACEBOOK & IDIOT MICROSOFT

Or, you know, they could've just implemented this feature into the Facebook app and removed this stupid redundancy from the Store.

Push notifications doesn't work anymore, i get notifications 10 minutes after getting a message.. Will try to reinstall and check if it fixes it.. (on Lumia 930)

All the more missing the native FB messenger integration in 8.0. Never had to worry about battery drain. I personally don't use stickers much so its not a huge deal at least for me. They should have retained the original implementation while having this app for people who need it.

can we edit comments yet on the app?

Nice!. I still don't understand why they haven't add voice messages support but hopefully it will be included in the next update.

Updated app on DP HTC 8X still no video sharing option

I'm on the 8X right now, just tap the camera icon in the app, then hold to record video or just tap to take a picture

That's garbage that you can't pick videos out of your photos gallery and send them.

Bring back a separate SEND button!!! This feature WAS available within the FB Beta app, but now that we've been forced off to the messenger app, the function has gone too! It really pisses me off when I'm trying to compose a message to someone and Messenger sends it before I'm done. Makes things look very messy, when a friend has composed a lengthy message to me, and they get back a 'one-liner' that doesn't come close to addressing any of their points.... Carriage return is available on the iOS version of messenger - on a PC you can at least hit [Shift]-[Enter] to get the same effect, yet you can't [Shift]-[Enter] on the phone.

This infuriates me. I'm terrible at typing on any touchscreen, so I have to fix my mistakes often. One of the worst things is sending a message taht lokks like thsi. Lol.

THANK you! I don't understand how there aren't more people bothered by this! That's my BIGGEST complaint about the stupid fb messenger app (not to say that there aren't others; the fact that we have to use it as a separate app from fb, that it's glitchy and slow [doesn't take you to a message {only to a blank 'compose new message'} when you click on the banner notification, takes ages to load messages, takes ages to send messages and often doesn't send messages], that basically we can't *choose* things any more such as whether we want enter-to-send or to log out or to have it integrated with our messaging hub etc.), and it annoys me on a daily basis that I can't make simple freaking line breaks while messaging with this darned app!

Can we send pre recorded videos..?? I can't see any option for that..

There is no option for that !!& can never !!

I m never going to use this fucking feature!!! Just bring chatheads !!!

Add spanish! I know, is not the best feature, but I really prefer in my native language

Umm..how to share videos? I can't find the option to do so.

And the voice messages and calls?

Y WP Lumia can't call on fb message

Always happy to see new features added to the app.

I'll be really happy when they add this following feature: "Free calls: Talk as long as you want, even with people in other countries. (Calls are free over Wi-Fi. Otherwise, standard data charges apply." Hope they work on this next..!

If they can add video recording to this Messenger app then WHERE THE HELL IS VIDEO RECORDING FOR THE OFFICIAL INSTAGRAM APP???? Isn't Instagram owned by Facebook?

They should remove messaging feature from the Facebook application first. Else both application will show same notifications while receiving messages.

I'd rather use chat heads, it's cute anyway.

Still can't remove stickers, send voice messages, or call. I shouldn't have to switch to Whatsapp every time I want to call someone overseas. It took me a while to realize what chat heads are because I never cared or knew what they were called on iOS, but those would be nice too.

Voice Recording please!! >.< I really want to use the voice recording >.<

NEEDS CHATHEADS!!! come on windows, up your game!!

I have a moto x and hate the chat heads. I actually like fb messenger on my kids L521 better then mine. Posted via Windows Phone Central App

I updated but can't seem to find how to send a video can any one Help me out please. ?

Chat heads PLEASE.Chat heads PLEASE.Chat heads PLEASE.Chat heads PLEASE.Chat heads PLEASE.Chat heads PLEASE.Chat heads PLEASE.

Hi Sir in this mobile big problem that this mobile not calling facebook to facebook messenger
so u make new software thx

what about saving videos?!?!??! i cant save any video on my windows phone damn it...please add this feature...

i can not make call to my lumia 535 through messenger