Facebook to kill in-app messaging in favor of using dedicated Facebook Messenger app [Update]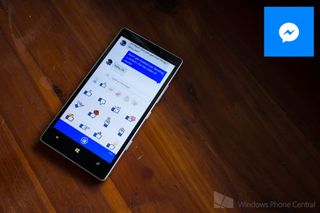 Facebook is working on transitioning users somewhat forcefully to using their dedicated Messenger app. Warning messages have been sent out to some European users that in about two weeks time, they wouldn't be able to use the core Facebook app to do their chatting. Though this change will be rolling out globally, there will be exceptions in place for lower-powered Android devices that apparently can't handle the Pure Awesome of the Facebook Messenger standalone app, and for Facebook's relatively fresh news app, Paper.
Though this means you'll need to install and manage two apps, hopefully it will result in greater performance individually. What do you guys think of the change? Do you already have Facebook Messenger installed, or would you rather keep your Facebook chats bundled in the core experience?
[Update] The Verge has since updated their post to state that Windows Phone and 'tablet' users will continue to see messages inside their Facebook app. Their initial report did not specify that Windows Phone users would be exempt. And life goes on. - Sam
Source: The Verge
Windows Central Newsletter
Get the best of Windows Central in your inbox, every day!
I don't like this idea at all. But if it means the Facebook app will no longer give me notifications as i chat with people through the WP messaging hub ill be happy.

It already does. Just go into the Facebook app and turn off the notifications for chat. I turned that off a while ago along with the built in chat, just using the messenger app now.

I still get the tile notification after turning them off for chat. Really annoying

Same, my live tile still shows an annoying '1' constantly though I have the notifications off...

My problem with turning off notifications in the WP8 app it also turns off notifications in the facebook app for windows 8.. though I'm pleased to see this level of integration across platforms.. So, I like this idea of killing messaging on the main app :D

How about they disable message notifications by default instead?

There is only ONE reason this is happening. iPhone.
In separate news yesterday it was finally reported traced to the Facebook app on iPhone as the reason for killing its pathetic battery.
So the whole of the rest of world has to move to separate messenger system to spare Apple's blushes.
Ha, ha, ha...
http://www.theguardian.com/technology/2014/apr/08/facebook-app-revealed-...

(update:) so we will continue to receive messages in our fb app

Facebook is simply paving the way for eventually using WhatsApp for chatting. Once everyone is use to using a separate app for Facebook chat, it will be a seamless transition to WhatsApp. Expect WhatsApp to automatically have all your Facebook contacts in it shortly.

Maybe itll mean the main app will get faster?

Hearing the news...my app got faster hahahahahha

I'm in favor of this. I can only assume this will increase speed and performance of the fb app. I'm sick of double notification counts anyhow lol

Then turn off notifications in the Facebook app! I did it as soon as Messenger came out.

As did I, but messages still give my facebook tile a count, which is annoying. I don't get the push notification, just the live tile number.

If we do that the settings get synced to the Windows 8 Facebook app and so when I'm using my tablet I don't receive notification for messages anymore... It's annoying...

Messages still show as unread for a while when entering the fb-app after reading messages in messenger. Slow sync. I say pick one fucking route and go with that and make it work.

app settinga-->notifications

If we do that the settings get synced to the Windows 8 Facebook app and so when I'm using my tablet I don't receive notification for messages anymore... It's annoying... I can't wait for a Windows 8 Facebook Messenger app.

Yeah.....wonder what made them realize that now. This should have been done long ago.

Great... It's flawed as is.

Must be faster, just starting one App instead of waiting, loading... SEEMS FASTER

Haven't been on Facebook since December and haven't used the messenger app on anything but iOS. If its as good on Windows Phone as it is on other platforms, it's a good move by Facebook. Keeps the focus on messaging, makes you want to engage in it more, as opposed to in regular app its kind of just a distraction from comments and the news feed etc.

I don't want the extra app on my start screen. If I could have a folder for messaging apps and the folder tile update that would be perfect.

Something is > nothing lol

It really really sucks. I was waiting for it anxiously... installed it.. tried it.. uninstalled it.

Last I checked it doesn't update the folder live tile with new messages

Agreed. Having three-column start screens will soften the blow, but I really would prefer not having the clutter.

Not a problem for me. Before FB Messenger app is coming, I have pinned secondary tile for messaging anyway. For me, it just replacing secondary tile with FB Messenger's tile. Not a big deal.
Why I was pinning secondary tile before? Quick access to messaging. As simple as that. And if FB Messenger is loaded quicker (since it doesn't need to load the whole Facebook features), that it should be better :)

Me to kill using FB messaging.

The Facebook messenger app is wonderful. I just wish they would add a dark theme for us OLED users.

go onto ease of access and use "high contrast" its all dark

That messes with links in e-mails

I don't have a problem with this. The concept of a separate app for the messaging seemed redundant and unnecessary for me. I rarely use the messaging part of Facebook, so I'm all for the separation if it helps improve the performance of the main app.

But we dont have official FB app from Facebook inc..

Blame Facebook for not stepping up to the plate sooner, for what I expect will be much the same as what we have now.

They are building one according to the leaks. Codenamed 'Facebook Blue'. It'll come with WP8.1

Since I'm tettering at the limit of background tasks and the last time I added Messenger it broke all my live tiles, I can't say I'm thrilled with this at all.

still can't stand that black bar above the keyboard in messenger, nor the fact that it can't open timelines in the facebook app and many many other annoying things. it's still in very very early stages sadly

I don't know anyone that uses FB for chatting, so it won't affect me at all.

Strange. That's all i use FB for. Shame FB cant just write decent code so that they can integrate the message app into the main app and have it run efficiently.

You will if they makes WhatsApp an integrated app within Facebook... i.e. the Facebook messaging app :)

Hehe, nawww... Everyone in my circle uses Skype for everything, despite how cludgy it is on WP/Win8.

You know, all of a sudden, less and less of folks in my cirlce are using Skype. Just hit me the other day...

No matter , we have Microsoft version of Facebook

WP8.1 will have the new official app from Facebook according to leaks.

According to leaks. But WPC guys have had a 630 with WP8.1 on it and they haven't talked about 'Facebook Blue' on it yet. Think it will take a while.

Lol imagine the outcry if Facebook Messenger wasn't on Windows Phone at the time of this announcement. I can see it, "SCRWE U FAKEBOOCK!!! I M SWITCHING TOOO WHATSA--wait..."

Thank goodness for the Social Hub.

Was wondering when someone would mention this. Facebook messaging is built in to the base OS; we haven't heard anything about breaking that, have we? So, most of my FB messaging actually is done through native OS features. FWIW.

i thought they are going to remove it in 8.1

I haven't kept up with that tbh. If they do, meh. My real friends have my number. I get a fb msg once every other month.

Facebook is building an official app, and these official apps can integrate into the hub. Therefore, it's not removed.

That's fine with me, the facebook app it somewhat slow in loading messages. But I do hope the dedicated app can be faster. I still turn to the integrated messaging app from time to time. It is faster than the fb messenger app since messages are preloaded before open the app. At least I hope they don't kill the integrated messaging in wp 8.1.

Give us Paper, and I'm all for it.

They should focus on this so-called Facebook app that they're supposedly working on... Or give us Paper already!

Give me the same Facebook app as ios and Android.

makes sense... saw this coming a couple miles away! :)

A way to compete with Skype and Viber to separate the functionality. Start to see WhatsApp functionality integrated with FB Messenger?

An official fb app would be nice

It's coming in 8.1 according to the leaks.

seems like a move to help boost the exposure of the messaging app. I have the app and its pinned but i try not to use it. i would rather use SMS or a dedicatd messaging app like Kik instead. Windows phone has allowed some functionality in their messaging hub but it is limited.

Haha I was only telling my friend in work today who has a windows phone too, that Android and IOS users have a separate messenger app for Facebook too, now this is all the proof I need!!

Thank God, the double notification thing is obnoxious.

You can disable notifications in the main FB app.

I agree about double notifications being a massive pain-- I say separate the apps. I like the standalone Messenger better than the in-app one anyway.

I don't mind. I don' t chat.

Bah, humbug. Another seperate app. Why? I think this is ruining the cohesive windows phone experience. This is starting to look like microsoft is losing focus on its mission statement to provide a cohesive experience of putting social together into one place. That concept made me fall in love with the idea and OS. Facebook integration in the people hub, Yes!, That's what I wanted to go for and invest into the OS and ecosystem. Facebook is only trying to make it more android-like. Yes android has its good parts, but after the experience on the note one, It wasnt the OS for me. Too fragmented and too much tweaking. Please facebook consider a further integration of mesenger and messaging in the peoples hub, not another seperate app. Microsoft already tried that in windows phone 7 and already had a seperate app for that. Even windows 8 had it in 8.0 and was deleted in 8.1. Start thinking cohesion and less seperation.

This is exactly how I feel about it as well.

thank goodness for that. the dedicated facebook messenger app works great. the facebook app has so many problems with it late updates and notifications and even failing to connect. the messenger is also a bit laggy. so im forward to ditching in built messenger and having a dedicated one that actully works.

What the piss is this shit!

What about WP7 users ? Will we still be able to send messages through the app givent that FB Messenger doesn't exist on WP7 ?

Why fragment development of apps? Do they have so many spare resources to do 2 Android apps and a messenger but not enough resources to develop an official app and messenger for WP8?

If only messaging apps could hook into the messaging hub for integration.

Yeah, that'd be awesome, to have SMS, Facebook and Whatsapp all at the same place.

That sucks. Why have 2 apps? One is better than 2. But 0 is better than 2

I use anything: web, app, msgr.

tbh i prefer the built in facebook messenger on the text messages, i can hear that and its more useful, dont need no facebook smileys,

From The Verge article: There are a few exceptions to the new rule, however. First, lower-end Android devices with memory constraints won't be required to download Messenger. Second, Windows Phone and tablet users will still see messages inside their Facebook apps. Third, messaging will remain, for now, inside Paper, the company's recently launched news app.

Thanks. The Verge updated their initial report without saying anything. We've updated ours to reflect the change.

Fine by me. I hate using the messaging app directly on the Facebook app just as much as I hate it on the browser. So this will make no difference as I only use the FM app anyway.

The verge writer said that this won't be coming to WP at the moment.

I just wanted the real time Facebook chat since Facebook app doesn't do that, hence I was using Core fb chat but it only supports text. But now Facebook has officially launch Facebook Messenger with image sending option now there is no need of Core Facebook Chat for me.

Cool, I love when I have to use multiple apps to accomplish something used to be able to do on one. Fragmentation is great...

I'm so happy now, I don't have to get a notification on the mess anger and the Facebook app tiles on my start screen for the same message

I think having two apps as opposed to one is more inconvenient for end users. I just wish Messaging Hub FB Messaging would be updated to support everything FB Messenger does.

id rather keep it the way it is, i dont like the new facebook sounds its so hard to hear my message tone is so much better. i really dont want a seperate app on my screen either, its breaking the OS eco-system in my opinion. how about making and option to turn it on or off.......oh wait isnt there a switch to do just that in the settings.

If this means that Facebook will build and çontinuouslyupdates the app themselves, then I'm all for it.

WP users are fine for now.

Id wish they would just make a proper Facebook app. Microsoft effort is just a farce.

what's wrong with it? Works great for me. and fyi - official app.from fb coming in 8.1

no its not coming in 8.1..maybe later but nothing in 8.1 from facebook

This wouldn't be an issue if they integrated Messenger via Chat Bubbles in the main app. Works just fine on my Android phone, no complaints and it looks nice.

Boo. This app is kind of half baked

I was kinda hoping that WP8.1 would provide a people hub & messaging hub API that allowed any chat application to aggregate their service into the people and messaging of Windows Phone so that once a 3rd party app was installed we could continue conversations no matter what the platform... guess that is not the case, hopefully it will be one day in the future as it was one of my favourite functions that brought me to Windows Phone.

I was expecting update...

Nice ..and will be good if we get an upgrade to Facebook paper, though booklet beta does the job, but it won't hurt to see the official app

Don't care, as long as I can still use the core WP messaging hub to manage fb massages.

Hasn't that been removed in WP8.1.

Whatever. I get so few messages via Facebook message anyway. And those that do decode to message me that way haven't gotten used to me waiting to be sitting next to my computer to answer.

I'm okay with using their messenger app insted of the built-in messenger, but did they remove facebook contact sync and things from the people hub?

I wonder what will happen to the built FB on outlook.com
Also I really like the native unified msg on WP, hate to separate it

2 x Facebook apps = 2 x faster :D

Would be okay, but already reported Facebook messenger is draining batteries. Hopefully FB messenger will integrate whatsapp at some point

I don't use it on the Facebook Beta app. Only through messaging hub and that was until Facebook released their messenger for us. Nonetheless, our app is developed by Microsoft, so that doesn't apply to us for now. I'd just like it if we wanted to message a friend, the messaging app would open, instead of the browser.

I use facebook beta (chat turned off) and facebook messenger for chat, soooo it's easy.. :)

Windows phone doesnt have fb messanger app

You must be living under a rock lol. Search the store.

To be honest, I'm not in favour for two reasons:
1) I'd rather everything be in one place, because I don't use Facebook extensively, nor do I not use it at all.
2) I cba to find a place to put the messenger app on my start screen xD

Well facebook has to expand at some time a fb app a messenger app who knows wots coming next maybe a fb/bing search engine or something

I just want to work great in the messaging app like it should.. I know we are loosing that feature in 8.1 but the messenger app just isn't as simple, it was nice to have it use your custom tones for select people when you got a facebook message from them. I'll miss this never fully fuctional feature.. :(

What's wrong with using the browser for Facebook?

Facebook acts wierd in IE, if you ask me. When I scroll a lot and decide to open some image, if I go back it opens up Facebook menu and takes me all the way up. Which sometimes makes me want to hurt myself punching the wall

I like the core experience best. Seamlessly integrated FB chats with text messages is ideal for me (and I'm pissed MSFT is doing away with this)

What a load of bullshit. Now I have to manage to apps. How annoying its gonna be to have too switch apps everytime I wanna check a page and then send a message thru the OTHER app. Just give us the same FB app that android an IOS have!!!!!

2 apps to get the full fb experience? Ehhh, whatever I guess..

As Facebook now own WhatsApp I'm surprised they haven't pushed that as their chat app of choice. Why chat through Farcebook anyway when there's a slew of message apps?

Over a billion active accounts on fb isn't fb chat still bigger than what's app?

It definitely is, but I understand Chris. I thought Facebook would force WhatsApp over chat, and that would really suck balls.

This bother me as I only use chat occasionally. I don't want separate app.

I've already transitioned away from the FB integration in WP Messaging to just the main FB app and the pinned FB Messaging tile. Message notifications are pretty reliable in that. I don't really like the idea of a separate FB Messaging app, but I'm sure this will be forced on every FB user at some point. At least, I can continue to use just the main FB app until I absolutely have to switch to 2 FB apps.

If they build a Pure Awesome of the Facebook Group Standalone App, that would be great too..
I want to skip the news feed..

Using the Facebook Messenger app since long and Loving it

I hate the message built in feature. I wish they do this for Windows Phone

Well, its not that bad. I mean, it works, but is missing stuff like smileys, stickers and that kind of facebooky stuff. Although, I did put it out as soon as Facebook Messenger got in the store

I barely use the Facebook for anything else that messaging, so I'm cool with this. Facebook got really boring, in my opinion chat is the only thing that keeps it alive

I don't think the amount of messages you receive daily on facebook doesn't even come close to the amount of emails and text messages you get. While its a great stand alone app its not really ideal for a dedicated app only

In time I see this coming..

The Facebook app for Windows Phone was not even the official Facebook app, I doubt Facebook will be bothered by it at all. I'm find with doing away with Whatsapp if that's true, because most of my friends have Facebook accounts anyways. But I hope Facebook will release a official Facebook app for Windows Phone soon, just like the one on Windows 8.

Actually, I have just realised it is more than that.
Windows phone is the only phone architecture currently which can handle the Facebook messaging app without having to write special lightweight apps.
That's because Facebook messaging is embedded natively into WP OS messaging through back end. Your Facebook account is linked to your MS account on the Windows servers.
On iPhone and Android the app is simply a bolt on and has to poll constantly, killing the battery.
Ha, ha, ha.
WINDOWS PHONE IS THE ONLY PHONE WHICH CAN HANDLE FACEBOOK.
That's massive.

I dont even use the built in messenger app for Facebook.. Its buggy sometimes.. U dont receive ur messages on time.. So i pretty much just leave my status offline and messages dont come in

this is really a smart move....

Install and uninstall fb messenger. I just use built in messenger in message. as I just use it like usual message. Didn't like it at all if they force us to use separate app for message .

Just make one app to see your friends, one to chat with them, one for your feed, one for the settings and one for your picture upload and be over with it.

Will we still be able to get our "What's New" social updates in the People Hub?

Oh , thn older version of Facebook is good , that we had in our windows phone in 2012

I quit using the Facebook app and instead use the web site. I just refuse to accept Facebook's permissions requirements for the App on Android and since I switch between a Nexus and a Lumia I refuse to install their app on any platform.

Where's paper for windows phone ? Oh, doesn't exist

Facebook is for grannies... LOL.

Very bad change. Many people use Fb chat, many other use sms. Functionally they are the same, but now it takes more slalom between applications.

I cant get this damn app to give me notifications on Lumia 620/ WP8.1. Neither this or FB app show up in the Notifications+actions settings and all in app setting are on. Can anyone help?

My problem is the live tile no longer does anything. Just sits there showing only my cover picture. The other issue I'm having is I'm no longer able with Windows Phone 8.1 to add a Facebook account through settings/add account. I have to install the official app as it does not know I have Facebook beta installed. Most annoying. Does anyone know a fix for either of these two problems? I've tried reinstalling the Facebook beta app but no joy.

The facebook for the iPhone and galaxy making voice call is this going to be also for Lumia

Not getting notifications on 1520. Both messenger and facebook not giving notifications. 5.0.0 and 5.0.1.0 are junk. Please bring back facebook chat to message hub

I cannot log in to Facebook Messenger it keep saying can't log in right now. what it the reason for it. I tried several uninstalling and re installing. here is the screen shot https://onedrive.live.com/redir?resid=82B3EDD6A3E9261A!3866&authkey=!AIU...