Hands on with Facebook Messenger for Windows Phone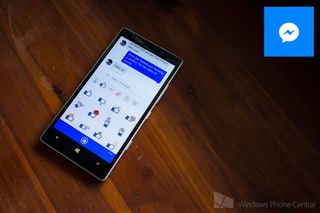 Facebook has released their standalone Messenger app for Windows Phone on Tuesday. We've spent some time with it and we're sure many of you have done the same by now. If you haven't installed it yet, watch our hands-on video after the break to see how it looks on the Nokia Lumia Icon.
Facebook Messenger version 3.0.12.0:
Get to all your messages without having to open Facebook.
Bring your conversations to life with stickers and send photos privately.
Have group conversations and make plans on the go.
Share your location so people know when you're nearby.
Know when people have seen your messages.
See who's using Messenger and who's active on Facebook.
Stay logged in so you never miss a message.
Turn off notifications when you're working, sleeping or just need a break.
Never lose your conversation history or contacts.
It might be a good idea to turn off Facebook chat within the built-in Windows Phone messaging so you won't get duplicate notifications. Go to Messaging > settings and then turn off Facebook chat.
After logging into the new Facebook Messenger app, you'll see a list of your recent conversations. Swipe left to see your friends list and swipe again to see who's currently active. Scrolling through the lists and swiping among the different sections feels snappy.
In conversations view, you can share your location, send photos, and even stickers. Press and hold on a message if you want to copy for later use.
By default, you the Facebook Messenger app has 2 sets of stickers. You can click on the sticker store at the bottom to download more sets. They all seem to be free.
The standalone Facebook Messenger app has been highly requested, so we're glad that it's now live at the Windows Phone Store. Since it is a separate app, it'll be a lot easier to get updates compared to the built-in messaging app on Windows Phone.
Have you been playing with the app? Will this replace the built-in Facebook chat feature on your Windows Phone? Let us know in the comments!
Stickers are flakey. It keeps sending wrong ones even though you have selected one from totally different set. Notifications are SPOT ON! Battery life takes a hit with in app sounds, bright background.

Sticker wont work properly to me. I have to hit on top of it to work.

they start moving when you send them, after that they stop. if you tap on them, they move again. but it's perfectly normal. do you mean that?

Nope, thats not what i meant. Clicking a sticker you want will choose the one on the bottom of it. Clicking the top of the sticker you want will choose the right one.

well either a bug or - no offense - fat fingers?

Lol thats funny, no fat fingers dude. But anyways i figure out that it only happend on the first run, restart the app and everything is alright. Ok so this might be off topic but saw a news about facebook buying a drone company, i notice the news screen that the facebook app on the phone was so different. Is this a third party app? Because i know thats not the official nor peoples hub. http://1drv.ms/NA1L5b

That is the WP 7.x official facebook app. It was released for older phones. Yep, I had one of those for a looong time.

Any way for custom sounds

There are apps now that have costume sounds. MetroMail is one of them.

as well as LINE and Viber

is it possible to change line's sound?

Yes it will because built in messenger does not allow picture messaging

this just fragments the whole FB experience. What's next, a FB app for each part of FB??!?!. ridiculous.

You don't like it, don't get it! Just that simple!

Man shut up and don't use it! I'm tired of people saying apps that we get or features we get is not necessary! Everyone don't like the built in feature...Be happy we're getting apps etc...

It is better, for example in my case I only want the chat functionality so after this I could finally uninstall the Facebook app and have only what I want. However don't expect any other facebook app, they don't have a event app on iOS or Android for example.

I have the same on my Android, would love to uninstall the FB app on my WP aswell, but whenever I use the back-button in IE on m.facebook.com, it brings out the facebook side-menu.. very annoying, hopefully it will be fixed with IE11.

Exactly! I also uninstalled the Facebook app since what I care most about is chat.

This is how it is on the other platforms. Messenger is separate from the whole FB app, probably because most people use FB solely for messaging and don't need the full experience all the time.

That and you can only have 15 background tasks. I hit that limit all the time. Not installing it, will wait for WP8.1..

There is no name of this app in the background tasks list

This app is an excellent experience! I will rather have multiple apps from Facebook Inc than using the frustrating craps from MS, as well as the crippled People hub!! And yes, I will rather move away from WP if things don't get better, to Nokia XL rather.

I'm not talking hubs. I rather have a FB app from FACEBOOK INC. that works well enough that doesn't need another app from...well facebook in, to do what it already tries to do in their other wapp. Is it too much to ask that they do a good job on their main app? It would be like microsoft releasing an "excel charts" app for excel that makes better excel charts than excel but nothing else while excel itself isn't as good. ridiculous!

It feels and acts much like the iOS version besides navigation. It feels good. However, it still uses the same sounds as the iOS version that I HATE. That annoying scratchy ping high pitch sound is terrible. But it's nice to see WP get some love from Facebook, and even include most, if not all, of the features from the iOS version. Something that rarely happens with WP apps on day 1. A step in the right direction.

You can switch off chat sounds.

Was expecting the floating balloons like the iOS and Android versions. The only gripe, though, is that when we click to see the contact's profile, it takes to the website, rather than the actual app. Hope this can be addressed (or at least be put as an option). Great app, though.

I agree Posted via the WPC App for Android!

The standalone messenger app for IOS doesn't have balloons. That only appears in the Facebook app proper, unless you're on android in which case there are ways of getting chat heads throughout the OS.

Well, I never really paid much attention to the app itself; I just saw the balloons and figured they came from the Messenger app.
Oh, and I was never into Android.

Some conversations from 'recent' tab are stuck and can't be deleted..anyone same problem?

I wish they add the ability to sync current sticker sets that I use on Facebook website and these on Facebook messenger.
They should also add the ability to remove current sticker sets!

They have my stickers on this app are full of the ones I downloaded on android. Problem is I deleted most of here but now all 8 this app and can't remove

Mine did. The stickers I added on the website were immediately available in this app.

My girl might like this... I prefer the built-in messaging

Will they update it with voice-note sending capabilities?? I saw this on the android app so I was just wondering

I'm digging it. I like the built in experience thou....

So when I click the toast notification for a conversation I am in, it loads messenger into a new message, instead of the conversation the toast sent. Kinda lame. But everything else seems clean and solid.

It's only me, or really it isn't possible to save images?

Disaster app. WP has serious problem with apps (there are all apps I need, but they are buggy or lack features) I bought my phone 6 months ago and apps haven't improved a bit. Netflix still lacks profiles, Viber is clumsy, Facebook experience is awful, Skype lacks file transfer, there is no free Spotify yet, Instagram is worst app (thx god there is 6tag :))....

I prefer the official app of instagram

I'm hoping WP8.1 will improve things. Free Spotify is coming and there is word that FB are making an actual app for WP that's probably taken from their desktop version but this is just a rumour but with the release of this messaging app, I could see it happening as I believe they want to take more responcibility for their brand as MS haven't done a great job of it. Netflix needs a major update. It's pretty crazy how much better the W8 app is over the one we have on WP which doesn't even support HD video. I'll agree with how bad Skype is though. Considering it's a MS owned product, WP gets the worst version which has been the case with a lot of apps on WP you see from MS outside of the Bing stuff which I think are terrific apps. I'd love to see Photosynth built into WP8.1 as right now, I gave up on using the app. Buggy, crashes all the time and very low picture quality.

Why a disaster? Or do you also hate the app on iOS and droid?

Doesn't properly refresh while sleeping. If you're in a chat and the phone goes to sleep, when you wake the phone after the notification, the chat won't refresh. Annoying.

Sad that this still doesnt work. I would want it to work like Watsapp

Not a bad app. The stickers are probably the only reason for me to use it. Those stickers are ridic.

I've become a sticker whore because of this app.

I love Pusheen and the smiling slice of cake!

Well, I'm not able to log in because it needs a security code. It says it would send the code to my phone, but it never did. :-/

Same here. Been trying to get a confirmation code since last night. Tried several times now and nothing.

You don't need it. You can skip it.

Works great. I like the option of using this verses the built in app.

Why can I automatically sign in using the integrated sign in to the FB app?? The notifications make my phone vibrates soooooooo much that I tough it was an earthquake!! Didn't like the experience.
I prefer to use the FB app, but now it seams that nothing regarding chatting will be added there...

Head in to the Settings, Vibration can be toggled off within the Facebook Messenger app, as well as in-app sounds if they annoy you

because this messenger app is the official one from facebook, however the facebook app is not official and is made by microsoft

Looks cute, but no, it won't replace my native client.

Me too.. All the fancy colours and graphics are nice for the kids.. I like the clean and clear basic messaging app built in. I'm afraid though that we'll see that go with 8.1 which is why they had to bring in this app. And that will be a real shame.

The reason I'm still questioning if to update to 8.1. I like native style. They need to find another better way to update hubs.

why is everything native so fast and fluid, yet absolutely EVERYTHING 3rd party isnt as fast or fluid. its like microsoft have made it so that you can't make anything fast or fluid unless its built in

Or you can set ur ME TILE UNAVAILABLE...they should've kept in one place.. Oh well I just hope windowsphone 8.1 will keep this

How do you log out of Facebook messenger

One more thing.. This is why FACEBOOK bought WASSUP.. SOON there will be calling capabilities on the fb messenger app.. Hmmmmmm????

Want to change the color of the live tile!

No, I don't. But thanks for offering. ;-)

This is why I like Facebook chat IN windows phone; I can't get the pesky stickers! Hahaha!

No landscape keyboard frustrates the hell out of me! How can people stand one thumb portrait typing?

still think the same about on screen keyboards :)

Simple. I just type with two thumbs in Portrait.

The only people I know who do that are women with their smaller hands.

If your phone is too small to type with two thumbs in portrait, maybe you should get a man's phone then.

I think you need some man hands, I'll stick with my Lumia 920, and downvote apps in the store that don't do landscape keyboard.

I'm really digging it. I can finally keep up with my group chats which don't come to native chat and don't work well in the FB app. And I like the colors.

It sounds like iOS or Android would be the OS of your choice

Because group chat doesn't work in the native client and I like the colors? -_-

That's just silly. Native app doesn't have group chat or reliable notifications or photo sharing or stickers or last seen or typing... So wtf dude?!

Cool, even though i don't use fb

How come I can't find the app on windows phone store? Am using a Lumia 520.

Try the link provided in the article. This is it: http://www.windowsphone.com/s?appid=3219d30d-4a23-4f58-a91c-c44b04e6a0c7

It could be that the app requires at least 1GB of RAM. The Lumia 520 has 512MB, so it could be filtered out when you browse the store. What happens when you click on the store link directly from your phone? http://www.windowsphone.com/en-us/store/app/facebook-messenger/3219d30d-...

The same happened to me on a 521, but I could get it through the link

This is why I abandoned my WP7 device for WP8 straight away. There were no benefits to staying with the forgotten OS.

Help!!! I can't find the app in my windows phone store. Am using a Nokia Lumia 520

http://www.windowsphone.com/s?appid=3219d30d-4a23-4f58-a91c-c44b04e6a0c7

I just hope all this will be sorted with WP 8.1. I dont want a dedicated application for every bloody messaging functionality. I want consistency in the People and messaging Hub and have all functionality build in there. just like now but with it proper working(fb groups, media content and consistency of messages) and skype integrated

+10. If it wont be integrated i.e. Apps hooking in - I will be devastated. No Cortana can fix it.

The idea of integrate all messaging service into message hub is nice, though how can MS keep up with updating it? I mean all instant message apps have new functions adding rapidly. If we integrate all of these app (like Whatsapp, LINE, WeChat, Facebook Messenger, etc) into message hub, how can message hub keeps up with each service's update? Plus WP is a 3rd place in developer's mindset, why would they invest even more attention and resource to work with WP's integration?

Simple. Let apps integrate into it, just like the volume controls.

What do you mean by that?

WP doesn't have to update them. The apps can update independently and APIs can allow apps to hook into messaging hub. So they appear in the messaging hub. This way apps are regularly updated with features.

I like the built-in functionality of the integrated solution. One place for all messaging. If I want to utilize a few extra features I can see myself using this app. But just for normal conversational communications I will likely stick with the integrated option. I like the continuity of the conversation stream the integrated option provides as well. If I start in text and shift to FB Messager or Messager, the stream of conversation as you all know is in one place. I like that better than the disjointed experience of jumping from place to place to talk to the same person. Windows Phones whole philosophy is "people centric" this approach is more app-centric. I understand the reasons and like the additional features of the standalone app. I just hope that with 8.1 with the options for messaging, where different messaging services can be selected as a messaging app on the system level that FB messager is still an option, and that it works as it does now where one can switch from SMS to messager. And if I want to use the standalone app, cool. Options are good.
So much to look forward to in 8.1. Hope Microsoft hits a home run with this update!
http://jltechword.wordpress.com/2014/02/28/windows-phone-8-1-what-do-you...

I also like the integrated one :)

Definitely replaced my built in fb chat

I for one am very happy with the new app, far better then the default fb app

I deleted it 10 minutes after installing.

No you didn't even install it in the first place...you've been whining about it since yesterday.

1. Sending by Enter sucks i cant make a line break. 2. No Logout

Wish there was a log off option

I would like a non-accent tile + an option to remove sticker sets

I'm very well impressed with this FB Messenger! Honestly, I thought it would be redundant but it isn't. This one is miles ahead of the integrated or the in-app FB messenger. Very pleased, especially since almost everybody uses this and whatsapp. Thx for the video:)

It already has for me. The Facebook app on WP Is so pathetic I rather browse Facebook for IE on phone

I wish there was a dark theme for us AMOLED users ...

This is a spectacular app, works very well, and this is just the first version, the next updates will surely improve it even more. Hoping for the option to have a black background, saves battery on Amoled (Samsung ATIV S here).

It is so awesome and cool but,,, what about the notifications ???? :(

Notifications are spot on and working absolutely fine.

How do I get notifications to work? I turned them off from the Facebook app already.

It's a fantastic app, shows what the official Facebook can do on WP

Not sure if I would use more than Facebook app, but always nice to have more choice.

no landscape mode!!!
i deleted the app!
i will wait till the update comes out. also, how the heck to u log out of it!!!! >_<

The notification is stuck. Must open the apps to get the message. Please update.

Glad that it is here, but since I don't use Facebook all that much I will just stick to the OS implemented version of it. I do like the fact that more major apps are arriving at WP.

It gets too slow when you write a big message. Plus its a pitty that you cant send any files other thank photos

I already removed the app again, I really like the built in experience more, there I can have it all in one place (unified communications).
I don't care enough for stickers to give it all up.. The color of the Facebook messaging app is awful. The only benefit is that I could see when/if the other person has seen my message..

But you can't do group chats from the built in messenger. And messages tend to be lost along the way. I find the color ok though.

That Mark Guim - He knows how to demo! Love the tutorials and the 'little things' that you point out are quite helpful. Great Job, and Thanks!

This is good but why is Facebook App not as fast as this one?.. And why are they separated?..

I love the app. 3rd party apps lag as bad as the Messaging hub and the latter needs me to open pics in the browser, so this is a welcome addition. What I want/need is the option to have black background for you know, battery saving.

Glad such app landed at WP base - finally I am able to use FB for the only reason it's useful to me, without seeing public photos, posts and other bull from other people.

Spend time with it. Still kinda buggy and slow in some cases. Not always do I get notifications, and some other stuff. But I bet it will see improvements soon.

Works pretty good so far, but I don't do a lot of messaging on FB either. Wish it had a way to log off, don't like it logged on all the time. I also dont have the option to turn off Facebook chat in my messaging settings.

Meh, prob will just stick with the pinned Messaging tile from the FB app; I've already disabled the FB integration in the WP Messaging app. I don't really get what the sticker craze is all about, and current chats and notifications work fine with the FB Messaging tile so I'm good with it for now...

Stickers? I want chat heads!

I like it. Definitely choosing this over the built-in Facebook chat

I don't receive notification's :((((

Yes. We need an official Facebook app too

My phone heats a lot when i open this app and battery is drained rapidly. I have Lumia 920.

It'd be nice if they could work with Microsoft to exclude the app from data sense restriction. I'm not getting any notifications because I'm having data sense restrict data.

Since we can already pin the fb chat in the full app to our start screen, this seems pointless. I know I'm gonna get a bunch of reply's that say: but it has stickers... They should of just improved the main app instead.

I want to disable the inbuilt chat function on my 520 as I'm getting double notifications but whenever i do that the Rooms in People Hub stop working and updating itself and none of the messages i send get delivered. Any help?

How to share location, can anyone tell?

Seems weird they used the same style bubbles as IOS instead of incorporating windows styled message bubbles.... But probably less work

It doesn't send me the confirmation code.

I am not getting notifications, but other than that the app is pretty nice.

Just go back to Android/iOS if you're not a masochist!

So, can someone tell me how it decided on who my starred contacts are? I can't figure out a way to un-star them.

Doesn't the stock messaging app do this?

Its a whole lot easier! The stickers are nice, the UI is nice and the chats is very cool! I will definitely use this over the built in Facebook Chat!

Nice working good n UI is nice i like it..:)

Isn't it eating a lot of data??

How come you can't log out?

I have a Nokia 520 and the app is extremely sluggish. Hope its just a bug and they'll fix it soon!! :/ Love the funtionality of the new app, but snappiness is REALLY important for my needs.

Built-in fb messaging is good for fb blocked region. Currently still no vpn in wp8 and built-in fb is useful for me (:

Mark! How come you totally missed (or didn't mention) the terrible bug in registering your phone number with app? (almost the only real advantage over the WP chat option). Currently it is completely impossible to register because the damn app keeps adding a zero after the country code and ther's no way of fooling the app in taking the right number... :(
And it seems none of the commenters spotted this as well?

Wow now the notifications work. Cool !!

Seams ok for me! Way way better than face app, but for some reason I can,t save image from chat((((( sad!

I dont get notifications if the screen is locked.... any1 else suffer lyk dis?

Bug, when startin to chat from a toast notification..just wont work

Lol whats the use of FB messenger now when we already have the inbuilt FB in Lumia devices the only regret I have is I cant send pictures through it. To hell with Facebook and its messenger

Does it have live tile support? Because mine just wont change.

Built in fb app does not show the group chat...biggest drawback

I still can't figure out how to share or view a map of peoples location?

Ok, I have to ask...does anyone know why those contacts are listed under the star? I don't message most of the ones listed under there.

People hub is so much better than this, I also hope in 8.1 keep integration on fb, tweeter etc

I get the toasts &amp; tiles notifications, but get "We're having trouble getting data." error message in RED if I wanna see all notifications after opening the app. This is the case too with FB Beta. Any ideas? thanks

What I would like to see in upcoming releases:
- Turn off notifications for good
- Enter to manifest line break
- Dark (black) backgroud: It is more related to WP overall experience and, more important, it reduces battery usage p.s. If internal facebook messenger integration within the Messaging app would support picture attachment - I'll never use this version of FB messenger at all

How to log out from this messenger in Lumia

When i tried to log in to the messenger app for the windows phone, there is a messege pop up and say "Cn't log in right now".what should i do to log in to the app?

For me everything works fine and notifications are prompt. I just wanted to ask if any of you know of a way to REMOVE stickers from the collection? I know how to do it on Facebook, and I have seen instructions for the Android app, but the Windows Phone app doesn't have an "edit" or "delete" button. Long-pressing also does not call up any context menu. Is it possible at all, or do I have to reinstall the app in order to "reset" the sticker library? Thanks in advance for any help you can provide

how can I make a call in facebook messenger on my windows phone? please help.. email me on rizalyn_oraiz@yahoo.com.. thanks and Godbless

Hy, guys! How can I uninstall Facebook messenger app on Nokia Lumia 830?
Windows Central Newsletter
Get the best of Windows Central in in your inbox, every day!
Thank you for signing up to Windows Central. You will receive a verification email shortly.
There was a problem. Please refresh the page and try again.