Far Cry 4 now available for pre-order and pre-download on Xbox One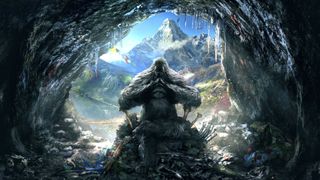 Far Cry 4 is now available for pre-order and pre-download on Xbox One. There are two versions available to download in the Xbox Store as well as its season pass DLC. We have the standard Far Cry 4 which is available for $59.99, and we have Far Cry 4 Gold Edition, which is available for $89.99. The season pass itself goes for $29.99.
Far Cry 4 Gold Edition is the limited edition of Far Cry 4 as well as includes the season pass. The limited edition includes three action-packed missions as well as an in-game harpoon weapon called "The Impaler." Far Cry 4's season pass also includes an exclusive single player mission that will be available in the game day one. It also includes a PvP multiplayer game mode and what is described as a "co-op prison break" mission.
However, the most exciting bit of the season pass content is what is called "Valley of the Yetis." In this mission, your plane has crash landed on a ridge, and you must scramble to find weapons and tools to upgrade your camp before cultists attack at nightfall. But don't go searching too far otherwise you might encounter some deadlier foes.
Far Cry 4 is the latest installment in the series from Ubisoft, but this time it takes place in the Himalayan region. In the game, you play as Ajay Ghale, who returns to this region to spread his mother's ashes. However, Ajay instead, becomes entangled in the local civil war caused by a self-appointed king named Pagan Min.
Far Cry 4's island is said to be as big as the one from Far Cry 3 yet it feels more alive due to more wildlife, dense jungles, and scalable mountains. Although FC4 is a first person shooter, it also features lots of RPG elements such as weapon crafting and skill trees. Far Cry 4 launches on November 18.
Far Cry 4 - Xbox One - 26.68 GB - $59.99 - Xbox Store

(opens in new tab)

Far Cry 4 Gold Edition - Xbox One - 26.68 GB - $89.99 - Xbox Store

(opens in new tab)

Far Cry 4 Season Pass - Xbox One - 9.51 MB - $29.99 - Xbox Store

(opens in new tab)
Windows Central Newsletter
Get the best of Windows Central in your inbox, every day!
Preordered!
Now where's my GTAV preorder?!

+XB1! Preloaded the Gold edition of FC4 and Unity, now my last spend of the year is GTA. GIMMIE THOSE BYTES, ROCKSTAR!

I was on tight budget and it was really hard for me to decide bw far cry and unity. But finally ordered far cry 4. Hope its worth it.

Too many games! I would love to play this but haven't the time or money.
But I'll gladly pick it up in later months (and hopefully at a cheaper price) to play through it.

Hopefully we see some games on sale during Thanksgiving week :) Posted via Windows Phone Central App

Just one of the way too many games coming out during these three months. That said, this franchise was never really one I really cared much about anyways

I agree...will wait this one out. Already pre ordered Halo and Unity.
Have Forza, Titan Fall Update and some other Games with Gold to finish up. Will get this sometime later cause I liked FarCry 1,2 and 3

I still haven't completed Far Cry 2 on my PC....time is passing me by.

Does anyone know if they will offer a digital pre-order for GTA V? I have the money in my Microsoft Account all ready...

Now this is the game I have been waiting for!!!! Played 1,2 and 3!!!! I love far cry!

Um the island is as big as the one in 4? Did you mean 3?? 3 was two islands and huge..

They say the map is the same size as FC3 but more compact

Still need to finish my far Cry 3 Lets Play haha

I still have to finish Far Cry 2... I bought Far Cry 3 a long time ago, but I'm still waiting to finish 2 before I start playing 3!!

Far Cry 2 was a slog. But FC3 is a joy to play.
I can understand why people say 4 is a reskinned 3 but I have no problem with that. Why change a fomula that works

Pre-download? What the hell is that? You download it before you download it?

You download it before it's officially launched. Just a couple months ago you couldn't download a game until it was launched. Posted via Windows Phone Central App

Digital games (outside of MS Studios) are £55 in the UK, this is completely insane. How can digital cost more than disc?

whrn you pre order the disc vertion, you get a free upgrate to the limited edition... it is true with the digital copy? I can't decide between this and assassin creed... only have money for one...

Waiting for pc edition........ Far cry 3 was awesome now fc4

Do you know the definition of insanity?
No one can beat VAAS!!

Preordered way back in October.. FC4 - Limited Edition @1799₹ (29.18 USD)...

Hate all these games with season passes. Just gimme the game with all for one pricing. $90 for a single title is ridiculous!

I know. Just the way the system is lately. Milking the Cattle....

GTA V will also release on the 18th of November... I hope the pre-load goes up for that too!! Been waiting feverish for the next-gen GTA V! Fingers crossed!

I have purchased far cry 4. I hope it will be cool.