Far Cry New Dawn's apocalypse is brutal (yet beautiful) with an RPG twist
Far Cry New Dawn shakes up Ubisoft's hit open-world series with a fresh, neon coat of paint.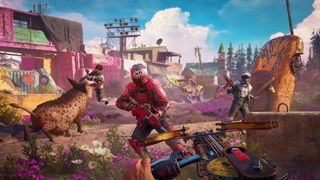 The world is in flames, and civilization has fallen. Far Cry 5's foremost finale ended with a scorching nuclear roar, glassing Hope County's surface and fulfilling the prophecy that shaped its doomsday cult. While that was a dramatic, controversial twist, it established the foundation for Far Cry New Dawn's premise.
However, Far Cry New Dawn isn't your standard post-apocalyptic video game. Staying faithful to the series' vibrant reality, paired with gameplay refinements, here's why returning fans shouldn't overlook this entry.
(Note: As a direct sequel to Far Cry 5, this preview contains spoilers for its finale.)
The end is nigh
Fight and rebuild a neon-lined post-war America.

Far Cry New Dawn's wasteland is shaping up to be vibrant and captivating, concluding Far Cry 5's twisted finale. It's wacky and wild – and worth watching as its March 15 debut nears.
Fear lies among the flowers of Hope County
Entering the "New World," the charred remains of Hope Country serve as Far Cry New Dawn's revised backdrop. Far Cry 5 packed various references to coinciding Korean tensions, with U.S. intervention the onset of a nationwide nuclear fallout.
Far Cry New Dawn kicks off 17 years after the bombs fell, revisiting Hope County with a focus on its survivors. A ruthless faction dubbed the "Highwaymen" has risen, looking to seize resources and kill those opposing its influence. Led by a duo of crazed sisters, while equipped with neon-draped biker gear and homespun armaments, the group fits the mold for your traditional Far Cry antagonists. And setting the tone for New Dawn, expect darker undertones presented with the series' signature eccentric persona.
However, New Dawn isn't your typical post-apocalyptic dustbowl of barren deserts. Nearly two decades have fostered mother nature's resurgence, where flora and fauna now rule the remains. Dominated by pink flowers and mutated wildlife littering the fields, there's a vibrant punch to all corners of the wasteland.
Far Cry New Dawn attempts to shape its own identity but still leverages the basis of its predecessor. Like Far Cry 4 to Far Cry Primal, the scorched Treasure State repurposes the same world map, skinned to portray its new climate. Ubisoft also hopes to address these ties in-game, featuring photographs that compare how key locales devolved.
It's easy to see Far Cry New Dawn as "lazy," though Ubisoft is attempting to justify the move via its execution. It's the same Far Cry formula during its opening hours but keeps the world intriguing upon return. However, how the game borrows these foundations and forges a new identity is key to shipping a memorable spinoff. Plus, it's only $40, distancing itself from mainline installments by price.
How Far Cry New Dawn debuts light RPG gameplay
Although open-world action remains the focus of Far Cry New Dawn, it revises its approach to core encounters. Amid success with shared-world role-playing games (RPGs) like Tom Clancy's The Division, Ubisoft has ushered in a numerical leveling system for enemies and weaponry. Dubbed a "light RPG" approach, it attempts to add minor depth without compromising the Far Cry formula.
After dropping into Hope Country, Far Cry New Dawn drafts players into a rustic haven known as "Prosperity." This battered fortress serves as your base of operations, demanding modular upgrades over time. By gathering resources to bolster departments, you'll unlock the ability to craft higher-tier items. While the somewhat uninspiring nature of upgrades raises concerns, it's unclear how upgrades extend in the full experience.
Upgrades tie to the new color-coded weapons and vehicle systems, breaking munitions into distinct tiers with corresponding capabilities. Paired with an enemy level indicator that expands on existing class roles, it backs gameplay with more transparent systems.
Doubling down on its survival RPG themes, Far Cry New Dawn also emphasizes resource collection. With a reliance on fuels, Hope County now treats ethanol with immeasurable value in the wasteland. And as a necessity to upgrade Prosperity, missions and side activities help source these drums.
Outposts, long-established combat challenges of Far Cry titles, hook into this new economy, too. Now home to ethanol deposits, an "Escalation" system presents heightened risks and rewards. Ransacking liberated outposts increases earnings but clears the site for the Highwaymen's return. Recovering with improved fortifications, this brings three levels of replayability to each plot.
A New Dawn awaits
Far Cry New Dawn puts a fresh spin on Hope County, shaping up to be a promising conclusion to its predecessor. Although familiar, it aims to distinguish itself from its past, revising the underpinnings for one of last year's top single-player titles. However, launching in mid-February, a period packed with anticipated titles like Anthem, Metro Exodus, and Crackdown 3, it's unclear how New Dawn will overcome its competitors.
Far Cry New Dawn preorders are live ahead of a slated February 15, 2019, debut, and the game costs $40 on Xbox One, PlayStation 4, and PC.
The end is nigh
Fight and rebuild a neon-lined post-war America.

Far Cry New Dawn's wasteland is shaping up to be vibrant and captivating, concluding Far Cry 5's twisted finale. It's wacky and wild – and worth watching as its March 15 debut nears.
Get the Windows Central Newsletter
All the latest news, reviews, and guides for Windows and Xbox diehards.
Matt Brown was formerly a Windows Central's Senior Editor, Xbox & PC, at Future. Following over seven years of professional consumer technology and gaming coverage, he's focused on the world of Microsoft's gaming efforts. You can follow him on Twitter @mattjbrown.